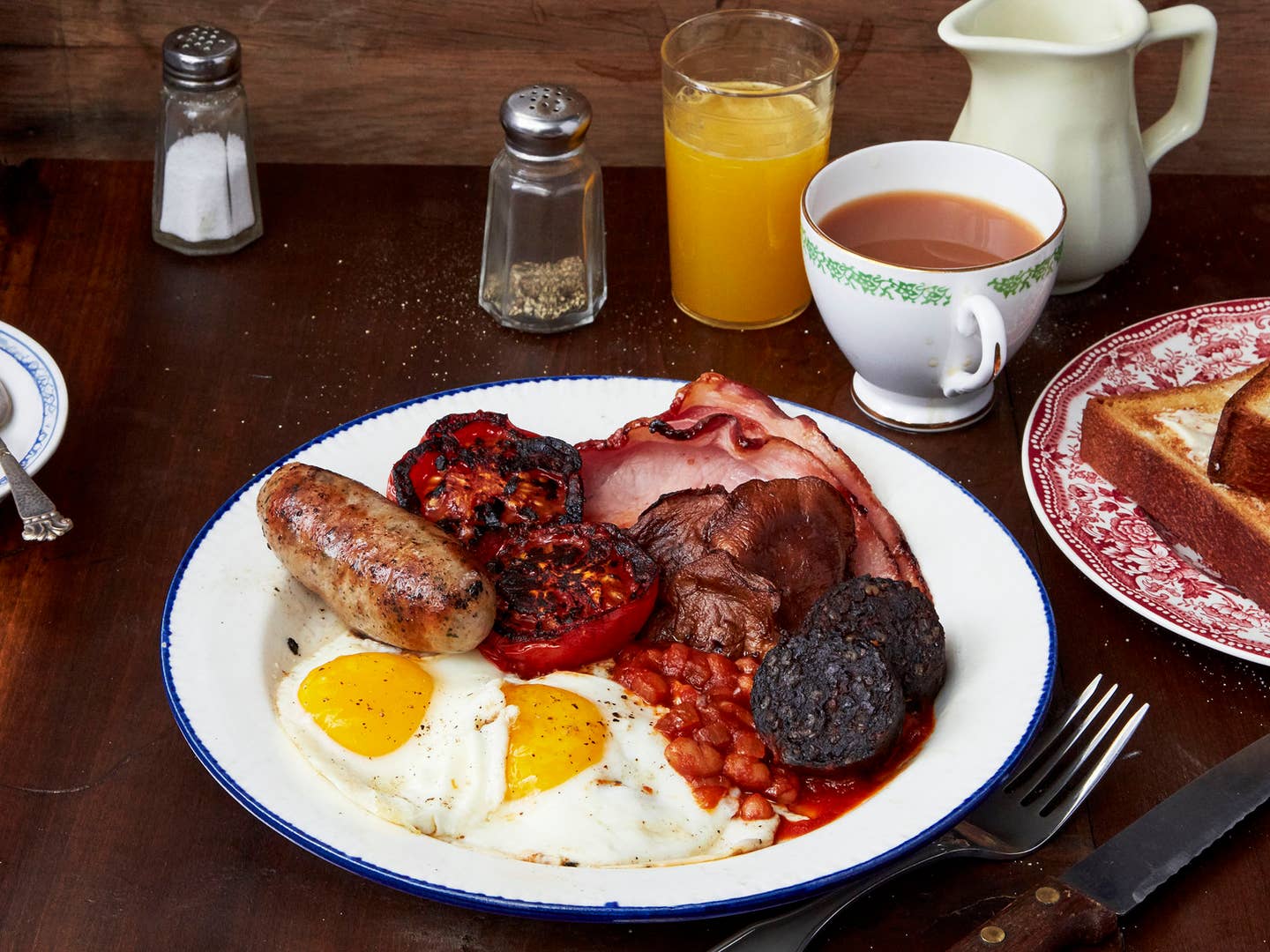 Techniques
How to Make a Full English Breakfast
Because there's no better way to start your day than with three kinds of pork products and a runny egg
When we were styling and shooting the recipes for our foray into the new amazing food of England's lake district, we realized something: Few of us had had a really, really good English breakfast, a.k.a. a fry-up, and even fewer of us have eaten them beyond U.K. territory. Are American restaurants just not up with the program? Are they still laboring under the ridiculous notion that two kinds of sausage, loin bacon, baked beans, fried tomato and mushrooms, a runny egg or two, and fried toast are too much for one person to reasonably eat for breakfast?
Or maybe this is the kind of dish that just doesn't taste right once you take it out of its place of origin.
Turns out the answer to that last thought is a resounding no, because all you really need for a proper English breakfast is this: good browning. You want your sausage casings so crackly the fillings are ready to jump out. You want to burnish your tomatoes and get some crisp on your egg whites. And you want your toast to fry, because toast cooked in fat is better than toast cooked in toast-smelling air. Brown color and deep texture—this is what makes an English fry-up really great. (That and baked beans you make yourself, because the American kind are just too sweet for this dish.)
To maximize this browning, you want a griddle. So when our buddy Andris Lagsdin, the creator of the Baking Steel, dropped by SAVEUR HQ, we knew what we wanted him to make.
Andris' baking steel is a modern kitchen marvel: a heavy (really heavy) slab of stainless steel that conducts and retains heat better than stone or cast iron for some of the best pizza crusts and bread loaves we've ever seen. His team recently released a griddle version desiged for direct stovetop use, with a nice grease well around the rim, and we put it to work with our English breakfast recipe.
You can see the results in the egg-porny video above, and follow along with our recipe below. You don't need Andris' griddle to make it (though, despite, the price, we definitely recommend picking one up); any cast iron pan or griddle will do. Just remember: Fry hard. It's all about the crispy bits.