Recipes
Celery Root Salad with Apples and Parsley
Serves

serves 4

Cook

30 minutes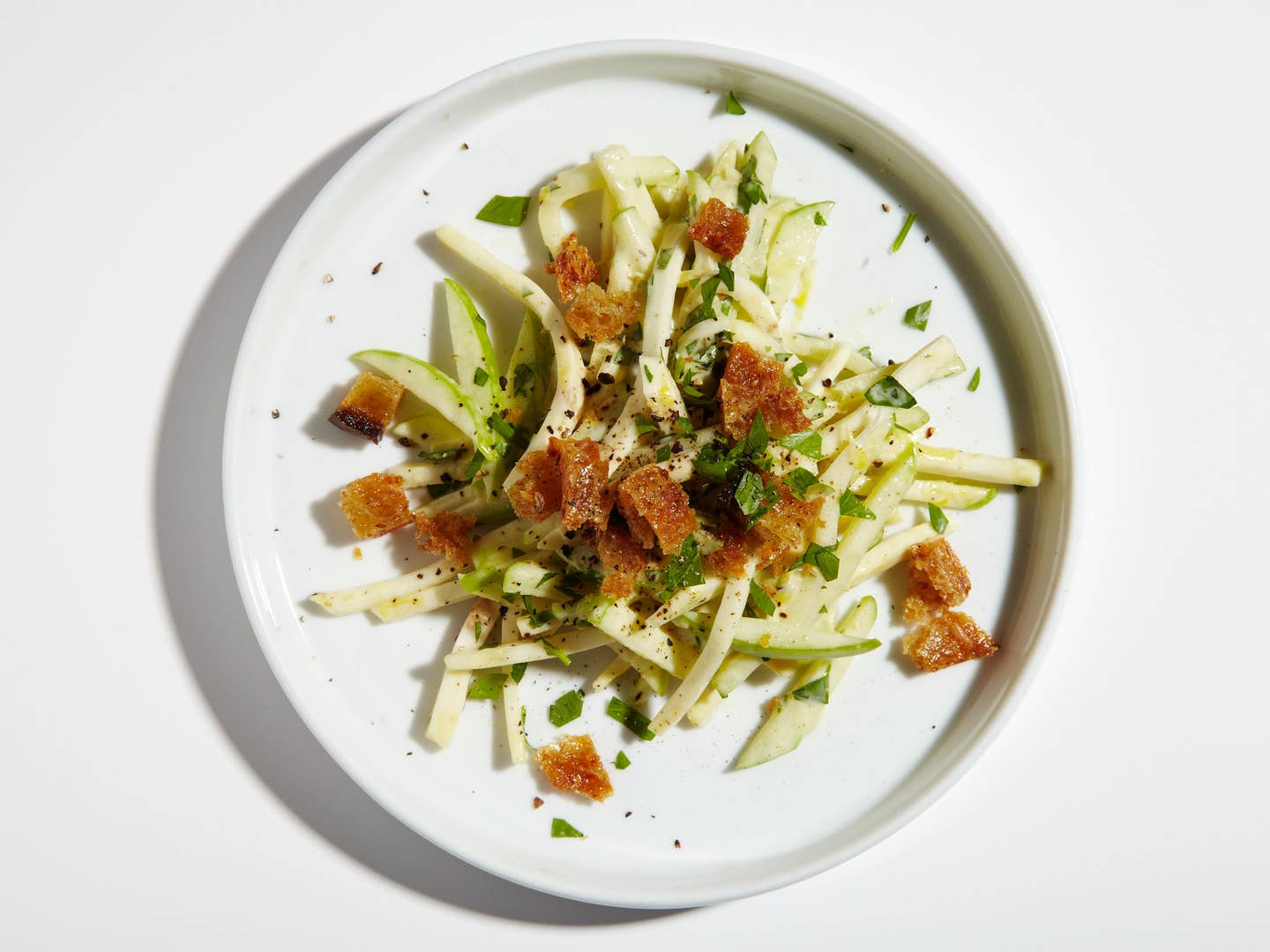 This light and delicious salad from chef Dan Kluger makes wonderful use of winter produce. Crisp, raw celery root (a.k.a. celeriac) mingles with tart, julienned apples, crunchy croutons, and a tarragon-infused, mayonnaise-based dressing.
Ingredients
3⁄4 cup extra-virgin olive oil
2 1⁄2 oz. sourdough bread, cut into 1/4-inch cubes
2 1⁄2 tsp. kosher salt, plus more
1⁄4 cup fresh lemon juice
1⁄4 cup mayonnaise
1 tbsp. maple syrup
1⁄4 habanero chile, stemmed, seeded, and minced
1 lb. celery root, peeled and julienned
2 cups lightly packed flat-leaf parsley leaves
2 medium tart apples, cored and julienned
1 tbsp. roughly chopped tarragon
Finely grated zest of 2 lemons, preferably Meyer
Freshly ground black pepper
Instructions
Step 1
In a medium skillet, heat 1⁄2 cup olive oil over medium. Add the bread cubes and cook, tossing, until the croutons are browned and crisp, about 5 minutes. Using a slotted spoon, transfer the croutons to a paper towel—lined bowl and toss with 1 teaspoon salt.
Step 2
In a blender, purée the remaining 1 1⁄2 teaspoons salt with the lemon juice, mayonnaise, syrup, and chile. With the motor running, slowly drizzle in the remaining 1⁄4 cup olive oil until it emulsifies.
Step 3
Scrape dressing into a large bowl and add the celery root, parsley, apples, tarragon, and lemon zest. Toss to combine and season with salt and pepper. Transfer the salad to a serving bowl and top with the croutons and more black pepper before serving.