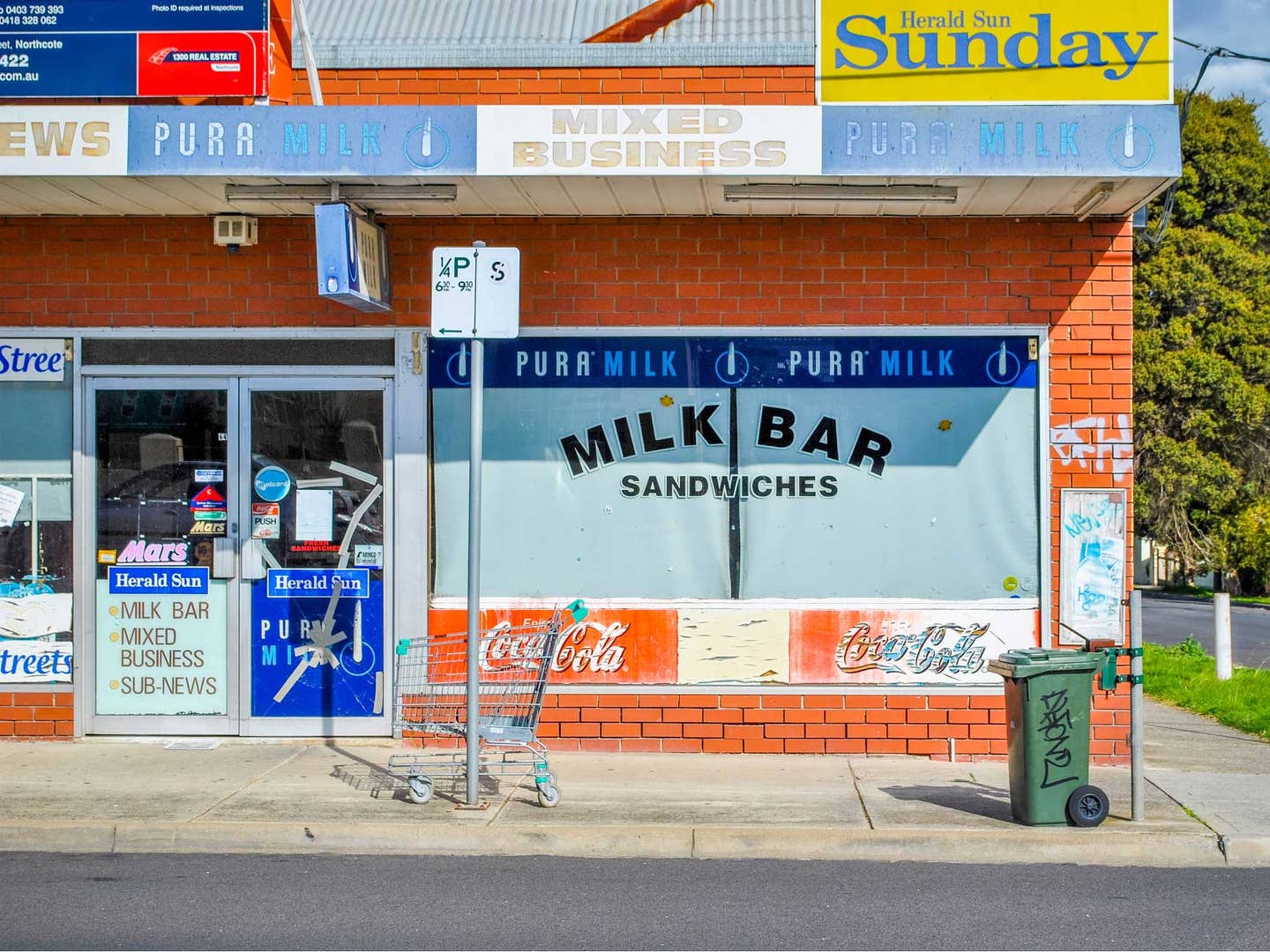 Travel
Remembering the Milk Bar, Australia's Vanishing Neighborhood Staple
Eamon Donnelly's upcoming book aims to preserve the legacy of Australia's bread and milk corner stores—and so much more
Sixteen years ago, photographer Eamon Donnelly was on a nostalgia kick during a visit home to East Geelong, a suburban town an hour outside of Melbourne, Australia. During that trip, he returned to visit Dave & Peggy's milk bar, the neighborhood sort-of general store where he frequented for mixed candies and ice cream cones as a kid. Donnelly soon discovered that Dave & Peggy's, along with the four or five other milk bars in East Geelong, had all closed up shop—as had thousands of others across Australia.
Just as New Yorkers have delis and bodegas and Germans have Tante-Emma-Laden, Australians' milk bars are the instantly recognizable, and beloved, mom-and-pop corner stores of cultural significance. Predominantly run by Greek and Italian migrants for decades, milk bars became the go-to for residents of all ages and backgrounds in need of sundries including newspapers, cigarettes, and the occasional milkshake.
As institutions around the country have increasingly declined in number, unable compete with supermarket chains as well as rising property values, Donnelly has spent close to two decades documenting and archiving images of milk bars as well as interviews for his Milk Bars book, to be published later this year.
In Greek Cafes & Milk Bars of Australia, Macquarie University professors Leonard Janiszewski and Effy Alexakis explain that the Australian milk bar traces back to Joachim Tavlaridis, or "Mick Adams," a Greek migrant who was in awe of the popular soda parlors he saw when visiting Chicago in the early 20th century. In the 1930s, Tavlaridis put a twist on the concept of the American soda parlor, swapping out milkshakes for soda fountains, and established his own original concept of an Australian communal gathering space, decked out with a marble countertops, big mirrors, and a handful of seated booths.
By the '70s, however, the term "milk bar" became tied to general store-esque businesses, predominantly in the suburbs in part due to the creation of flavored milks as well as a need to add more supplies due to a decline in the temperance movement. Today, they're known by several names across Australia, including delis, corner shops, and mixed business.
"It was family, community, friendly service and the migrant success story," Donnelly says. "This was the place you discussed the latest news from the street corner to the other side of the world, you bought the weekly food supplies and received life advice from the owners who knew your name."
The photographer explained that the milk bar was a ubiquitous yet personal experience throughout the lives of Australians of all stripes: some of the photos capture capture upbeat, nostalgic sentiment. Shots of storefronts and interiors are flooded with a hi-def brightness, sharpening the plastered-all-over gothic signage for newspapers or bubbly ice cream brand logos, awash with '80s-reminiscent pastel hues of mustard yellow and seafoam green. Inside, neon oranges and pinks scream the childhood delight of sugary drinks and candy. Others recall memories actualized, deliberately washing out the scenery to emphasize many milk bars' decades-long lives.
In addition to preserving customers' rose-tinted memories of milk bars, however, Donnelly hopes to shed light on the hardships many families endured running these business, hoping to provide their family members a better life. A chapter of the book, titled "Behind the Counter," will showcase the proprietors side, many of whom "hated it."
"You had people working in these milk bars every single day just so they can have a better life," Donnelly said. "Back in the day, one generation would run it for 20 years. They didn't really want their children to run milk bars, they wanted their children to go to good schools, get good jobs."
With many realizing that the boom of convenience stores like 7-Eleven and skyrocketing real estate values have accelerated the decline of milk bars, Donnelly's project has piqued national interest. Occasionally, he'll receive images from previous milk bar owners or patrons of stores that have long closed down, or tips on businesses that look like they're on their last leg. The project, he said, will continue long after the book's publication.
"I'd like to think if someone has any history or memory or tip off that they'll contact me and think 'Ah, that's that milk bar guy,'" Donnelly said. "It's something I think I'll be doing for my entire life."
This March, Eamon Donnelly will be launching a crowdfunding campaign to cover the costs of printing his 400-page hardcover book. Register your interest in "MILK BARS: Milkshakes, Memories & Mixed Lollies" here."