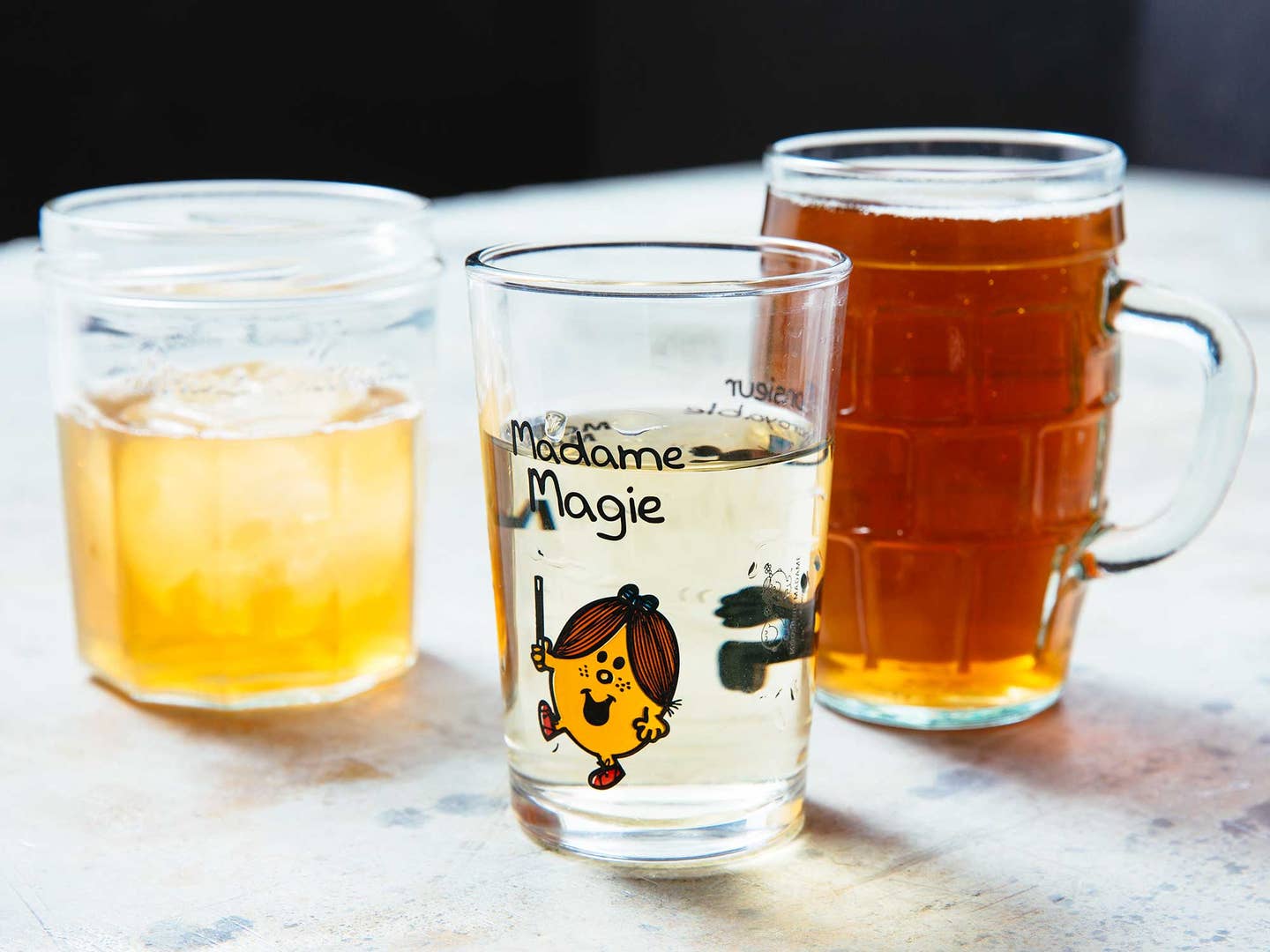 Shopping & Reviews
The Prettiest Mustard and Jam Jars That Double as Great Glassware
Live your best boho chic life with these preserves designed to stay on your shelf
Join us, for a moment, in a dream. You're having some friends over to hang out in your sun-soaked kitchen. One of them is thirsty. You reach past your cast iron stove to fetch the homemade citron pressé in your fridge. Your glasses are drying on a linen napkin on the counter. One of them is ringed with vertical facets, another decorated with spirals. Another looks like a diminutive beer stein.
These are the emptied out, cleaned up, and eclectically beautiful jars of mustard, jam, and honey that you rescued from obsolescence. Forget Mason jars—if you want to really funky live out the bohemian chic stereotype to the fullest, seek out these special preserves packed in containers designed to be converted into glassware once their contents are finished. And hey, the contents inside are pretty tasty too.
French mustard brands are all about the pretty packaging. Some, like Moutarde de Meaux, go for cute ceramic crocks, but this nose-tingling Dijon opts for glass with pretty facets along the bottom and a plastic lid that snaps on to the top, which means no threads on the lip of the glass.
The canonical Fancy Jam in America is, frankly, really good, and we always have a few on hand in the Test Kitchen. We also love the jar design, which recalls the classic aesthetic behind French working jars.
Most Chinese groceries stock maltose, an extra-sticky sweetener used for glazes in dishes like roast pork. Said maltose also comes flavored, most commonly in the honey style above. Not to be confused with real honey, honey maltose is way sweeter with a milder flavor but pronounced thickness. Best of all, it sometimes comes in glass jars like this. Or you can skip the store altogether and buy the glasses secondhand from sources like Etsy.
In our global mustard guide, mustard expert Kat Craddock describes Alstertor Dusseldorg-style mustard as "savory, tart and strong, similar to Dijon but typically with less aggressive heat." That's great for sausage and pretzels, conveniently two foods that go great with German beer, which DOUBLE CONVENIENTLY is just the thing to pour into this mug.
French pantry brand Maille has a wide line of pretty jarred things, but mustard is their core. We can't get enough of this charming stubby number with a thick, blue-tinted foot that screams "put sangria in me." (Same.)
My my, Maille, we never thought we'd call a pickle jar gorgeous, but here we are. This one deserves an Old Fashioned, stat.
In France, there are mustards specifically marketed to kids like happy meals, because of course there are, but here's the thing—they're really cute. And no one can stop you from owning your own set of glasses decked out with Les Smurfs or Monsieur Incroyable if you want to. These kids brands are harder to find online and in the States, but they're common in French groceries, and you can score some great vintage glasses secondhand. That admittedly defeats the purpose of reusing something you purchased yourself to extend its life, but hey, a collection's a collection.