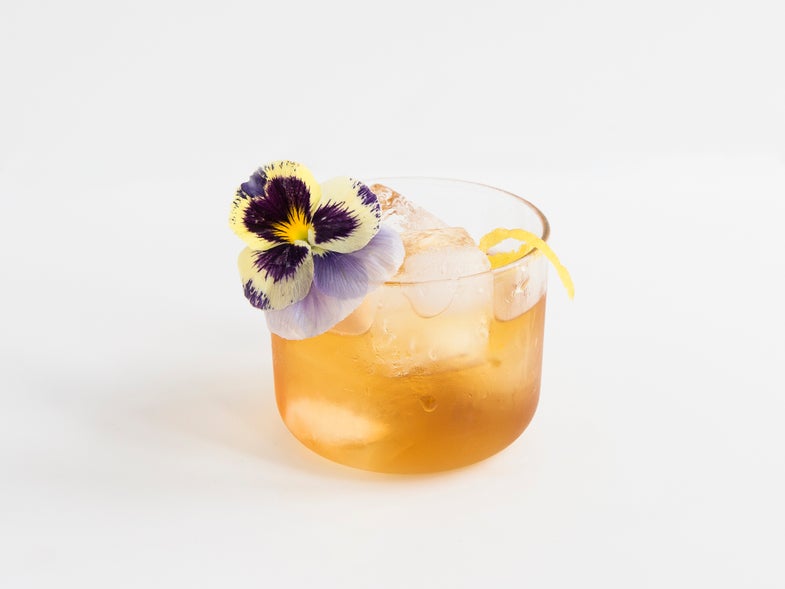 Cameron Johnston of Gleneagles Hotel designed this cocktail to appeal to those who don't usually go for a Scotch drink; chamomile syrup and Dalwhinnie 15 combine for a delicate cocktail with a still-smoky finish.
Featured in: 21 Cocktails for our 21st Birthday
Floral Old Fashioned
The aim of this chamomile-perfumed old fashioned variation is to appeal to those who usually don't go for a Scotch drink.
For the Chamomile Syrup
1⁄4 cup sugar
1 tbsp. dried chamomile flowers
For the Cocktail
2 oz. Speyside single-malt Scotch, preferably Dalwhinnie 15 Year
1⁄2 oz. chamomile syrup
3 dashes Angostura bitters
Edible flowers and lemon twist, for garnish
Instructions
To make the syrup, combine sugar, chamomile, and 1⁄4 cup water in a 1-qt. saucepan over medium-high; stir until sugar has dissolved, about 3 minutes. Cool, then strain, discarding flowers.
To make the cocktail, combine Dalwhinnie 15, syrup, and bitters in a cocktail shaker filled with ice; stir, then strain into a rocks glass filled with ice. Garnish with edible flowers and lemon twist.