Drinks
Floral Old Fashioned
The sweet hum of chamomile syrup can make a Scotch lover out of anyone.
Serves

makes 1

Cook

10 minutes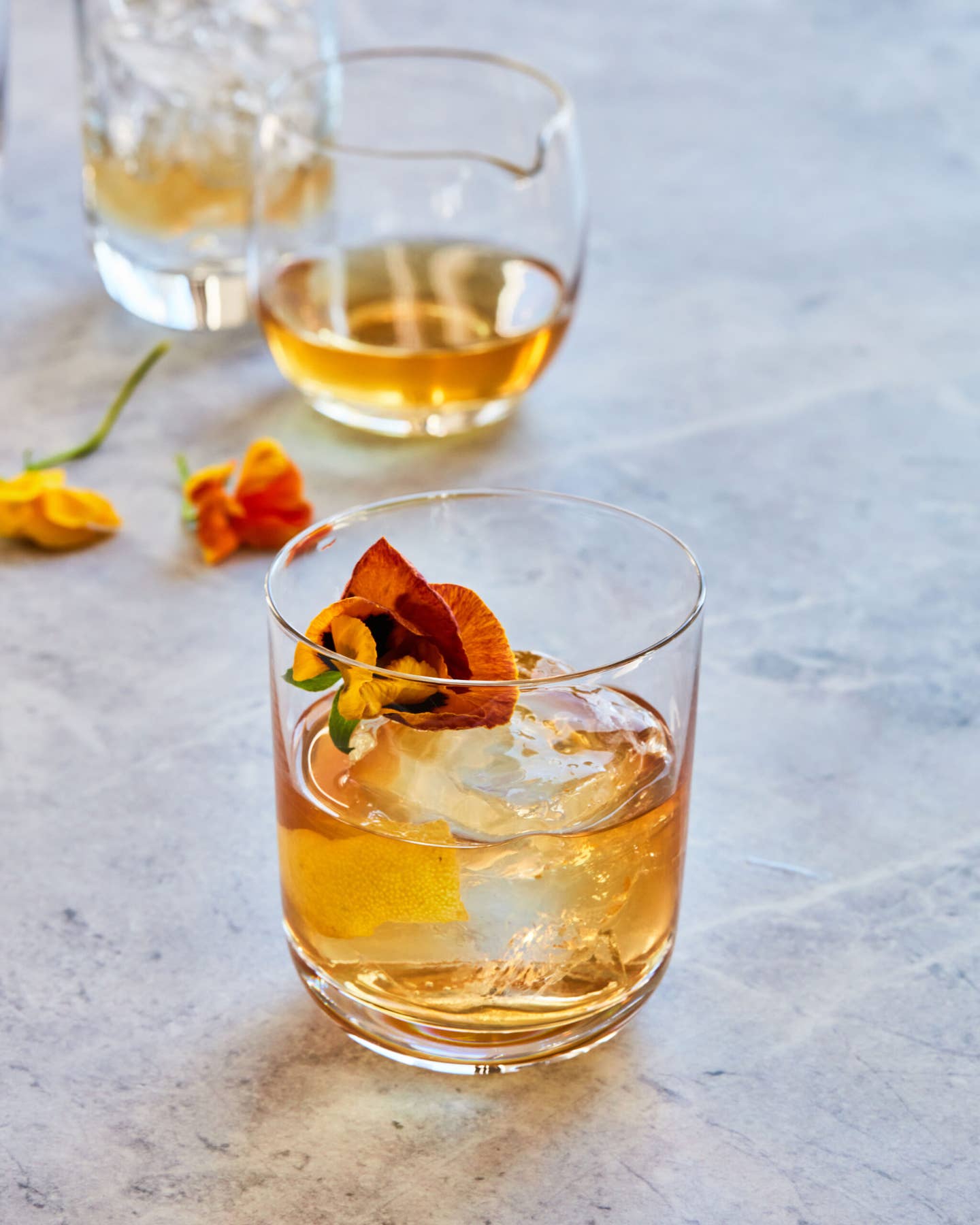 Alexander Murray & Company's brand manager Cameron Johnston designed this old fashioned cocktail to appeal to anyone who enjoys a whisky-based drink; chamomile syrup and Dalwhinnie 15 Year combine for a delicate cocktail with a still-smoky finish.
Ingredients
For the chamomile syrup:
¼ cups sugar
1 tbsp. dried chamomile flowers
For the cocktail:
2 oz. Speyside single-malt scotch, preferably Dalwhinnie 15 Year
½ oz. chamomile syrup
3 dashes Angostura bitters
Edible flowers, for garnish (optional)
Instructions
Step 1
Make the syrup: To a small pot set over medium-high heat, add the sugar, chamomile flowers, and ¼ cup water and cook until the sugar has dissolved, about 3 minutes. Remove from the heat and set aside until cool, about 30 minutes. Using a fine-mesh sieve set over a bowl, strain the syrup; discard the flowers. (The syrup will keep, refrigerated, for up to 3 weeks.)
Step 2
Make the cocktail: To a mixing glass or large glass filled with ice, add the scotch, chamomile syrup, and bitters. Using a swizzle stick or spoon, stir for 15 seconds, then strain into a rocks glass filled with ice. Garnish with the twist and edible flowers if desired.
Hot days are for cold cocktails. Sometimes an old standby hits the spot—a salt-rimmed margarita, maybe, or a refreshing mint julep sweetened with slow-steeped syrup. Other times, when we want to impress friends and family, we like eliciting oohs and aahs with zanier numbers like the Flor de Jalisco, which swaps in tequila for the rum and adds flor de jamaica for a vivid pink hue. No matter the occasion, we've got you covered.