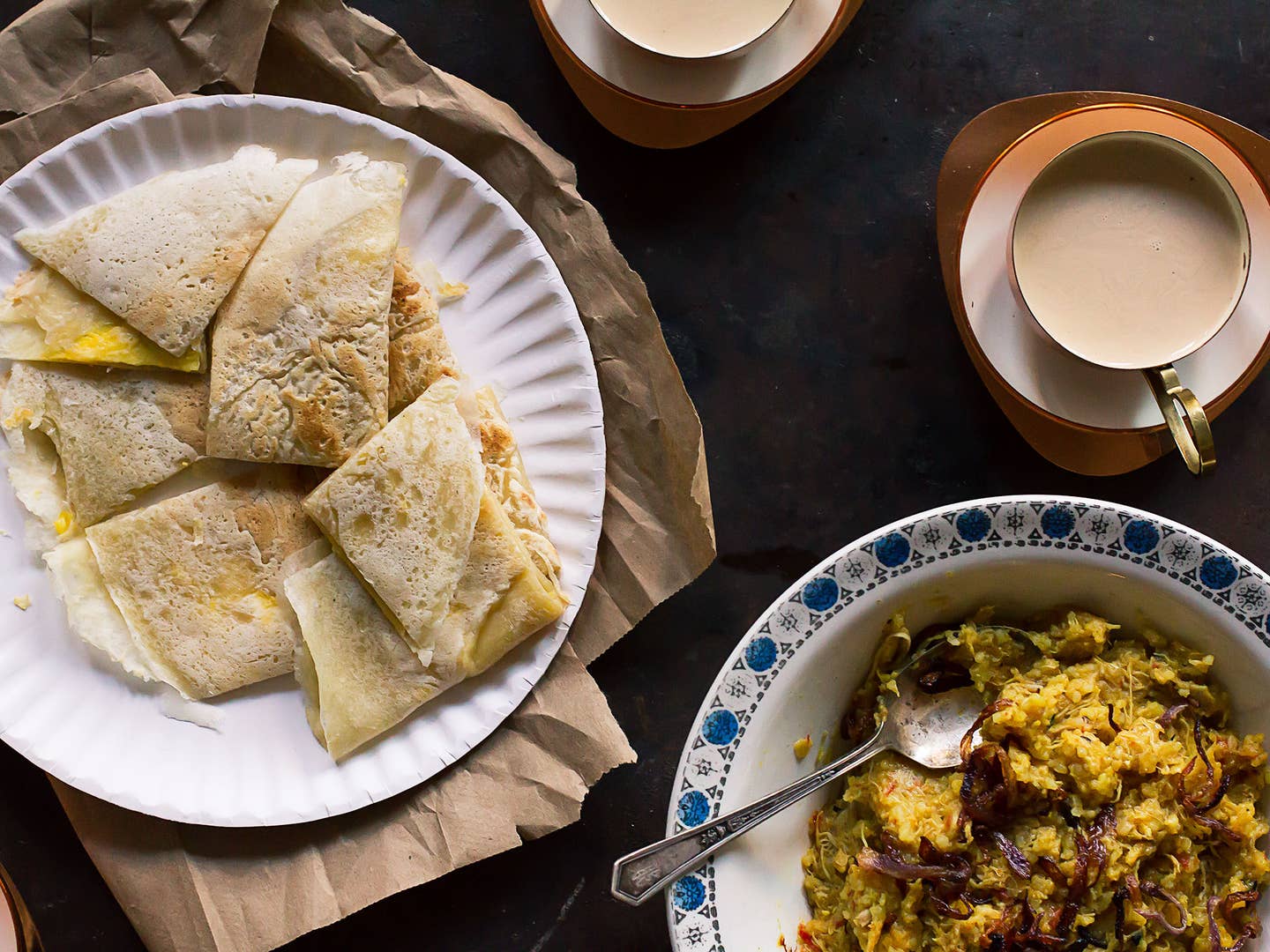 Culture
The Food of Oman is Too Good to Ignore
Recipe-testing a Middle Eastern cookbook gives our test kitchen director a new love for an under-appreciated cuisine
Oman, a country many Westerners don't even realize is there, lies along centuries-old spice routes, and its cuisine is a remarkably delicious case of cultural transfusion. Persian, North African, Indian, and Arab influences all come together for ingredients and dishes that defy expectations of what Middle Eastern food can be. Sure, you'll find the usual suspects like saffron, rose water, and dried limes, but also shark, wheat berries, coconut, and nutmeg—ingredients less frequently associated with the Middle Eastern canon. And if you're going to talk Omani food with anyone, it should be Felicia Campbell, the author of the just-published cookbook, The Food of Oman.
I first met Felicia when I was an intern at SAVEUR in 2012. Felicia was an assistant editor then, and the resident Middle East expert. By "expert," I don't mean she did her research by eating at restaurants and reading cookbooks. Okay, she did those things too, but this perfectly coiffed gal also got an education firsthand during an army tour in Iraq fixing helicopters. And she was traveling back and forth between New York and the Omani capital city of Muscat, working on a cookbook.
Her goal was to write a definitive text on the cuisine of Oman, a small nation on the Arabian Peninsula with a fascinating food culture unlike anything in the Middle East. When the time came to test recipes, I was more than ready to jump in and cook.
Think comforting porridges, such as madrouba, a combination of soft rice, spices, and chicken; complicated, fragrant, and beautiful biryanis, layered rice dishes that take an entire day to complete; and desserts filled with dates, honey, or rosewater, typically washed down with sweetened tea. It was thrilling to learn my way around ingredients like coconut milk powder, which, depending on how much water you add, can lend varying amounts of coconut flavor and creaminess to dishes.
If you want to get a crash course in a cuisine, there's no faster way than by testing out a cookbook. On the first morning in the kitchen, Dawn Mobley—who stood side by side with Felicia in Omani kitchens, documenting home cooks' recipes—hauled in what looked like 50 pounds of red onions. It seemed like a ridiculous amount at the time; we ran out halfway through the second day.
Then there was the trip to the hardware store to pick up a paint chipper, an essential tool for making Omani bread. You use it to smear a paper-thin layer of dough across a cast iron skillet, where it cooks in mere moments; then the chipper is the only way to remove the wafer-like frisbee onto a serving platter.
It was shortly after a deep fryer explosion that I started to see why Felicia fell in love with Oman. We were testing a recipe for lugaimat, fried dough soaked in a saffron syrup with sesame seeds, and a geyser of oil that erupted into the air told us the batter had too much water in it. (Don't worry, it works like a charm now.) But the nutty sesame and fragrant saffron, layered on top of the cinnamon, cardamom, and cumin at this point baked into our clothes, was intoxicating. This was clearly a cuisine too good to ignore.
Soon after I booked a trip Oman to join Felicia for New Years. She needed to put the final touches on her manuscript, and I had to see this country, and its food, firsthand.
The city of Muscat is surrounded by mountains, sand, and the Gulf of Oman. Its white, low-slung buildings give the streets an enchanting glow, and the blue water is never far away. Felicia and I spent one night barbecuing on the beach, eating grilled chicken marinated in tamarind, chiles, garlic, and sugar while appreciating another common interest of ours: whiskey. Just when I thought we were slowing down and getting ready to head back to Muscat, our friends threw some more meat on the fire's embers. We huddled in close and gnawed on lamb bones while the stars twinkled on the waves.
The best cure for a hangover in Oman? Drive up to a roadside tea shop and honk your horn. The sweaty morning after our barbecue, Felicia took us over to a man who cooked the local version of an egg-and-cheese sandwich. The bread, a crackly-crisp, delicious thing somewhere between a French crepe and an Indian dosa, was smeared with puck cheese (a little like cream cheese) and fluffy egg. We washed it down with karak, a spiced tea sweetened with condensed milk, similar to chai.
A few days later I left Felicia to finish her book. Now that it's published, she's decided to stay as a reporter for the English-language Times of Oman. Oman won her over. As for me, I'm still finding oil spots on the walls in the test kitchen.