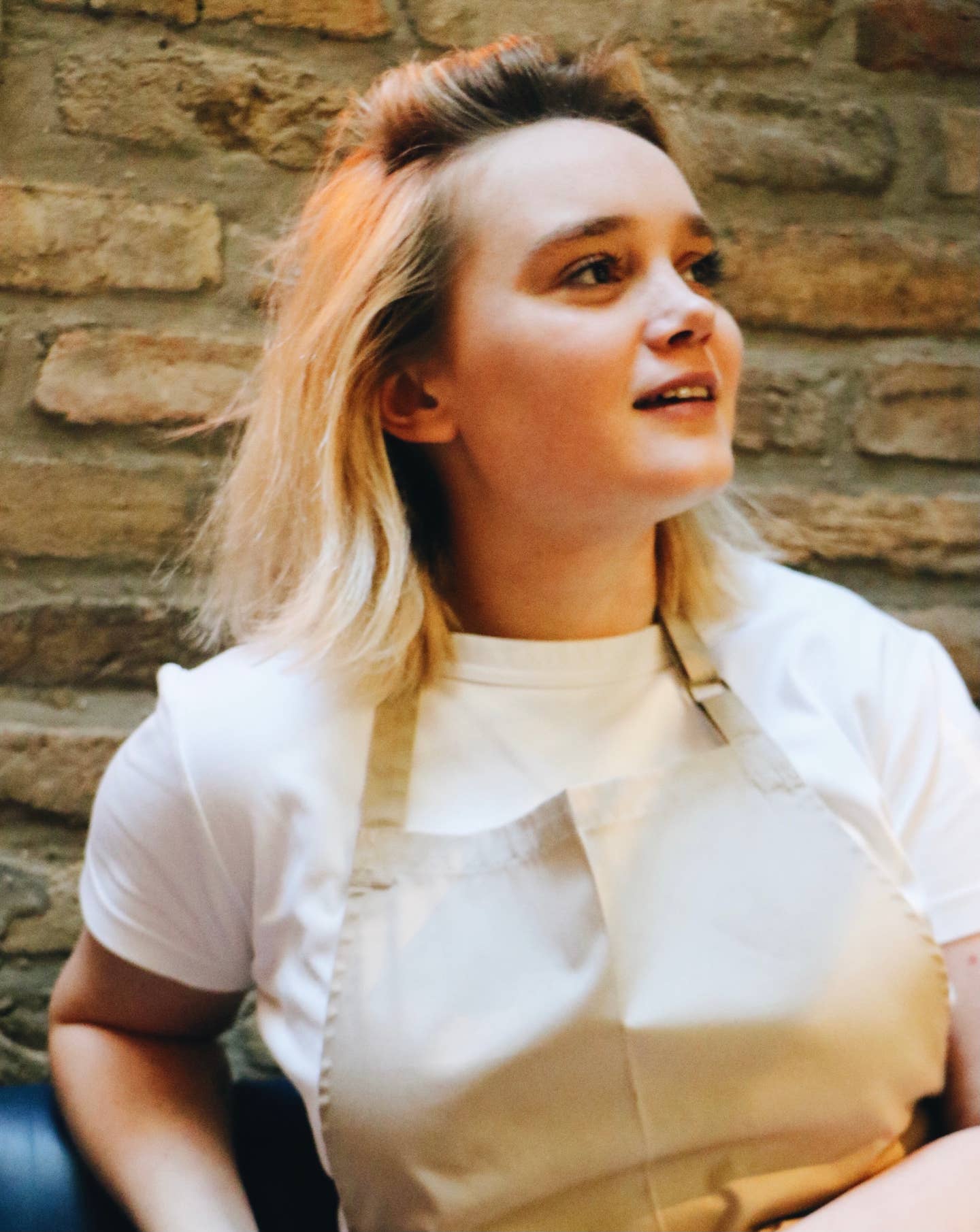 Culture
The 26-Year-Old Chef Leading a New Wave of French Cuisine
Alexia Duchêne's witty, worldly, off-beat cooking is giving the Parisian food scene a sharp creative edge.
Early last year in Paris, just before lockdown became a reality, Alexia Duchêne was garnering rave reviews from the city's most exigent critics for her vivid, personal, and contemporary take on French cooking at Datsha Underground, a new restaurant in the Marais. Tasting dishes like scallop carpaccio with raw cream, toasted buckwheat with chive ash, and turbot with caramelized onions and curried jus made from the fish's own roasted bones, Le Figaro's Emmanuel Rubin praised Duchêne for "swinging delicious punches," while Ezéchiel Zérah of L'Express lauded her as a "super-talented chef who knows how to sublimate simplicity."
Then, 2020 turned into the fallowest year for French cuisine since 1945. All of the country's restaurants had to close from March 17 to May 11 and again from October 29 to the present. Ever the innovator, the young chef swiftly reimagined how her cooking could be recreated at home by partnering with We Are Ona, an "ephemeral food experience" offering three-course DIY meal kits.

From my apartment in Paris, the chance to not only "meet" the rising Gallic culinary star, but also cook alongside her, was a thrill. (My long-awaited reservation at Datsha had fallen two days after the first lockdown.) Along with the recipes which arrived via email—grilled leeks with chopped oyster and buttermilk vinaigrette; pasta with poutargue, pepperoncini, and capers; and Fontainebleau cheese with kiwis, sorrel, and olive oil—came video instructions from Duchêne herself. Preparing to grill leeks, she says to the camera, "You'll know the pan is hot enough if you dribble a little water in it and it dances. Of course, it's faster just to flick a little spit in the pan." She raises her eyebrows theatrically, grins, and starts dicing the oyster. I knew this would be fun.
Just like her irreverent approach, the food is deliciously unexpected. First up, the lactic tones of sour buttermilk and gently milky chopped oyster contrast with the percussion of fresh tarragon in the dressing. When dessert rolled around, I relished in the rock-'n-roll funkiness of tart kiwi and sour sorrel glossed with fruity green olive oil against a backdrop of barely sweetened fresh cheese. What intrigued me most was that Duchêne's cooking scrambles local genres; her food is nonchalantly cosmopolitan and spontaneous, but also firmly anchored in her deeply drilled technical skill. That vision spins on a belief that ingredients should interact but never lose their individual tastes and textures.
Evolving from the bistronomie movement that changed French cuisine in the 1990s by swapping heavy Escoffier-style sauces for freshly made jus, favoring shorter cooking times for meats and vegetables, and incorporating lots of fresh herbs and citrus—Duchêne is a leader in the pack of "post-bistronomique" millennial chefs upending the obsolete assumption that Gallic grub is the world's best. Healthy eating and respect for the environment are other core tenets of the group's culinary philosophy. "Every kitchen calibrates the contrasts between sour, salty, sweet, smoke, heat, and umami differently," she tells me when we meet up a week after my digital dinner. "I play my way rather than melding them into a single flavor, which is very French."

It makes sense Duchêne would break from tradition. Born in 1995, three years after the opening of Yves Camdeborde's ground-breaking bistronomie restaurant La Regalade, she is part of the first generation of chefs to come of age after that movement's heyday. "My family was always open to the world," says Duchêne, whose English mother grew up in Greece and Egypt. "At home we'd eat French things like roast chicken, but my Mom also made Egyptian dishes like molokhia."
Working in kitchens since age 14, she studied both pastry and hotel-and-restaurant management at Paris's prestigious École Ferrandi. From there, she embarked on a series of high-profile apprenticeships: Taillevent in Paris, Frenchie Covent Garden in London, and Studio in Copenhagen. Duchêne later helmed pop-ups in Paris and sous-cheffed for Giovanni Passerini at his eponymous restaurant near the Bastille—and that heady resume doesn't even include her electric run at Datsha Underground (where she resigned last May after the owners wanted to offer a less ambitious menu).
Breaking out on her own, Duchêne headed up Wanderlust, a popular Paris street-food pop-up, and published her first cookbook, La Cuisine d'Alexia last October. The emerging French chef continues to post recipe videos for her growing social following and thrives in the 21st century's digital ecosystem. "It's really cool how we all live in the same food world now," she says.
Still, there are aspects of the industry where she's demanding change. In a 2019 interview with the French magazine Melty, Duchêne revealed she had been raped by three older male coworkers when she was 15. "I spoke up so that maybe someday this won't happen to another young girl who dreams of becoming a chef," she explains. Shortly after, France witnessed its own surge in #MeToo accusations directed against culinary instructors, Michelin-starred chefs, and sexist kitchen culture in general. This movement, which has received widespread national and international coverage, suggests Duchêne and her generation are poised to usher in a shift in thinking that addresses not only what's on the plate, but also what goes on behind kitchen doors—and how to hold perpetrators accountable.
In and out of restaurants, she continues to do things her way. Topping off an already banner year, Duchêne was asked by Alain Ducasse to do a head-chef stint at his legendary Parisian bistro Allard in Saint-Germain-des-Prés. "He gave me carte blanche, so I reimagined the signature duck roasted with green olives as a pithivier [stuffed short-crust pastry] served with an olive-and-walnut sauce." Her inspiration? "Wildair, my favorite New York City restaurant," she said, adding, "It'll be so great when we can travel again."
One way or another, there's no doubt that Duchêne is going far.