Drinks
Salt-Baked Sea Bass with Hibiscus Beurre Blanc
Dried hibiscus blossoms lend their vibrant hue and a pop of tropical acidity to this contemporary take on a Mediterranean classic.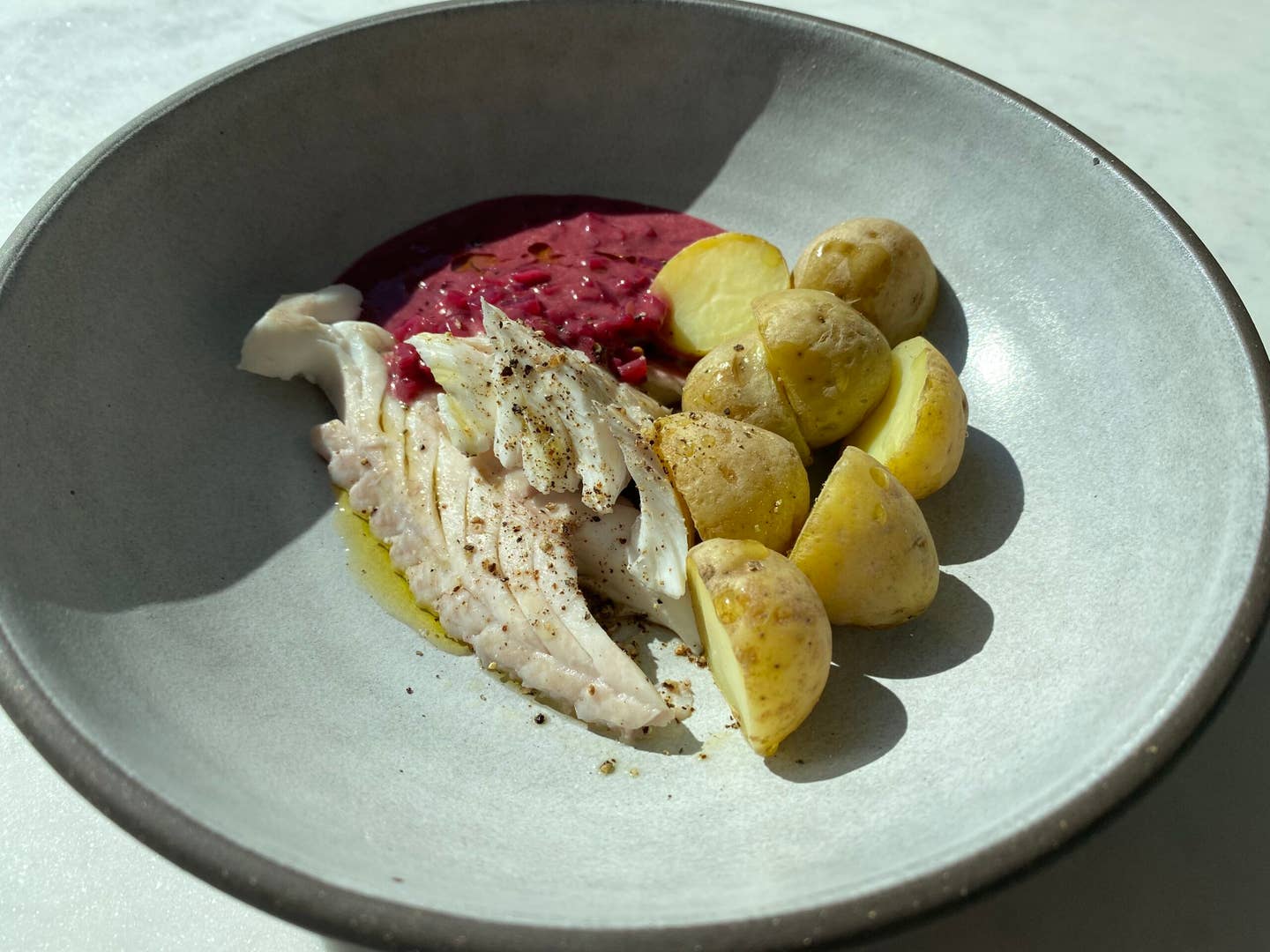 Paris chef Alexia Duchêne pairs this mild, salt-baked fish alongside a vibrant beurre blanc, tinted rosy pink with dried, ground hibiscus blossoms. If you're unable to find the powdered version, look for whole dried hibiscus in health food stores, spice shops, Latin American or Caribbean markets, or in the herbal tea section of your local supermarket. The recipe is adapted from Duchêne's cookbook, La Cuisine D'Alexia: Mes Recettes & Conseils Pour Cuisiner Comme une Cheffe à La Maison.
Ingredients
10 1⁄2 cups (6 lb. 10 oz.) coarse sea salt
3 large egg whites
1 3-lb. sea bass, gutted with scales
3 medium shallots (6 oz.), finely chopped
1 tbsp. white wine vinegar, plus more as needed
1⁄2 cup dry white wine
14 tbsp. (7 oz.) cold unsalted butter, cut into small cubes
1 tbsp. plus 1 tsp. hibiscus powder
Kosher salt
Boiled new potatoes, for serving
Instructions
Step 1
Preheat the oven to 400°F.
Step 2
To a large bowl, add the coarse sea salt and the egg whites and stir well until the mixture resembles wet sand. Using paper towels, pat the sea bass dry inside and out. On a large rimmed baking sheet, spread half of the salt mixture, then place the fish on top and cover with the remaining salt mixture. Using your hands, pack the salt around the fish to completely encase it. Transfer to the oven and bake until the salt has formed a firm shell and the fish is just cooked through, about 30 minutes. Set aside to cool slightly, about 10 minutes.
Step 3
Meanwhile, make the beurre blanc: To a small pot over medium heat, add the shallots, vinegar, and white wine. Bring to a simmer while whisking occasionally, and cook until the liquid is almost completely evaporated, 10–12 minutes. Turn the heat to low and start adding the butter a few cubes at a time, whisking constantly and waiting for each addition to fully melt and incorporate before adding more. (Don't let the sauce heat back to a simmer or the sauce may break.) When all the butter is incorporated, remove from the heat, whisk in the hibiscus powder, and season to taste with salt and additional vinegar. Cover and keep warm while you break down the fish.
Step 4
Use the back of a spoon to break the salt crust into pieces. Using your hands, pull the large pieces away from the fish and gently brush away any salt that clings to the skin. Peel away and discard the scales and skin. Use a fork to lift the flesh of the fish away from the spine. Serve hot or warm, with the reserved beurre blanc and boiled potatoes on the side.