Recipes
Kiwi, Dill, and Yogurt Pavlova
Swap the kiwi out for any seasonal fresh fruit in this casual yet elegant dessert.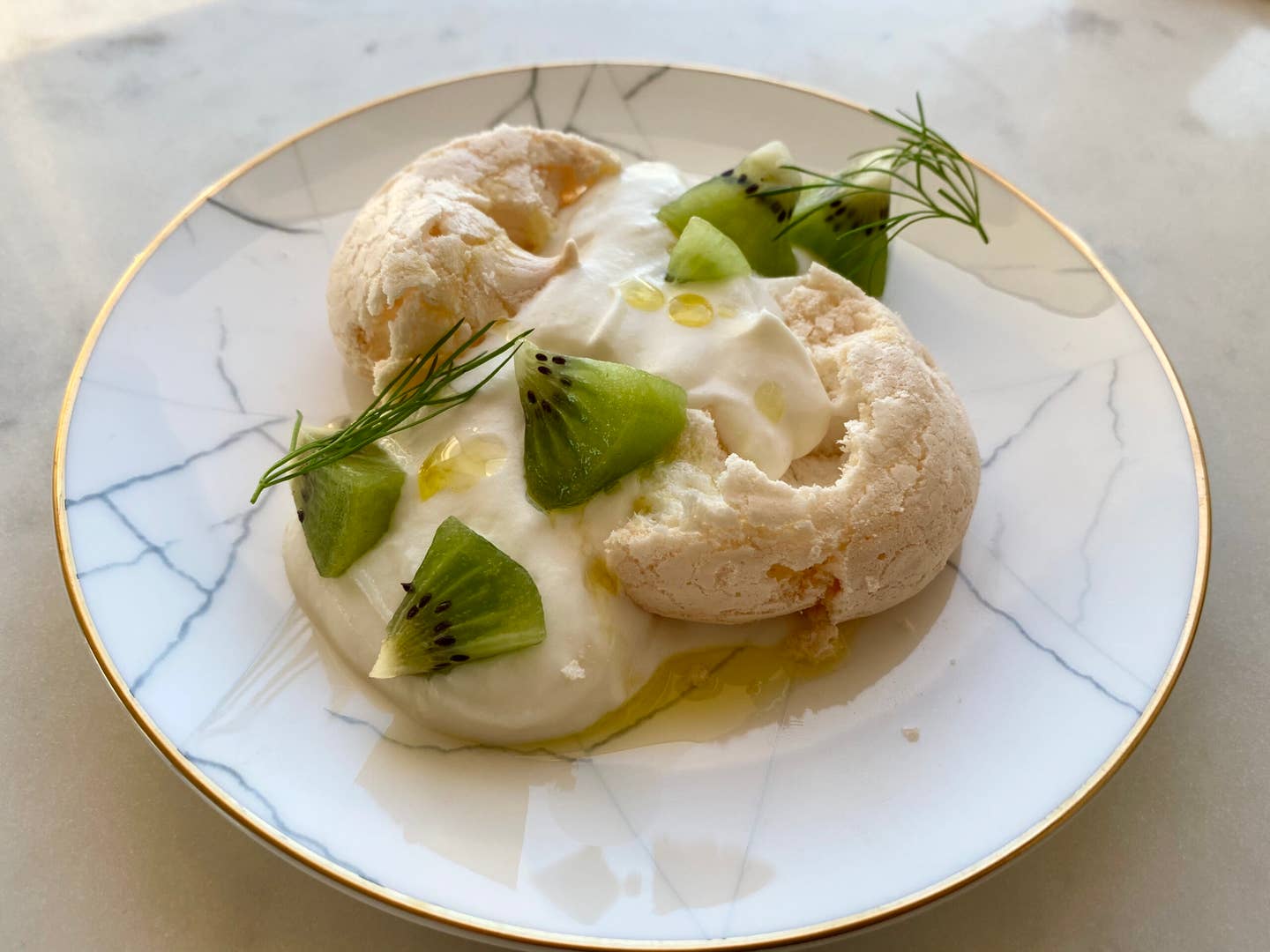 This tart and tropical fruit pavlova recipe comes to us from Paris chef Alexia Duchêne. She typically serves the dish individually plated. If you prefer a family-style presentation, arrange the meringues on a serving platter or bowl and layer with the fruit and yogurt cream. Stored in an airtight container, leftover meringues will keep for up to 2 weeks.
Ingredients
3 large egg whites
1 cup plus 1 Tbsp. superfine sugar, divided
1⁄2 cup plus 2 Tbsp. confectioners' sugar
1 1⁄2 tsp. potato starch
1 1⁄2 cups heavy cream
3 1⁄4 cups plain full-fat yogurt
8 medium kiwis (2 lb. 4 oz.), peeled and coarsely chopped
Fresh dill, for garnish
Extra-virgin olive oil, for drizzling
Instructions
Step 1
Preheat the oven to 250°F. Line 2 large rimmed baking sheets with parchment paper and set aside.
Step 2
In the bowl of a stand-mixer fitted with a whip attachment, beat the egg whites on high speed just to medium-stiff peaks, about 2 minutes. With the mixer still running, gradually add ⅓ cup plus 1 tablespoon superfine sugar, and continue beating on high speed until the meringue is smooth and glossy, about 1 minute more. Turn the mixer off and remove the whip attachment. Sift the confectioners' sugar and potato starch over the meringue and use a silicone spatula to gently fold together. Fill a piping bag or a large, zip-top freezer bag with the meringue, cut off the tip, then pipe 2-inch circles onto the lined baking sheet, leaving at least 2 inches between each circle.Transfer to the oven and bake until puffed and slightly golden, about 35 minutes. Set aside to cool to room temperature.
Step 3
Meanwhile, in a medium bowl, whisk together the cream and the remaining ⅔ cup superfine sugar to soft peaks. Add the yogurt and whisk just to combine.
Step 4
Immediately before serving, break or slice 8 meringues in half, reserving the rest in an airtight container for another use. Divide the pieces among 8 dessert plates; add a generous dollop of yogurt cream in the center of each plate, top with some of the kiwi and a few sprigs of fresh dill, drizzle with olive oil, and serve.