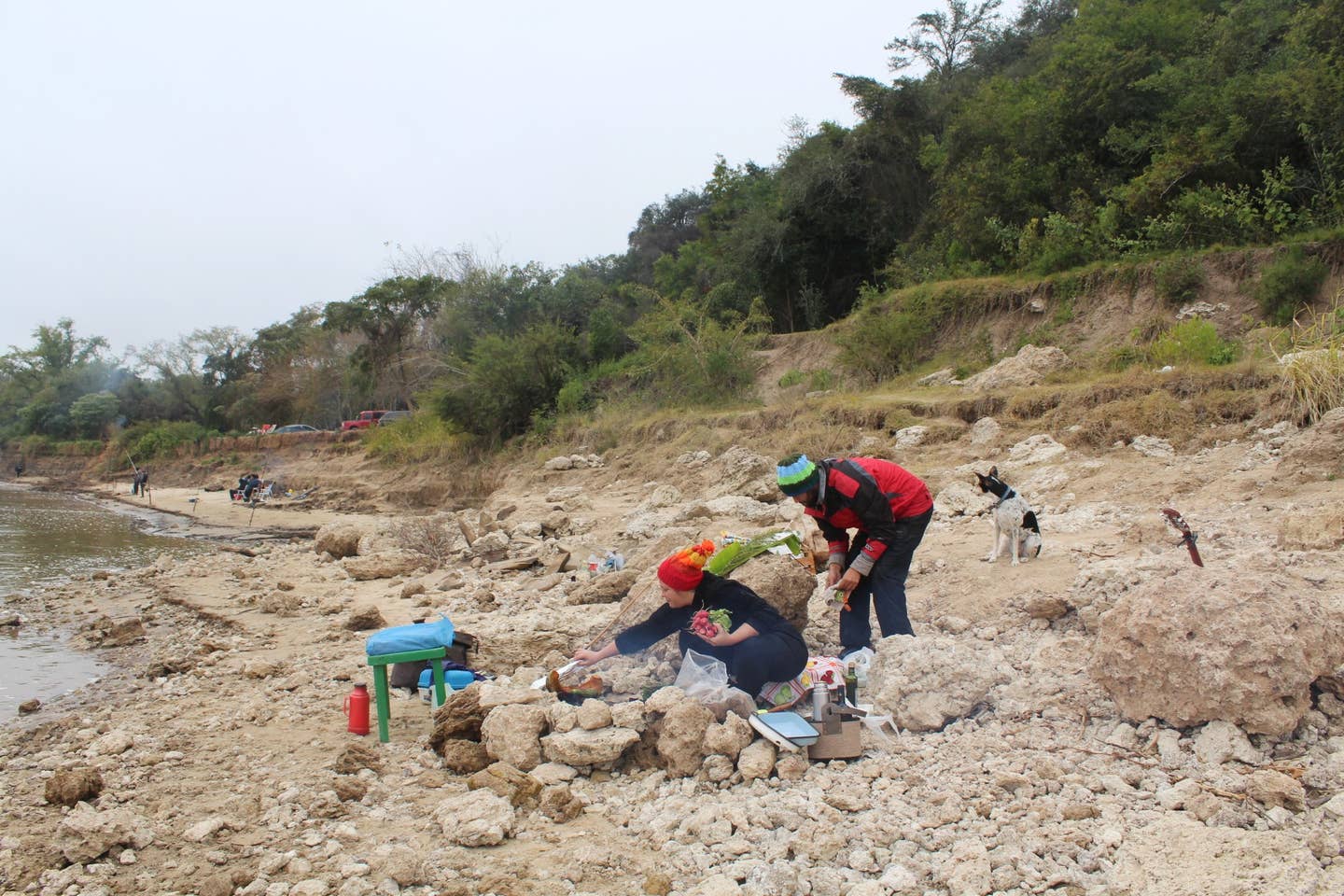 Culture
The Pescatarian Asado: Reframing Argentina's Native Bounty
Jorgelina Mandarina is developing a new restaurant fed by her home province's famed rivers.
In the Guaraní language, Paraná means "as big as the sea." This river is one of the longest in the world extending from southern Brazil to Argentina's Río de la Plata river basin. Along its 5000 kilometer route, The Paraná river supports innumerous ecosystems—land so lush and fertile that Spanish colonizers named the region La Mesopotamia. Entre Ríos, the home province of cook Jorgelina Mandarina, cradles this region's southernmost tip, and it's here that Mandarina sits on a thin, pebble-ridden beach where she has built a makeshift grill to cook the fish she pulls from the water.
Mandarina briefly shifts her attention to an islet in the distance. "Someday I would like to build a little house on one of those islands and subsist off the land and the river," she says before returning her gaze to a long cut of pumpkin scorching over a roaring fire.
Mandarina spent nearly a decade away from these riverbanks. Much of that time was spent in Buenos Aires where she moved to pursue a career as an actress and poet. Her first job waiting tables pushed her into the kitchen, and after a handful of cooking gigs around the city, she co-opened her first restaurant, Matambre, in 2016. The informal sandwich shop was visionary for some and polarizing to others. Diners were either excited or perturbed by sandwiches stuffed with smoked eggplant and pickled watermelon, or chorizo burgers that spilled over with fermented pineapple salsa, as well as an emphasis on vegetable dishes and her staff's open use of inclusive language.
The enterprise was short-lived (Matambre closed in 2018) but it opened doors for Mandarina in Buenos Aires and Patagonia, where she went on to work as both head chef and menu consultant for a pair of restaurants before returning to her hometown of Paraná, which sits on along the banks of the river of the same name. Similar to much of Buenos Aires, Paraná's dining scene leans towards Eurocentric traditionalism. "There is a lot of resistance to change," Mandarina explains. "People here want meat and potatoes. They aren't looking for adventure."
For the last year, Mandarina has worked as the head cook at a local bar in Paraná. In her spare time she built a garden, taught herself to cook with fire, and learned to distinguish wild edible plants like purple peppercorns and nasturtium, occasionally sneaking vegan dishes, fermented vegetables, and hot sauces onto the menu.
She's also currently in the initial stages of a new project. She is working together with a growing local restaurant group to design a menu and dining concept for a new restaurant in Paraná's emerging dining district. She envisions lots of fish and fire, and a kitchen that values native ingredients and regional producers alongside more global flavors—in other words, a menu that compels local Paranaenses to reimagine the possibilities of their own culinary heritage. It will be the first of its kind in Paraná.
"Entre Ríos feels forgotten by the rest of the country. Entrerrianos are guilty too. We have forgotten where we come from," says Mandarina. "The name of our province means 'between rivers.' We are bordered on the west by the Río Paraná and on the east by the Río Uruguay, but we have no idea what the river and this land provides us." In this provincial capital, home to a quarter million Paranaenses, the river's bounty rarely makes its way onto a menu or regular dinner tables.
We spent the better half of a week imagining a menu that embraces Entre Ríos' love for live-fire cooking, all-day asados, and fresh river fish. Mandarina created five recipes inspired by the generosity of the land and the river of her home. Here are a few tips for cultivating an Entre Ríos-style pescatarian asado no matter how far you are from the Río Paraná.
Throughout Argentina, weekend asados are all-day events. While the asador, or barbecue master, gets the fire going, guests filter in slowly with bottles of wine or beer in hand. As the day goes on, there is never a moment without food on the table. The meal is typically kicked off with a picada—an assortment of cheeses, cured meats, olives, and thick, crusty baguettes. Mandarina prefers to stock up at the roadside stalls sprinkled all over the highways and backroads of Entre Ríos where artisans often sell directly to consumers. Queso de campo is a catchall term for homemade cheeses, often short-aged and soft and mild in taste or flavored with black peppercorns or herbs that lend balance to densely marbled, slightly spicy salami. Stock your own picada with young gouda, herbed chevre, and plenty of extra baguettes, as Entrerrianos always eat fish with bread; it's believed to help push down any stray fish bones.
Traditional Argentine parrillas are built with a separate compartment to build and maintain the fire. As wood transforms into glowing embers, the asador shovels the embers under the grates. Argentine company Ñuke sells asado grills in a range of sizes in the United States but any wood-burning grill will work in a bind. Building a wood fire and keeping the coals lit through the length of the grilling is as much a measure as the cooking itself of a good asador. To tease out bolder flavors from seasonal vegetables and add a savory layer of smoke, Mandarina tosses sturdier veggies like summer squash and pumpkin directly over the roaring fire. She finishes more delicate produce like greens over the gentler heat of the grill. Cooks without a firebox can lay their vegetables on a wood or coal fire as it grows before arranging them on the grill. To make her plomo pumpkin with pecans and honey jalapeño dressing, Mandarina uses the intense flames to create a hard outer crust, which allows her to mash the cooked squash without mangling its dramatic half-mooned shape. The fire also adds a touch of smoke to the pumpkin's intense sweetness.
Have Fun with Your Chimichurri
Mandarina doesn't have a fixed recipe for the classic asado condiment. Instead she peeks at her garden and grabs a little bit of everything. When we grilled together, she gathered fresh curry leaves, parsley, rosemary, and thyme, then ground them with olive oil and tangy fresh mandarin juice for an herby chimichurri sauce that she then brushed over grilled yellow catfish, "You can use whatever herbs you like," explains Mandarina. "The important thing is to taste and smell individual herbs to build a balanced garnish and not let any single herb overpower the others."
Reserve Fish Fat to Make Rich and Flavorful Salad Dressings
I was surprised to see Mandarina pack a weathered enamel baking tray to bring to our campfire cookout and even more so when she greased it to cook fish. The tray serves a dual function. The fat from oily, butterflied fish can drip into the coals below causing flare-ups. Positioning the tray on top of the grill allows you to baste the fish in its own juices and capture any excess for use in other dishes. To add creaminess and intense aroma to the dressing for Mandarina's grilled summer squash salad, add a few spoonfuls of these drippings to a combination of sweet rice vinegar and peppery olive oil. The result is a brazen, buttery sauce that ensures every last bit of fish is used.
Pair Fatty River Fish with a Glass of Red Wine
At the turn of the 20th century, approximately 60 wineries lined the eastern border of Entre Ríos with a diversity of grapes unparalleled anywhere else in the country. A 1934 law prohibited the production of wine outside the Andes regions and the military pulled grape vines by the roots. In the late 1990s, the National Law of Wines prohibition was repealed, and 30 years later, Entre Rio's rich history of winemaking is at the beginnings of a comeback, embracing full bodied and often tannin-heavy varieties like tannat and petit verdot. Mandarina likes to pair the latter with the fatty fish native to the Río Paraná.