Recipes
Charred Squash with Sardo Cheese, Mint, and Fresh Greens
Summer and fall produce meet in this flame-kissed shoulder season salad.
Serves

serves 4

Cook

1 hour 30 minutes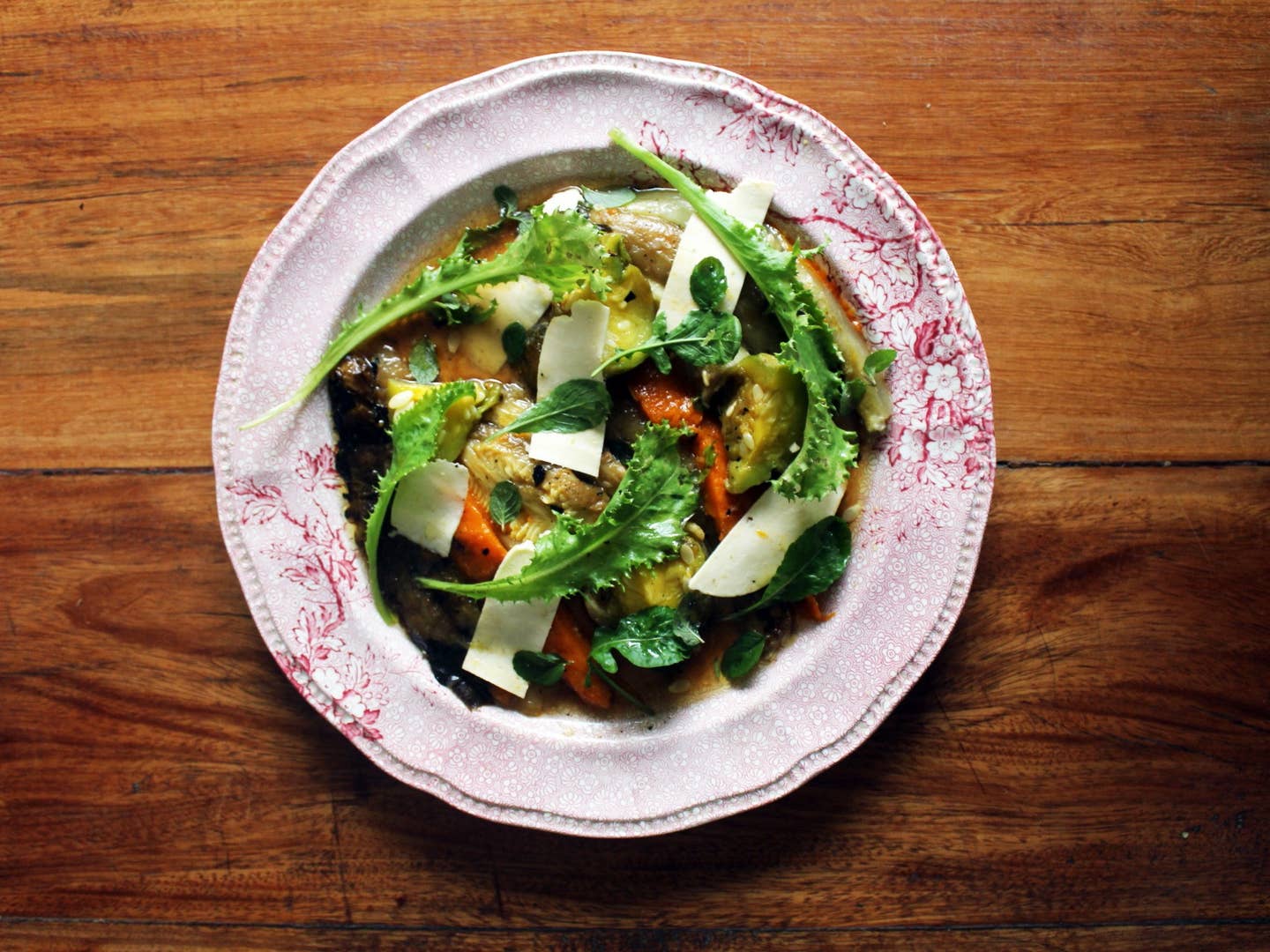 This shoulder season salad has one indispensable ingredient: fire. Regardless of time of year, the recipe takes full advantage of whatever gourds are available. Hot wood fire draws depth and texture from watery summer squash and cucumbers, which are cooked until just al-dente, while a longer roast turns starchier red kuri pumpkins creamy and tender. Feel free to improvise and adapt the technique to the produce at your own local market or grocery store.
Argentine sardo cheese is a semi-firm, salty cow's milk cheese, which is not to be confused with Italian pecorino Fiore Sardo. If unavailable in your local Latin market, substitute young provolone.

Ingredients
For the squash:
1 whole red kuri (Hokkaido) pumpkin, or substitute kabocha (1 lb.)
2 large cucumbers (1 lb.)
2 medium zucchinis (¾ lb.)
3 medium round or pattypan squash (¾ lb.)
For the dressing:
¼ cup extra-virgin olive oil
2 tbsp. rice vinegar
½ tsp. coarse pink Himalayan salt
Freshly ground black pepper
1 tbsp. fresh lemon zest, divided
For serving:
1 head (1 lb.) escarole, picked and washed
4 cups (2½ oz.) loosely packed baby arugula
½ cup (¾ oz) fresh mint leaves
2½ oz. Argentine sardo cheese
Instructions
Step 1
Roast the squash: Build a wood fire in a grill or fireplace then place the pumpkin, cucumbers, zucchini, and squash directly in the coals. Cook, turning often until the skins are evenly blackened and blistered and the flesh yields to the touch. The summer squash and cucumbers will be done first (20-25 minutes), while the firm, larger pumpkin will need 10–15 minutes more.
Step 2
Meanwhile, make the dressing. In a small bowl, whisk together the olive oil, rice vinegar, salt, black pepper and 1½ teaspoons of the lemon zest.
Step 3
Transfer the vegetables to a large bowl,cover tightly with foil, and set aside at room temperature to steam. Once cool enough to handle, drain and discard any accumulated liquid, then use a paring knife to remove and discard any charred skin. Quarter the cucumber, zucchini, and round squash lengthwise. Halve the pumpkin, then remove and discard its seeds and slice into long, thick wedges. Discard any additional liquid that might have collected.
Step 4
Arrange the vegetables on a large platter, drizzle the dressing over the top, and set aside to marinate at room temperature for 20 minutes.
Step 5
To serve, top with escarole, arugula, and mint leaves; use a vegetable peeler to garnish with thin, wide slices of sardo cheese, sprinkle over the remaining lemon zest, and serve warm or at room temperature.