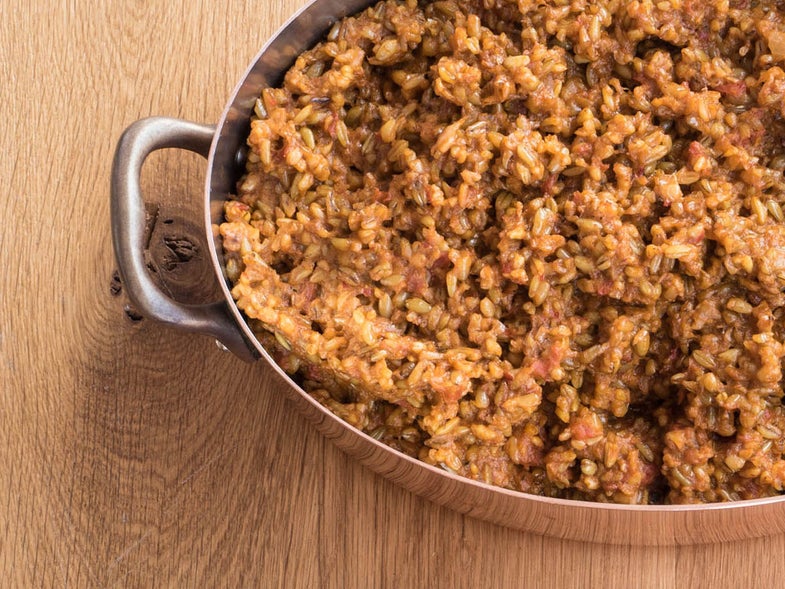 Freekeh—sun-dried and roasted unripe wheat berries—is a popular grain in Mediterranean cuisines, and has a mildly smoky flavor and pleasant chew. Here, chef Mehmet Gürs of Istanbul's Mikla cooks it pilaf-style and spices it with sumac, a bright red spice that lends color and a lemony zing to anything it hits.
Featured in: Meet the Chef Who's Traveling All Over Turkey to Bring Old World Food to Fine Dining
Freekeh Pilaf with Sumac
Sumac, a brightly-flavored spice lends color and lemony zing to a side dish of earthy, nutty freekeh—a popular Mediterranean grain.
Time: 2 hours
Ingredients
1⁄2 cup olive oil
1 small yellow onion, finely chopped
1 1⁄2 cups whole (not cracked) freekah
2⁄3 cup canned tomato purée
2 vine-ripe tomatoes, cored, peeled, and finely chopped
1 tsp. sumac, plus more to garnish
Kosher salt and freshly ground black pepper
Instructions
In a 4-qt. saucepan, heat the olive oil over medium-high. Add the onion and cook, stirring, until soft, about 6 minutes. Add the freekeh and cook, stirring, until lightly toasted, about 5 minutes. Pour in the tomato purée, vine-ripe tomatoes, and 2 cups water and bring to a boil. Reduce the heat to maintain a gentle simmer and cook, covered, until the freekeh is tender, about 1 1⁄2 hours. Remove the pan from the heat, stir in the sumac, and season with salt and pepper. Spoon the pilaf into a bowl and sprinkle with more sumac before serving.