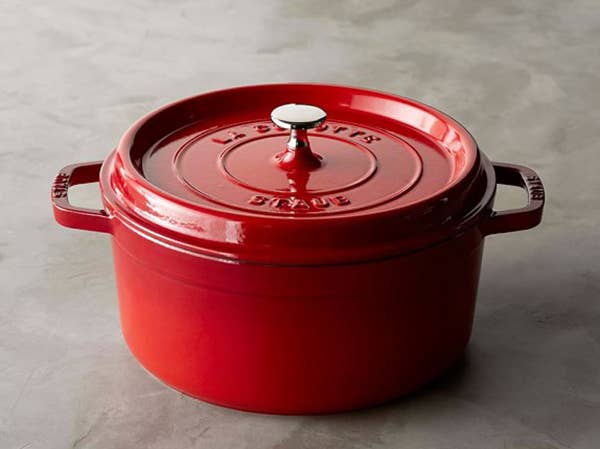 Techniques
9 Gorgeous French Cooking Tools That Will Give Your Kitchen Some Color
The classics are back in technicolor
From fashion to furniture to the kitchen and beyond, the French have always had an appreciation for timeless elegance. Not impressed by passing fads or cheap imitations, the French sense of style is all about classic pieces whose practicality and resilience allow them to remain relevant generation after generation.
Now, in an ever so slight homage to modernity, these classics are getting a fresh facelift with a healthy injection of color, updates that fit nicely with a trend we're seeing in the world's kitchens and restaurants. With this selection of French favorites from us at The MP Shift, you can get a contemporary yet classic kitchen that will never go out of style.
What better way to bring a splash of color to your dining table than these streamlined Laguiole steak knives? As functional as they are beautiful, the knives' design is inspired by a shepherd's tool first manufactured in the village of Laguiole in the 19th century.
This coffeemaker's classic design may be Italian, but that hasn't stopped it from becoming a permanent fixture on just about every stovetop in France. We love the injection of color (red or yellow) in this version from the nearly 200-year-old Maison Empereur, offering a subtle tweak to an age-old design classic that continues to do stellar service wherever people crave coffee.
It doesn't get much more old school than the butter crock, a countertop butter storage tool that's been used in parts of Europe since the Middle Ages, long before the invention of refrigeration. The Le Creuset stoneware butter crock is inspired by classic crock designs, blocking out air that can turn butter rancid while approximating room temperature to keep the butter soft without melting.
Anyone looking to recreate a French countryside picnic should order in a batch of these washed linen table napkins. Available in a vibrant array of colors, their wrinkled appearance and soft texture offer the perfect resource to wipe away that lingering smudge of Camembert on a hot summer afternoon.
These terrazzo boards not only look great but are also clearly built to last. With felt pads attached to protect you precious counter tops, they make an eye-catching improvement over the standard wood or plastic options.
Iconic French brand Staub hails from Alsace, a region famous worldwide for its culinary traditions. Despite their wide range of products, the company remains best known for their cocottes, traditional French cooking pots with drip channels in the lid to keep evenly baste food as it cooks.
No self-respecting French household would be caught dead without a week's supply of mustard, and for many that means Edmond Fallot. Established in 1840, Fallot mustards are made in Beaune, near Dijon, where seeds are selected for quality then ground in a traditional stone mill for a more hearty texture. This standout mustard adds a hearty kick to sandwiches, salad dressings, and marinades, and once you're done with it, you can keep the crock for stylish storage.
For generations, the French have tackled their grocery shopping with trusty string bags in hand, unknowingly ahead of their time on the eco-friendly front. Easy to pack away and deceptively expandable when put to work, it's little wonder that their popularity has spread as the war on plastic shopping bags continues.
The MP Shift is a New York based concept, design and branding studio, which specializes primarily in hospitality & lifestyle.