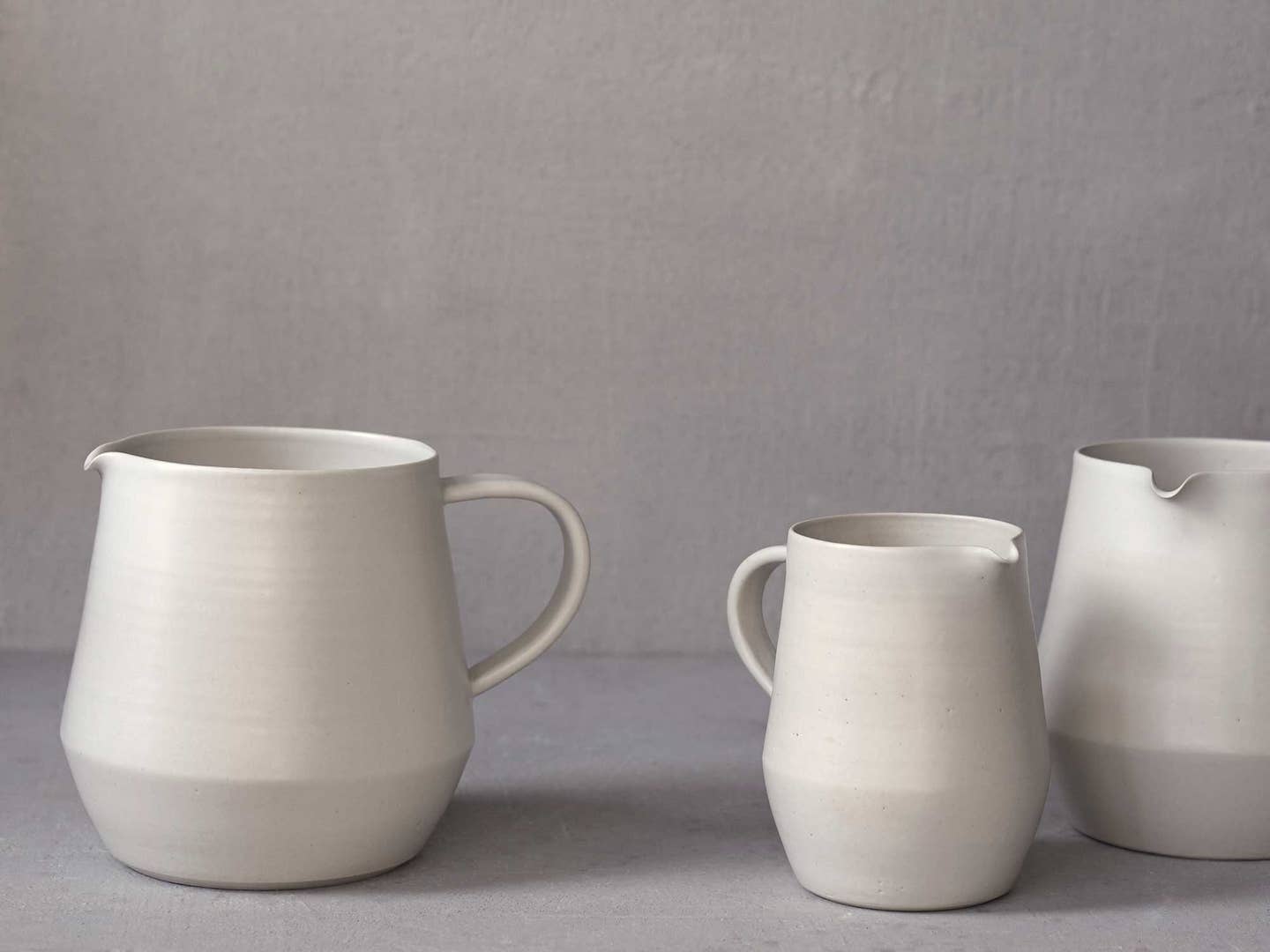 Shopping & Reviews
SAVEUR Gift Guides: Gorgeous Kitchen Ceramics We Love
Mugs, bowls, and serving platters that'll stand out on your table
Ignore the fact that my petite kitchen shelves may be currently buckling under the weight of all the kitchen items I own—vintage French juice glasses, gilded gold flatware, and a stock of canning jars in every size (hey, you never know). I can always find room for a new kitchen ceramic. Nothing gets my heart racing like a perfectly imperfect hand-thrown bowl to serve my side dishes in, or a delicate color-dipped mug for making afternoon tea.
While I do tend to gravitate towards soft, subtle colors and organic shapes in my own ceramic collection, the beauty of the collecting process is in the randomness: no one piece needs to "fit" with any other, and you never know when one will come into your life.
Here are some that I either currently have, or have my eye on. Check your self control at the door.
Produced in Japan, the spare, simple, and stackable line of Hasami Porcelain mugs was created under the direction of Takuhiro Shinomoto, an importer of modern Japanese housewares and gifts who owns Tortoise General Store in Los Angeles' artsy Venice neighborhood. The mugs come in small, medium, and tall sizes, the largest of which has a substantial feel and sharp-cornered handle you'll never want to put down.
"These little bowls are part of a new line of high-fired stoneware that I'm partway into launching," says creator Sarah Kersten, who's been selling her work out of Berkeley, California for five years but making it for more than 15. Her line began with fermentation crocks and has since evolved to include dinnerware—some for trendy local restaurants like the design-savvy Octavia in San Francisco.
The quail egg speckle pattern is applied individually to each piece, so no two are the same. And as of this month, she's newly added more plate sizes, a ramen bowl, and a smaller bowl she's calling an oatmeal bowl.
Levi's latest glaze is not for the faint of heart. Breathtaking in the most striking, saturated blue color that's totally on trend but also classically regal, her Cobalt plates are one of the rare exceptions to my keep-it-subtle color rule.
On her site, Levi shares some realness about how hard it is to throw perfect dinner plates by hand (they waste a lot of clay and need to dry more slowly than other pieces). Which is why for this line, she uses a hydraulic press to press soft clay into molds so the delicate plates will stack perfectly in your cupboard.
Everything looks better in ceramic, including this coffee dripper, a welcome departure from the portable plastic versions in many home cupboards. Maker Delphine Lippens of Los Angeles-based Humble Ceramics says it's "heavy on purpose," with no two drippers identical in color or shape.
While Portland, Oregon-based maker Kati Von Lehman goes back and forth between ceramic, linen, and wood designs, many of her pieces have a whimsy in common—like playfully large handles on mugs, patches of texture on otherwise smooth vases, or mixed or perfectly placed drips of glaze. "All my work is meant to be used frequently," von Lehman says. No exception to the rule, this hardy ceramic spoon (12 inches) is the perfect sauce stirrer, batter mixer, and server.
Henry Street Studio's delicate, small-batch ceramics just feel special in your hands. Their backstory is equally unique: the line was started by a mother-daughter team—Loren and Aliza Simons—in Brooklyn. For these stunning pitchers, available in white satin matte, ash grey, graphite, or black glaze, Aliza throws the base, then her mom attaches the handles.
An unsolicited but very welcome wedding gift first introduced me to Eric Bonnin Ceramics. Bonnin, who marks all of his pieces only by carving an obscure series of symbols into the bottom of them, hails from Paris, where he worked in the contemporary furniture industry before coming to New York City. His ceramic serving trays, with their thin-lipped edges and artfully sloped sides, are the things you'll want to serve every dinner party dish in.
Unearthing any one of the seven differently sized, made-to-order, wheel-thrown bowls from Claire Catillaz's nesting set brings on pure giddiness. Goodbye to the noisy aluminum or plain-looking glass mixing bowl set you bought when you first started out in the kitchen.