Our Guide to the Basics of Unplugged Coffee Making
Team Stumptown teaches the Test Kitchen how to make the most of our favorite alt coffee brewers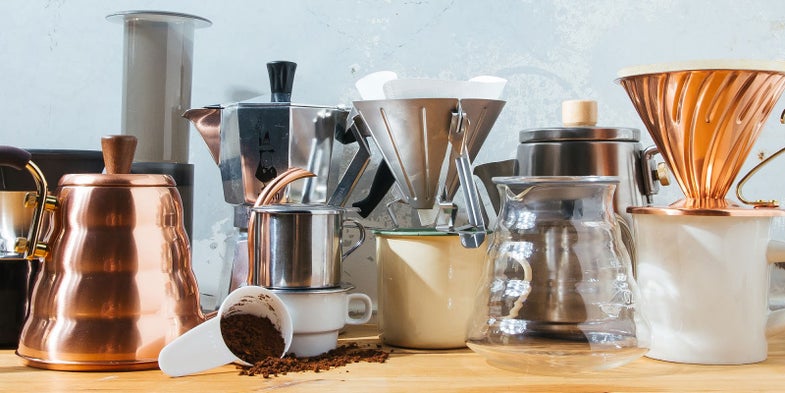 While you can't argue with the reliability of a good old Mr. Coffee, there are a lot of reasons you might find yourself drawn to the myriad unplugged brewing options out there. Affordable electric options rarely heat water sufficiently to get the most out of your beans, and sometimes you just don't want another appliance cluttering up your kitchen when there are so many great manual choices.
Our senior editor, Chris Cohen, is the outdoorsy type, with a fondness for lightweight camping gear like the Field Barista kit from Snow Peak. Associate editor Alex Testere is also an illustrator and ceramicist—he likes the sleek functionality and ergonomic design of his Chemex brewer. My cramped studio apartment (complete with a cat that delights in pushing things off the counter) has led me to the Aeropress, a quick, compact, and virtually unbreakable invention that extracts single servings of perfect, espresso-strength jet fuel. Our pal Emily Rosenberg, the Senior Curriculum and Education Manager over at Stumptown Coffee Roasters, favors the new December Dripper's adjustable flow settings.
So how do you choose? There is no one-size-fits-all answer; with high quality beans and the right technique, you can brew a great cup of coffee using any of these tools. Flavor and aesthetic preferences will vary from person to person and, Rosenberg explains, "the best method is the one that you'll enjoy using every day."
I gathered a load of popular coffee makers and invited Emily into the Test Kitchen for a highly caffeinated round of experiments. Check out her tips for making great coffee at home, then browse our favorite manual coffee solutions below.
1. I preach all the time about the superiority of metric measurements for baking recipes and, according to Rosenberg, serious baristas are cut from the same cloth. Different types of beans with different grinds will give have irregular volume to weight measurements; eliminate the guesswork of brewing your morning cup by ditching the measuring spoons and investing in a digital scale. Aim for 13–15 grams of freshly ground beans per cup (227 g) of water.
2. Good water is essential for good coffee: start with cold, filtered tap or bottled water. For hot brewing methods, bring water up to a full boil then wait a few seconds before pouring; for the best extraction of flavor, aim for 195–205° F.
3. Rosenberg explains that "natural" brown filters will impart a papery flavor to your coffee and that filters whitened with bleach should be avoided at all costs. When possible, opt for oxidized paper filters instead, and always run a small amount of clean hot water through the filter before brewing. This extra step will rinse residual dust from the paper milling process and preheat the brewer, which is particularly important for conductive glass and metal brewers. Wetting the filter also allows it to settle and adhere to the dripper, eliminating pockets of air that can cause glugging and uneven extraction.
4. While the basics of coffee grinding are understood for classic coffee-making equipment—medium for drip pots, coarse for French press, et cetera—the rules get murky when it comes to newer, alternative brewing methods.
To figure out the right grind for your selection, Rosenberg suggests a simple rule: the less time the coffee is going to be in contact with the water, the finer the grind needs to be. Classic espresso machines, moka pots, and Aeropresses are lightning-fast methods that require very finely ground beans. Alternately, French presses and, even more so, cold brew systems keep the water in contact with the coffee for an extended period of time; to avoid a sludgy and acidic mess, you'll want a very coarse, even grind for these slower techniques.
Many coffee shops will grind a bag of beans to your specifications, but nothing beats freshly-ground. If you decide to invest in your own grinder, look for one with adjustable settings that will allow you to experiment a bit before locking in your preferred grit. Blade grinders are essentially small blenders; they are inexpensive, but they grind irregularly and the heat they generate destroys the beans' aromas and nuance. Ceramic or stainless steel burr grinders are pricier but they yield superior results.
High quality commercial grinders will easily put you out a couple thousand dollars, but there are plenty of serviceable home versions like the popular Baratza Encore. There are even a few great manual grinders out there.
The Snow Peak Barista Field Grinder is lightweight, well-designed, and folds down to a sleek and compact cylinder. Its grind settings are not clearly marked, but with a bit of fiddling, it is fairly easy to find and lock in your desired setting.
The handsome old-fashioned version from Peugot also works well. Grind settings are easy to change and lock in and the top-loading burr mill feeds grinds into a tidy lower drawer. Its classic wooden casing comes in a range of colors and finishes and it looks great out on the counter.
The downside to manual grinders—and it is a significant one—is that it takes a great deal of effort to grind a usable amount of beans. The slender Snow Peak version fits easily in hand and its long handle spins with a minimum of force, but it takes a good 8–10 minutes of vigorous milling to yield enough beans for even a single cup. The Peugot table top model is no faster, and it hasn't the heft to hold itself down. Without a stationary handle to steady it, turning the crank is awkward and clumsy.
Once you've got your beans ground, it's time to brew. Here are some of our favorite tools for manual coffee-making like a pro: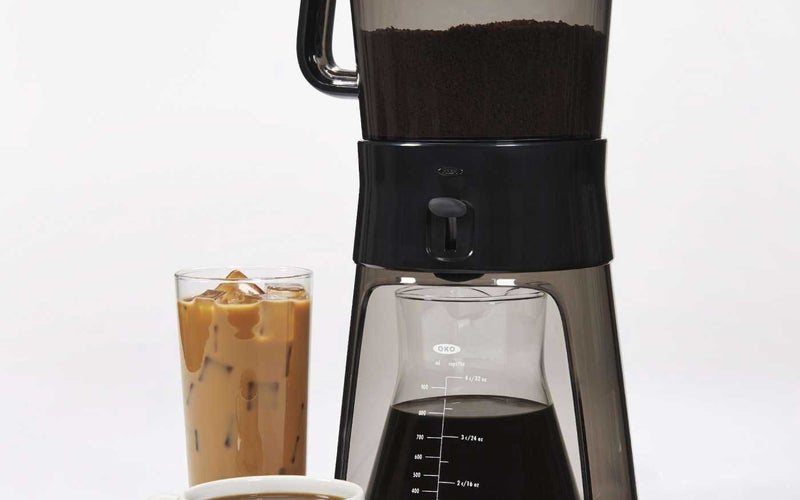 The OXO Cold Brew System is similar to the popular Toddy and Filtron versions, but with a few design improvements: While the other systems can be top heavy and precarious, OXO's stabilizing base protects the tank from tipping over while brewing. A long-lasting stainless steel mesh filter is easy to rinse clean and sufficient on its own for filtering the extraction, though fans of a more delicate brew can add an additional paper filter (the kit only comes with 10 of the proprietary filters, though they can be purchased from OXO.com or Amazon).
The glass carafe comes with a silicone-lined stopper that doubles as a measuring cup for precise dilution and a perforated "Rainmaker" lid supposedly helps to evenly saturate the grinds. While the assembled tower does take up a lot of space, the whole kit breaks down easily for cleaning and the pieces nest for compact storage.
OXO has made a name for itself by eliminating the minor discomforts and inconveniences of everyday kitchen tools, and this OXO Pour-Over Coffee Maker is a perfect example. While many pour-over units use more specialized filters, this dripper is designed to fit the standard No. 2 cone coffee filters available in any bodega or grocery store. The plastic construction provides superior heat retention, and a ribbed interior encourages water flow and prevents over-extraction.
A perforated water tank holds up to 12 ounces of water, eliminating the need to pour in timed spurts; the tank's cap helps with heat retention, then doubles as a drip tray after brewing.
Rosenberg notes that the tank's hole pattern is set in a circular pattern while the cone dripper is angled to a V–the design does distribute water evenly over the surface of the grinds, but saturation and drainage is slightly uneven. The handicap is a minor one set against the dripper's many assets. Used properly, it will give the user a very good cup with minimal effort.
High quality, BPA-free plastic coffee makers do not leach flavor or nasty chemicals into hot liquids; they're also less fragile and better for heat retention than their conductive glass and metal counterparts.
Compared to the graceful, hourglass Chemex or the modernist Bialetti moka, Aeropress doesn't have much stylish star power, but the compact invention is an inexpensive and reliable method for brewing single espresso-strength servings. Invented by Alan Alder, the creator of the Aerobie flying ring, this little gadget is my personal favorite way to brew. It is lightning-fast, stupid-easy to clean, and uses tiny, inexpensive filters.
It is ideal for folks with space limitations; travelers and campers who want to make high-quality coffee on the go will appreciate its durable and compact construction. Coffee drinkers who enjoy an espresso-strength cup will enjoy the Aeropress brew straight, but its concentrated extraction can be cut with milk or additional hot water, Americano-style, for a gentler jolt.
The Aeoropress's only limitations are style and scale—it can only brew a small quantity of coffee at a time and it isn't something I'm inclined to leave out on display—but who wants more stuff sitting out on the counter?
Aeropress devotees have invented several alternative methods and formulae for use and it is a popular home method among professional baristas. There is even a competition! Check out Stumptown's video for the basic technique.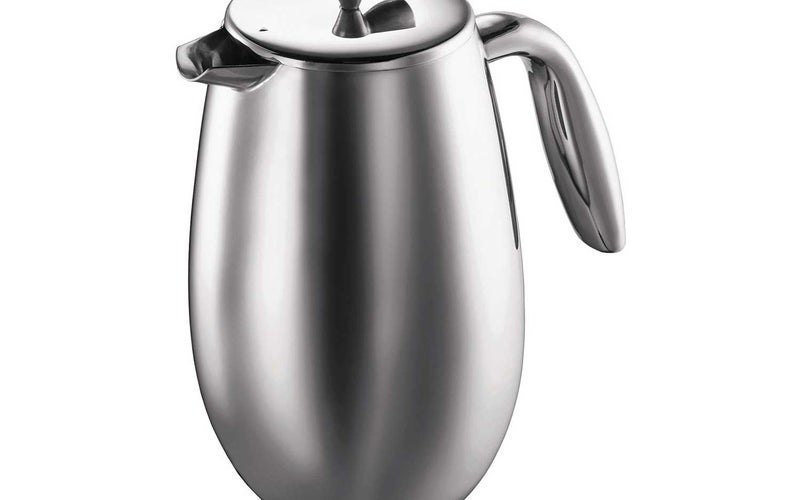 French press brewing yields coffee with more body and acidity by extracting more of the beans' aromatic oils. Chose a roast that is earthy and herbal—avoid anything described as "fruity" or "bright"—and be sure to use medium-coarsely ground beans to avoid muddiness.
This insulated, stainless steel French press from Bodum solves the quick-cooling problem of classic glass versions, keeping coffee hot for up to 2 hours. While I was sold on this feature, Rosenberg pointed out a significant drawback: Since a French press leaves the coffee grounds in contact with the brew, it quickly overextracts, leading to increased bitterness when left in the carafe for too long. Ideally, she explains, French press coffee should be decanted off the grinds within 15–30 minutes.
I still love the styling on this model and I'm a fan of the insulation all the same, if not for a leisurely 2-hour brunch, then at least for chilly mornings out on the porch.
With a large filter capacity and balanced potbelly base, Chemex is one the best manual coffee-making methods for a group, and it is most certainly the prettiest. Inspired by Bauhaus design and non-porous, tempered glass labware, chemist Dr. Peter Schlumbohm invented the Chemex in 1941. All Chemex brewers and accessories are still manufactured at the Chemex headquarters in Chicopee, Massachusetts.
While the custom paper filters are not as common as standardized versions, they are increasingly easy to find. They are available at most Whole Foods, and on Amazon.
The pots are available in a wide range of sizes and all but the smallest, the 3-cup pot, use the same FS-100 filters.
Brewed coffee cools quickly in Chemex's glass carafe, so the brand suggests wrapping the base in a tea towel or setting it in a warm water bath to insulate. The carafe itself is safe to use over a low flame on the stove; however, Rosenberg advises against reheating coffee in this manner. Doing so accelerates the creation of quinic acid and changes the flavor of the brew.
The wood and rawhide handle is removable for cleaning and the heat-resistant glass base is dishwasher safe.
These single-serving brewers (phin cà phê) are used throughout Southeast Asia to make hot or iced Vietnamese coffee—cà phê đá or cà phê nóng. Preground chickory-flavored coffee (like the easy-to-find canned stuff from Café du Monde) is brewed directly into condensed milk for a sweet and creamy treat.
A flat lid holds in heat during brewing, then doubles as a handy drip tray. Be sure to preheat the brewer before using and use medium-finely ground beans (if they're too fine, they will clog or even pass right through the perforations). When assembling, screw the filter down loosely against the grinds; as they hydrate, the grinds will swell slightly. If they are tightly packed, the water will not pass through quickly enough and the brew will be overextracted.
Advantages to using these traditional brewers include a low price point, reusable metal filter, and compact size.
This on-trend copper and glass kit is a high-style option from Japanese pour-over brand, Hario. The gooseneck kettle is designed for comfort and control when pouring, though the long, skinny spout allows water temperature to drop quickly. Be sure to bring water up to a full boil then start pouring immediately.
Snow Peak's collapsible coffee brewer is a vast improvement over wobbly folding camp drippers. Practice assembling the cone once or twice before you take it camping; it requires some dexterity to put it together and Rosenberg and I agree that the parts would end up right in the river were we on the brink of angry caffeine withdrawal. The tip of the cone filter hangs down slightly into your cup, so be sure to brew into a vessel with a bit of clearance. The matching stainless kettle is an excellent, quick way to heat water over a fire or camp stove and the removable handle nests neatly inside the pot for easy packing.
The December Dripper from Wrecking Ball Coffee (owner of Kalita USA) is perfect for for the detail-obsessed coffee drinker. It functions like an ordinary pour-over system, but features an adjustable dial at the base. This allows the user to adjust the flow rate while brewing, giving them greater control over extraction and increasing brewing capacity.
The moka pot is not exactly the darling of coffee snobs; it runs into problems when the grounds heat prematurely over the stove, destroying nuance and aromatic oils in the beans and pouring a notoriously bitter brew.
But some of us still can't resist these beauties from Bialetti. Their efficient minimalism–no paper filters required!–have plenty of draw, and a range of size options give the user the ability to brew multiple servings of espresso-strength coffee at once. The Bialetti moka moves seamlessly from stove-to-table; with its classic Italian design, the pot is presentable on even a formal breakfast table.
To avoid those scorched grounds, Rosenberg suggests a hack for better moka brewing: boil water in a pot or kettle first, carefully fill the moka with the preheated water, then brew as normal. The building pressure will force the hot water through the grinds almost immediately, preventing them from overheating on the range.