Heirloom and Cherry Tomato Salad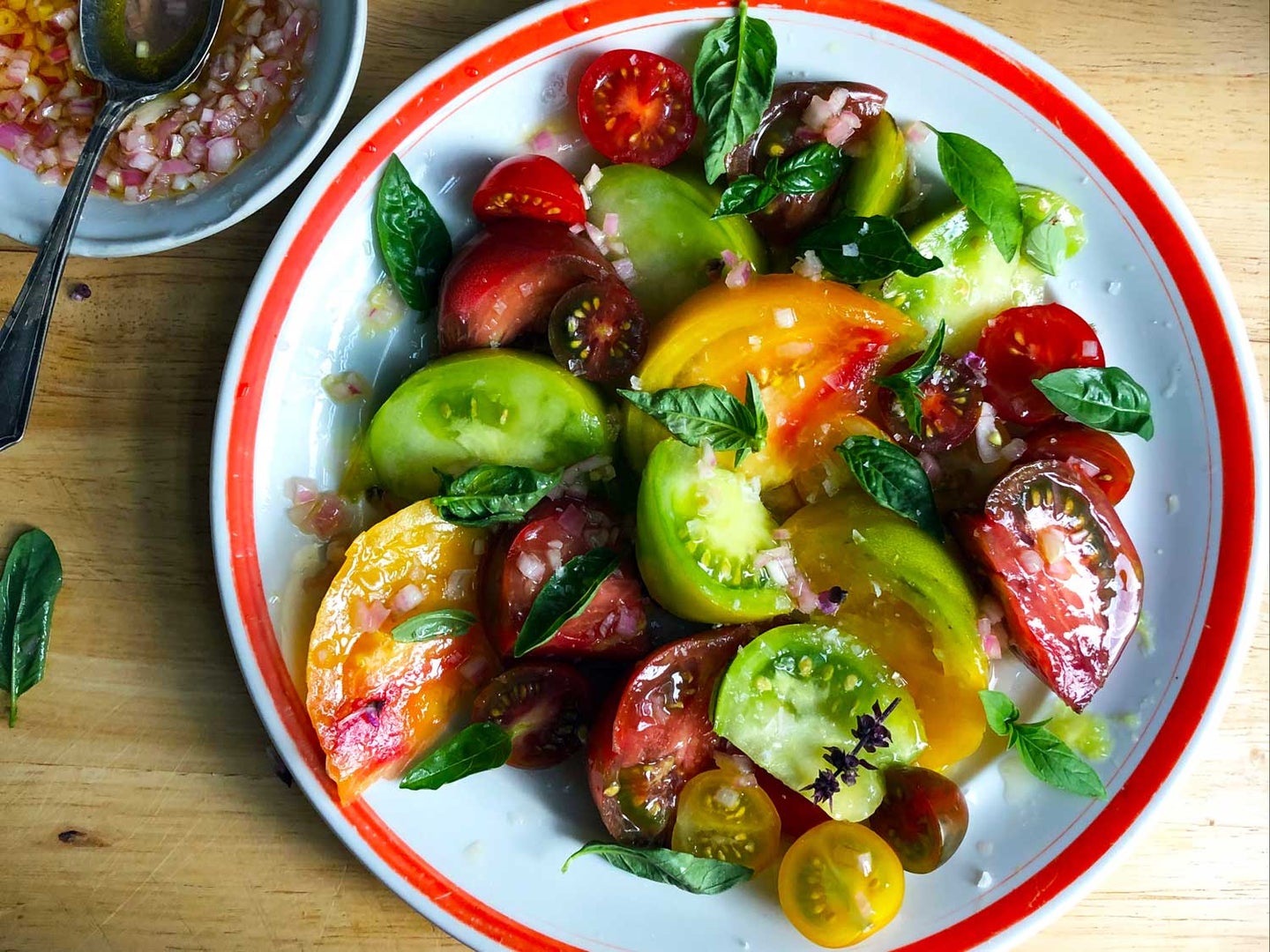 Look for as many kinds of tomatoes as possible for this classic salad from Alice Waters's Chez Panisse Café Cookbook. Tossed with fresh basil and a simple shallot vinaigrette, it's all about the beautiful and varied colors, flavors, and textures. As Waters puts it, "Is there a better example of the joy of eating seasonally?"
Adapted from Chez Panisse Café Cookbook by Alice Waters (HarperCollins) © 1999.
Featured in: The "Chez Panisse Café Cookbook," by Alice Waters, Still Holds Up
Equipment
Heirloom and Cherry Tomato Salad
A simple shallot vinaigrette is used to dress this classic tomato salad from Alice Waters's *Chez Panisse Café Cookbook*.
Time: 20 minutes
Ingredients
1 medium shallot, finely diced (¼ cup)
2 Tbsp. red wine vinegar, plus more as needed
1 medium garlic clove, finely minced (1 tsp.)
Kosher salt
½ cup extra-virgin olive oil
1 cup mixed cherry and grape tomatoes, halved
2 lb. mixed heirloom tomatoes, cored and cut into chunky 1-inch pieces or ½-inch slices
Freshly ground black pepper
Green and purple basil leaves, torn into small pieces
½ cup thinly sliced lemon cucumbers or Persian cucumbers (optional)
½ cup thinly sliced torpedo onions or Vidalia onions (optional)
Instructions
Make the vinaigrette: In a medium bowl, add the shallot, vinegar, and garlic. Season lightly with salt, then toss to coat. Slowly whisk in the oil to combine, then taste and adjust the seasoning with more vinegar or salt as needed.
Arrange the tomatoes, and cucumbers and onions, if using, in a shallow salad bowl or on a platter. Season with salt and pepper, sprinkle with basil, drizzle with vinaigrette, and serve immediately.