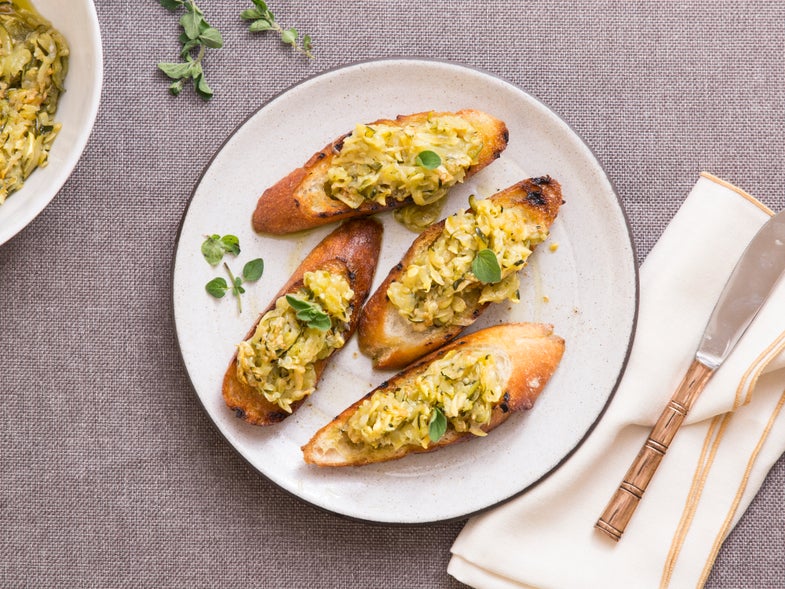 The spongelike nature of squash makes them an ideal candidate to cook confit, says chef Steven Satterfield of Miller Union. They soften into the warm oil, absorbing the flavor of the herbs. Use this tender relish to spread on toast or treat it like a chunky sauce, served atop grilled fish.
Featured in: Why I Love It: Summer Squash
Yield: makes 4 cups
Time: 1 hours 20 minutes
Ingredients
2 lb. summer squash or zucchini, or a mix of both, trimmed
1 tsp. kosher salt, plus more
2 sprigs marjoram, plus more to garnish
2 sprigs oregano
2 sprigs thyme
2 cups olive oil
Baguette or toast slices, for serving
Instructions
Heat the oven to 300°. On the large holes of a box grater, grate the squash and transfer to a large colander set in the sink. Toss the squash with the 1 teaspoon of salt until evenly combined and then let the squash stand for 20 minutes.
Using your hands, squeeze the squash to remove any liquid and spread it out in an even layer in a 9-by-13-inch baking dish. Tuck all the herb sprigs into the squash and then pour the olive oil over the squash to submerge.
Bake until the squash is very tender and lightly browned at the edges, about 45 minutes. Let cool and season with salt. Spoon onto toast slices and garnish with fresh marjoram to serve.