Techniques
Your Slow Cooker Is the Secret to the Most Epic Choucroute Garnie
This decadent braised pork and sauerkraut dish is the ultimate French comfort food
Serves

serves 4 to 6

Cook

4 hours 35 minutes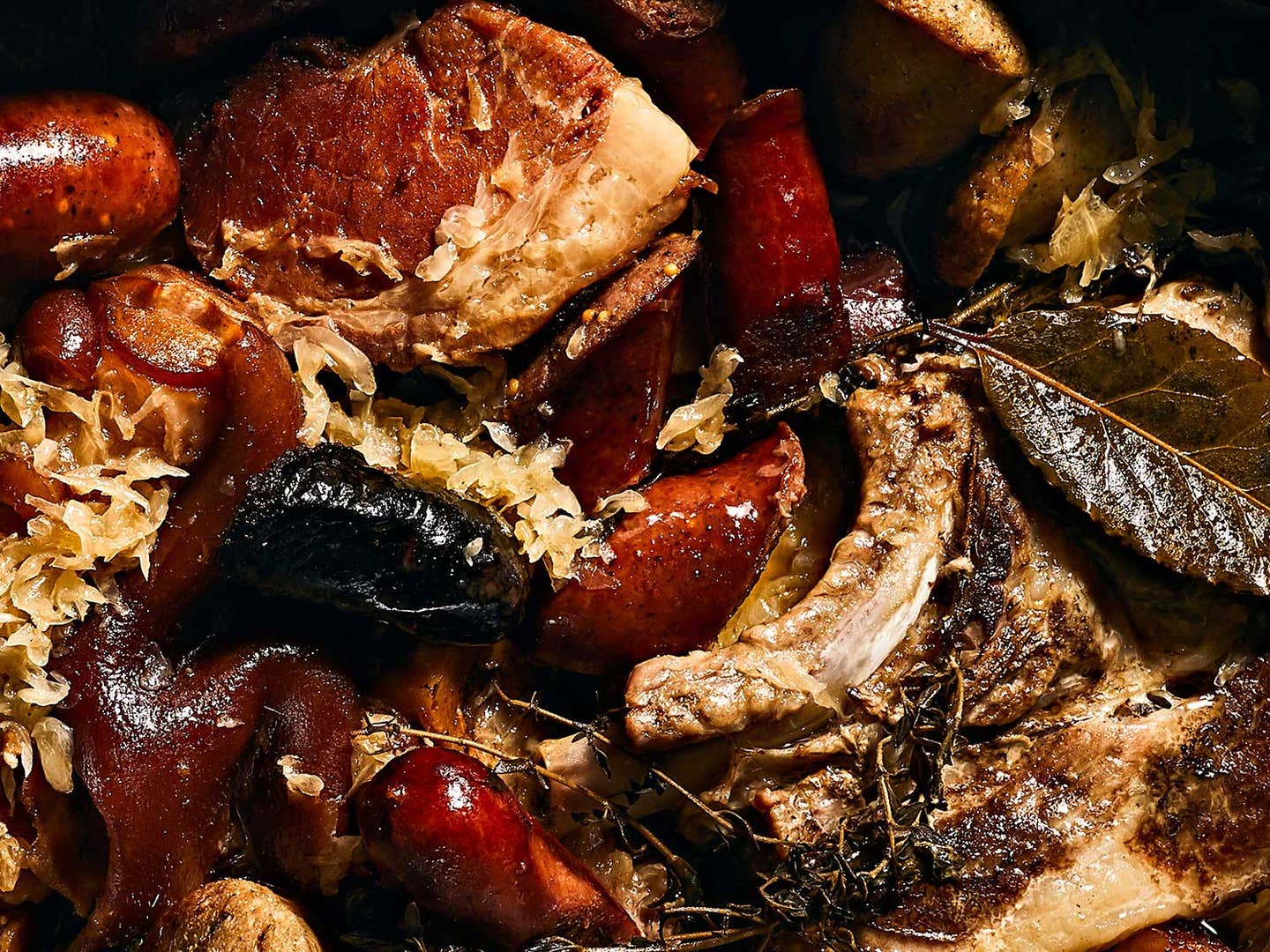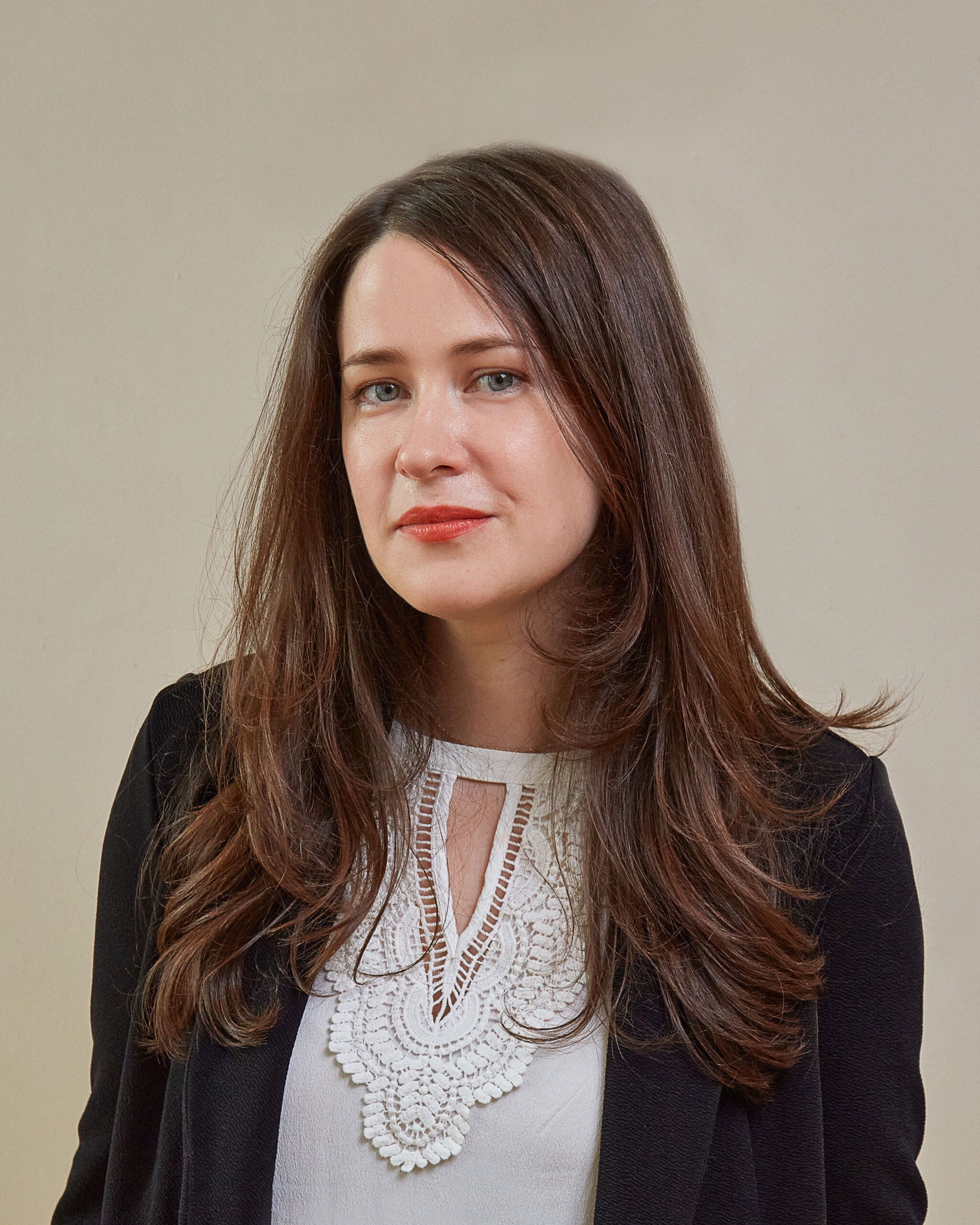 ---
Some might argue that choucroute—the French term for sauerkraut—reached its pinnacle in the hands of the Alsatians. The agriculturally rich region of Alsace is located in northeastern France but has changed hands many times over the centuries, as indicated by its local dialect, pan de bois-style timber-framed houses, and Franco-German cuisine. Choucroute garnie (literally "garnished sauerkraut") is the most emblematic dish of this hearty culinary hybrid.
A stew much like Germany's schlachteplatte, choucroute garnie consists of an assortment of fresh, salted, and smoked meats, slowly simmered in a bed of tangy sauerkraut. The variety of meats points to the dish's roots as a festive harvest meal: In the days before refrigeration, it would have been prepared immediately following the slaughter of a hog, when perishable organ meats, blood, and fresh cuts were a rare treat. The legendary Paris-based cookbook author Patricia Wells once wrote that "the choice of meats is limited only by imagination and availability," but that "on one point most cooks agree: A proper choucroute must contain lean slab bacon, preferably smoked; pork loin or shoulder, smoked or not, and an assortment of fresh and smoked sausages, preferably three different varieties. And, of course, sauerkraut."
Effectively a low-moisture braise, the dish is traditionally cooked in a clay casserole or deep roasting pan, which is easy enough on a lazy winter Sunday, but if you're not yet ready to be chained to your stove, or if the weather isn't quite right for keeping the oven on all day, it's an excellent reason to break out your slow cooker.
A simple version can be made using grocery-store pork chops, hot dogs, and maybe a ham bone or a few brats, but if you have a butcher shop with a solid charcuterie program (my go-to is Dickson's in New York's Chelsea Market), now is the time to become acquainted with their selection. Weisswurst, pork chops, smoked hocks, and even blood sausage are all welcome components in the hearty Alsatian supper. Here's how to set and forget this iconic dish in the slow cooker.
Soak and Squeeze the Sauerkraut
Whether you're using store-bought or homemade, sauerkraut, by nature, is going to be salty. To mellow the fermented vegetable's saline bite, pour off its brine, then give it a good soak in plenty of cold water. Drain it again, discarding the soaking liquid, then squeeze handfuls of the cabbage over a colander set in a large bowl to extract as much water as possible.
In a wide skillet, melt a knob of duck fat or butter over medium heat. Add a handful of slab bacon, cut into big chunks, and cook until some of the fat has rendered out and the meat is crisped and brown all over. Using a slotted spoon, transfer to a paper-towel lined plate. Brown the sausages in the rendered fat, then remove them to the plate, too.
Add a layer of halved new potatoes and whole shallots to the hot skillet to brown. The vegetables will have plenty of time to cook in the stew, so don't be afraid to crank the heat in this step; brown the potatoes on their cut sides before removing, and turn the shallots as they cook to allow them to brown all over.
Build the Choucroute Base
Transfer the potatoes and shallots to the bottom of a slow cooker, and drizzle the cooking fat from the skillet over the top. This stew is somewhere between a braise and a confit, so don't be alarmed by the quantity of fat—it's not an every-night dish!
Layer the Sauerkraut and Bacon
Layering the crispy bacon in a blanket of sauerkraut allows the fatty smoked meat to infuse the funky cabbage with smoky richness; at the same time, the lacto-fermented vegetable's acidity softens and breaks down the tough, fibrous belly meat. Everybody wins.
Juniper berries are common in Alsatian and some German sauerkraut recipes. Their soft, piney flavor lends a compelling fresh note to choucroute garnie's funky, fermented cabbage and fatty salted pork. If juniper—the main flavoring ingredient in gin and genever—isn't to your liking, swap the berries out for a teaspoon of toasted caraway seeds.
Smoke is an important component in traditional choucroute garnie. Slab bacon provides some, but a smoked hock also adds its own silky, collagen richness, acting as a gentle binder for the stew, while a few chunks of tasso ham—a fatty, Louisiana-style shoulder cut—melt to a shaggy, satisfying pulled-pork consistency. I like to throw a couple of franks in there, too; they're a close substitute for Strasbourg sausages, a classic addition named for the capital city of Alsace.
Finish with Fresh Herbs and Liquid
While this dish has a ton of ingredients, a splash of dry riesling and a little stock or water are all the liquid it needs to simmer for hours (German versions are more likely to use beer as the primary cooking liquid). The fatty cuts of pork melt gradually, and the acidity in the cabbage help break down the connective tissues in the tougher cuts. Dry herbs work in a pinch, but fresh thyme and bay leaves add freshness and visual appeal along with their perfume.
Don't Forget the Final Ingredient
You can make your choucroute as elaborate or as straightforward as you like, so long as you don't neglect the most important ingredient: time. A classic slow cooker makes this an easy win: build the dish the evening before you plan to serve, refrigerate it right in the crock, then set it to cook on low when you leave for work in the morning.
Ingredients
6 oz. slab bacon, cut into 1-in. cubes
2 Tbsp. duck fat or butter
One 6-oz. bratwurst, quartered
One 5-oz. weisswurst, quartered
One 3-oz. hot dog, quartered
Two 2-oz. blood sausages (optional)
10 oz. small new potatoes, halved (2 cups)
4 medium shallots (12 oz.), peeled
3 lb. prepared sauerkraut, rinsed well and squeezed dry (3 cups)
1 double-thick, bone-in pork chop (14 oz.)
1 smoked ham hock (9 oz.)
8 oz. Tasso ham, sliced ½ inch thick
8 sprigs thyme
1 tsp. whole juniper berries
3 bay leaves, preferably fresh
½ cup homemade or store-bought chicken stock
½ cup dry riesling
Whole-grain mustard, for serving
Crusty bread, for serving
Instructions
Step 1
Line a small heatproof plate with paper towels and set by the stove. In a large skillet over medium heat, add the bacon and duck fat; cook until the fat is rendered and the edges are crisp, 8–10 minutes. Using a slotted spoon, transfer the bacon to the prepared plate, then add the bratwurst, weisswurst, hot dog, and blood sausage (if using) to the skillet, and cook, turning occasionally, until evenly browned all over, 12–15 minutes. Using tongs, transfer the sausages to the plate with the bacon. Add the potatoes and shallots to the skillet, and cook, stirring occasionally, until browned all over, 8–10 minutes.
Step 2
Transfer the potatoes, shallots, and any fat that remains in the skillet to a slow cooker. Add half the sauerkraut, followed by the bacon. Add the remaining half of the sauerkraut, then nestle the sausages, pork chop, and ham into it. Distribute the thyme, juniper, and bay leaves evenly over the meat, then add the chicken stock and riesling. Cover the slow cooker and cook on low until the sausages are cooked through and the pork chop and ham are extremely tender when poked with a fork, 4–5 hours. Cut or break up the pork chop into chunks, then ladle some of each meat, sauerkraut, and potatoes into wide soup bowls. Serve with mustard and bread on the side.