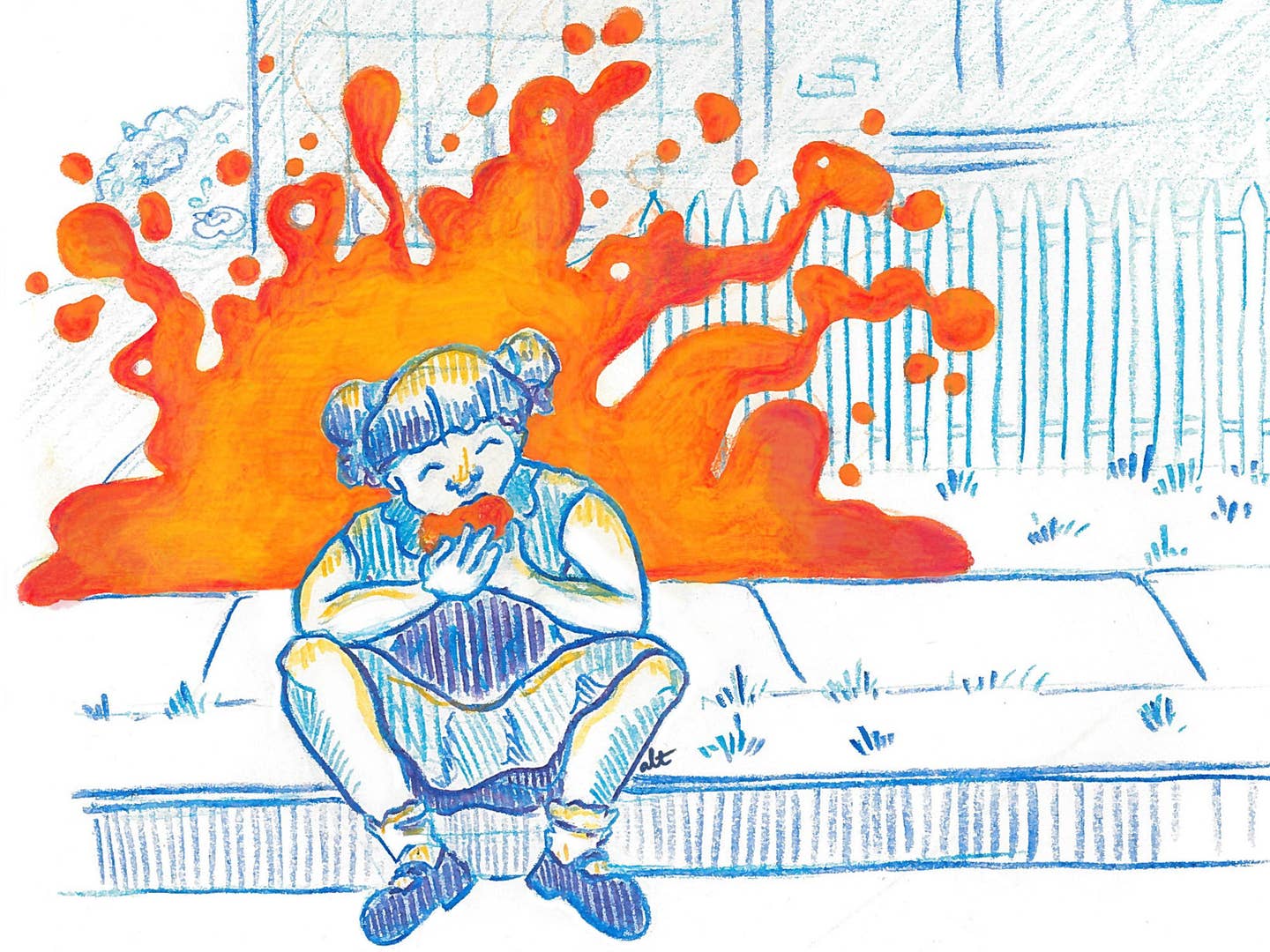 Culture
Hunting For Perfect Peaches in California
Despite the crippling drought, a few farmers—and their peaches—are still thriving
A Virginia girl turned West Coaster, I lust after muggy July evenings when the honeysuckle drips wet from a 5 p.m. thunderstorm. I miss the stone fruit: golden peaches pulsing with sweet nectar, creating puddles of syrup on the concrete as my brother and I take bites on the curb. Peaches like that are hard to come by, their enigmatic perfection native to Southern roots.
When I moved to California, I gloomily accepted the fate of a world where perfect peaches would be few and far between. And then I got lucky. On a seemingly humdrum afternoon in Venice Beach, a man wearing a shark tooth necklace offered me a free sample from a crate full of beautiful peaches. They were streaked with orange and red like a watercolor of Saturn. He cut the fruit with a pocket knife, and I sat on a wooden chair as he told me about the effects of the drought on this year's peach crop. His shih tzu poodle, Lehua, lounged in the sun as we talked.
"The farmers are really struggling," Phil, who calls himself, "The Farm Guy," said. "Every week, people are losing their access to water."
It was clear that Phil's peaches had gotten ample sunlight and water; they were bursting with a refreshing acidity. He's a fruit distributor, meaning he collects the peaches from farms and then sells them to the hippies and start-uppers on Abbott Kinney. He mostly sources from Blum Ranch, a family-owned business in the San Joaquin Valley, located in the stretch of land between Los Angeles and San Francisco, and operated by Elizabeth and Ray Blum. They've still got enough access to water to produce high-quality peaches, but others aren't so lucky.
The farms that are succeeding right now are the ones with multiple water sources or access to deep wells (large farms obtaining their water from sources outside of California water agencies have a bit more freedom). Unfortunately, smaller Southern California farms without these luxuries are suffering. As if the abnormally warm West Coast winters weren't enough, new restrictions on California water laws are forcing farmers to cut back on using surface water for growing purposes. It's the first water reduction mandate since 1977.
With a disposable grocery bag in tow, I drive my convertible out into the desert to visit one of the area's surviving peach orchards to understand what makes it such a survivor. Brian Ranch Airport U-Pick Orchard, located in Llona and about an hour and a half northeast of Los Angeles, is one of the lucky ones. I find out later that this is because the orchard's owner, Jeff, had the foresight to dig an abnormally deep well. It goes about 100 feet deep, ensuring Brian Ranch a hefty supply of groundwater.
The surrounding area is sparse, littered with a combination of peach and Joshua trees. I am greeted by Felice, Jeff's wife and co-owner of Brian Ranch. She and Jeff originally started the place as an airport, fulfilling a dream that Jeff had been nurturing since childhood. In addition to the fruit trees, Brian Ranch specializes in ultralights and sports aircraft, and provides sport flight instruction for those interested in learning to fly. Their conditional use permit required that they also use the land for some form of agriculture; thus, the peach farm was born.
Chocolate lab by her side, Felice lists off the various peaches that line the orchard this summer. Since it's early July, they've got the Nectar and Paradise, two white peaches, as well as the Suncrest, Delight, and Forty-Niners. When I tell Felice that I plan to try them all, she encourages me to conduct my tasting as if the peaches were cheese, beginning with the the mildest. How fancy! I think, until I realize I have no idea how to differentiate among peaches.
Felice tells me. The Nectar and Paradise resemble the cheeks of a Geisha, creamy and lightly powdered with blush. Their sweetness is gentle and their insides a clean white. The Suncrest, Delight, and Fortyniners are all yellow peaches, providing the highly sought-after "juice running down your face" effect. The Forty-Niners possess a dark orange interior, making them a superior choice for summer crisps and cobblers.
"Why do some grow best in July, and others in August?" I ask.
"Each variety has its time." Felice says. "It's cyclical."
Felice's touch must have something to do with it, too. After all, it's over 100 degrees here, and she's got trees so alive with produce I feel as if we're driving a golf cart through the Garden of Eden.
"Most farms breed for transport," She says. "But we strive for flavor."
But in the middle of one of California's worst droughts, how is it that these peaches remain so plump and adorable? I find out that size has a lot to do with it; the peaches are much smaller than the ones you would find in the supermarket. While Felice and Jeff are fortunate enough to have a steady supply of groundwater, they're still rationing, which means a reliable crop of small peaches. This is a good thing: When you've got a smaller peach, its flavor is more concentrated.
These peaches are, essentially, heroes. They are small but mighty. They're the Gloria Gaynors of the fruit world, belting "I Will Survive" and bursting like planets across the horizon. Now not only do I revel in their flavor; I respect their pilgrimage.
When I arrived home that afternoon, I spread my peaches across the kitchen table and followed Felice's instruction for my own private peach tasting, beginning with the delicate Nectar and finishing with the dribble-inducing Fortyniners . My bites were mindful, far less greedy than the curbside peach feasts of my youth. I recognized the journey of each peach; they had fought their way through a blistering drought just for this very moment. In the desert of Southern California, there's nothing more refreshing.
Amanda is a writer and photographer with a fondness for road trips, shoo-fly pie, and dive bars. You can find her roaming the highways or via the Internet at cozycaravan.com and @cozycaravan.