Iceberg Wedge Salad with Lemon-Parsley Dressing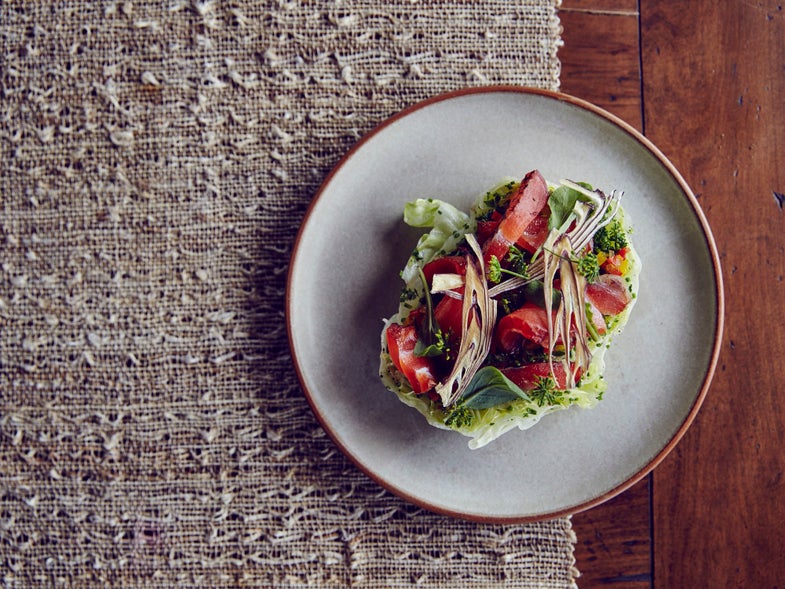 The classic wedge with a zesty upgrade.
At Awasi Lodge in Patagonia, Chile, chef Federico Ziegler draws inspiration from a dish he remembers his mother making for him during childhood. His play on an iceberg salad integrates a chunky gremolata alongside a whole wedge of lettuce so that "every bite is crunchy," he says.
Featured in: The Epic Food and Landscape of Patagonia
Yield: serves 4
Time: 4 hours
Ingredients
For the gremolata dressing
1⁄4 cup extra-virgin olive oil
1⁄4 cup minced parsley
2 tbsp. freshly grated lemon zest (about 2 lemons)
1 garlic clove, minced
Kosher salt and freshly ground black pepper
For the salad
2 Roma tomatoes
4 tbsp. extra-virgin olive oil, divided
1⁄2 tsp. sugar
1⁄4 tsp. salt
1⁄4 tsp. freshly ground black pepper
1 small head iceberg lettuce (about 1 lb.)
Kosher salt and freshly ground black pepper
2 tbsp. minced chives
1⁄4 cup thinly sliced red onion
2 tbsp. whole, loosely packed parsley leaves
4 large whole basil leaves
1 tbsp. capers
Instructions
Make the gremolata: Combine the ingredients 4 hours or up to one day ahead of time; set it in the refrigerator while you prepare the rest of the salad.
Preheat the oven to 215°. Quarter and seed the tomatoes, then toss them with 2 tablespoons of olive oil, the sugar, salt, and pepper. Spread the tomatoes on a large sheet pan and dry them in the oven for 4 hours.
Halve the head of iceberg straight through its core. Shave a thin slice from the outside edge of each piece so that they lie flat, core facing up. Drizzle with the remaining olive oil; season to taste with salt and pepper.
Sprinkle the lettuce with chopped chives, and top each half with the dried tomatoes, sliced red onion, whole herbs, and capers. Immediately before serving, drizzle each half with a tablespoon of gremolata. Serve the salad with crusty bread and the remaining gremolata on the side.