The Ikea Products Even Chefs Can't Help But Love
Kitchen essentials from the Swedish giant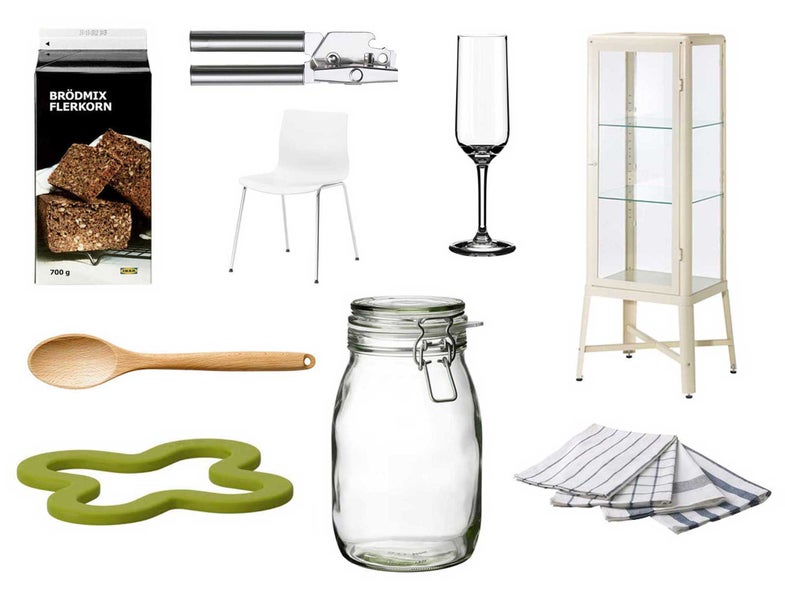 We may earn revenue from the products available on this page and participate in affiliate programs.
If you've ever felt tempted to track down the hand-hewn Japanese knives plugged by your favorite chef, or succumbed to scouring eBay for the exact vintage Le Creuset dutch oven Julia Child once used, you know that the right kitchen tools have a certain je nais sais quois that can lead to many a Pinterest rabbit hole. As someone who's Googled "Nigella Lawson tea strainer," I feel your pain.
That's why, instead of asking chefs for their most rarefied recommendations, I decided to see what they use from that most egalitarian of suppliers, the specialty store's indulgent opposite: Ikea. Below, top talents from the food world share their favorite finds from the Swedish giant—meatballs be damned.
Thomas Schnetz, Chef, Doña Tomás
"I love wooden spoons, and Ikea's are great and cheap. The Rört is the perfect size—not two-feet-long or as big as a row boat paddle like the ones we have in the restaurants. And while the Idealisk flour sifter is not the most necessary thing, it's perfect for making cookies and fun stuff with kids. I don't know a kid that doesn't love using it. (Even I love using it.)"
Chris Jaeckle, Executive Chef, All'onda
"I love trivets in both the home and professional setting. They keep counters cool, prevent warping if your countertop is metal, and allow you to work with a hot pot away from the heat of the stove. It also keeps the noise in the kitchen down by providing some insulation when moving quickly."
"My entire kitchen is an Ikea kitchen! My boyfriend and I remodeled a few years ago and the cabinets and shelving are all Ikea. All our shelves are open and exposed so I am incredibly organized when it comes to how glassware and food items are stored and displayed. I also love going to Ikea and just wandering around the glassware section. I always end up leaving with a couple items because I know I can use them as water pitchers, decanters, or vases."
"Organization is one of the most important things in both a professional kitchen and a home kitchen. The Hemsmak jars with lids are great for organizing everything from spices, grains and flours, to dried legumes, pastas and seeds. [They're also] a perfect container for all types of pickles or one of my favorite ingredients: preserved lemons."
Karen Mordechai, Chef and Author, Sunday Suppers
"The Tekla are the perfect everyday towels. We use them at the studio for events and shoot days when durability is important. At such a low price point it's ok if they stain. The Erland chair is perfect when you need extra seating for a dinner party—plus they stack. [And while] we're not usually into instant mixes, our Danish friends told us about this Brödmix and it's so good!"
Camille Becerra, Chef in Residence, Cafe Henrie
"I'm currently loving my new Fabrikör glass cabinet. I have two and store all my spices, pickles, vinegars and oils in them. I've also had their simple can opener now for close to 20 years."
"Ikea storage containers are compact, stackable and help keep things organized in my home in a way similar to how I have things set up at work, allowing me to follow a true first-in, first-out methodology. The Korken jars and tins are sealable—perfect for canning tomatoes or pickles and jams."
"Elly dish towels are my go-to kitchen towels from Ikea. They are simple, inexpensive and perfect for everyday wear and tear. Plus they look good in any kitchen, whether it's modern or rustic. I use them for picking up hot dishes, wiping counters and taking things out of the oven."
Sean Santiago is a Brooklyn-based writer, photographer and kale apologist who advocates for drinking at lunch. An avid traveler, he is always on the hunt for good coffee and better bread. Follow him on Twitter and Instagram.