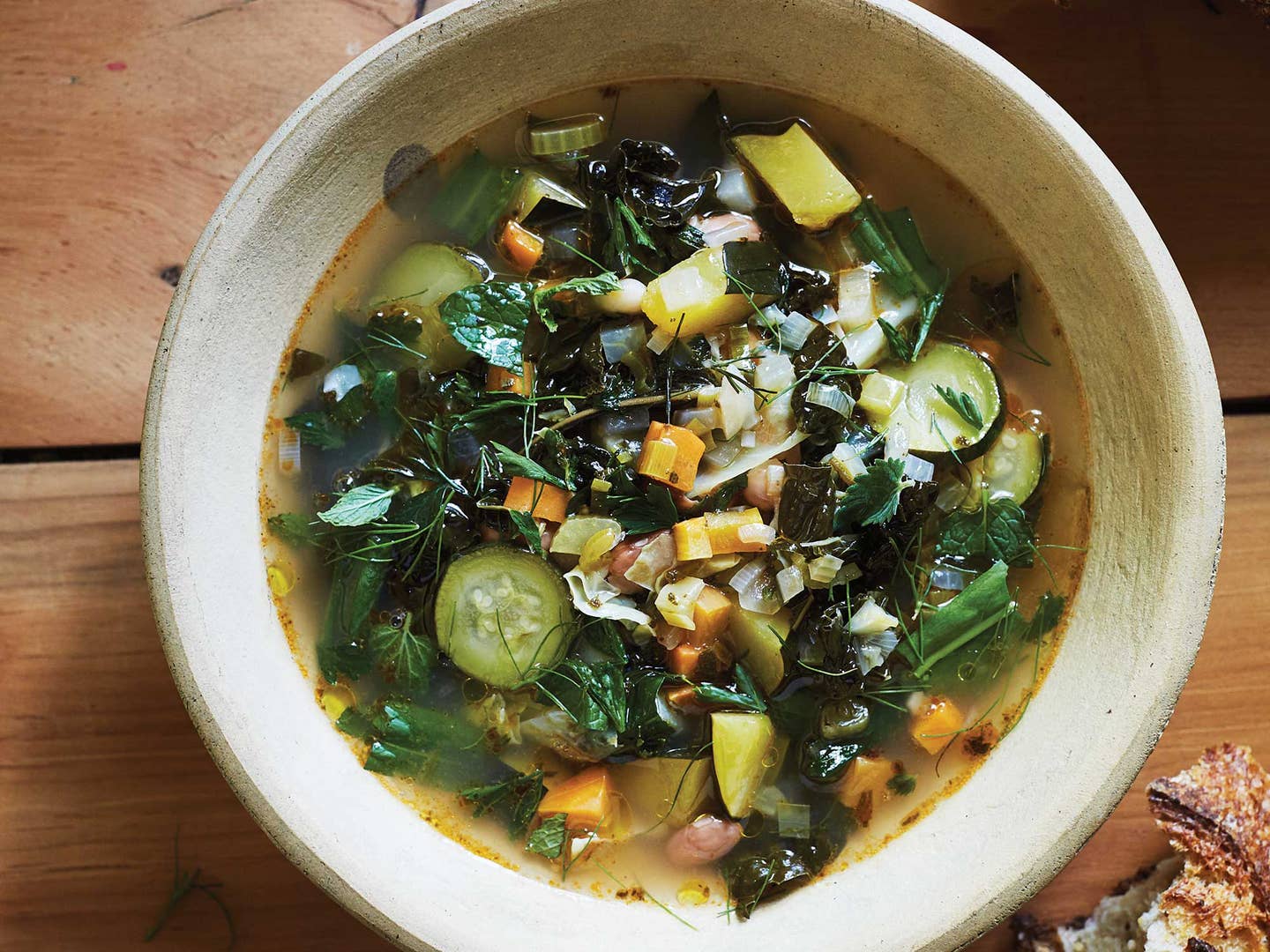 Recipes
Make the Traditional Soup of Italy's Olive Oil Producers
Zuppa alla Frantoiana, a Lucchese vegetable soup, is the customary meal of the olive harvest. Here's why
The garden is all but abandoned in the mild winter months here at La Torre di Montecarlo, a small, beloved inn and trattoria outside of Lucca, Tuscany: overgrown black kale, white cabbage heads that have toppled over and begun to decompose, a cracked turnip surrendered to the worms. But we—me, the chef Elisabetta, who goes by Betti, and Didi, her hound-spaniel mutt—are here for the wild stuff, the native herbs and leaves that you might dismiss as weeds if you did not know better. They sprout up, uncultivated, along with the vegetables that Betti's mother lays out in orderly rows each season. With a single stroke, Betti deftly cuts around the base of a cluster of borage leaves. She pulls several other species too, a mint with a strong peppery odor, another that appears to be a cousin of parsley.
"There are other things growing down in the vineyard," Betti tells me, unsatisfied with the garden's offerings. "Are you sure you're not too cold?" The thrill of the forager's hunt is more than enough to keep me warm, so Didi and I follow Betti down the hill to gather more herbs for her favorite soup, zuppa alla frantoiana, before heading to the kitchen to start cooking.
After five years working as a chef at New York restaurants like Gramercy Tavern and Eleven Madison Park, I found myself yearning to understand the roots of cuisine, not just their fine dining renditions. So I packed my backpack and knives and traveled to find abuelas in Puebla, Chiapas, and Oaxaca, nonnas in Sicily and Napoli. On the recommendation of a Lucchese colleague I'd cooked with back home, I made my way to La Torre, a homey trattoria, where the role of family member and employee is confused daily. Betti's nephews and cousins serve as waiters; her mother, Cesarina, washes linens one day and stuffs tordelli, Lucca's signature pork-and-Parmigiano-Reggiano-stuffed ravioli, the next. The ghost of her father, once the chef of a Michelin two-star restaurant, looms about and persists in a sauce, a story, a soup.
Betti and her partner, Chiara, adopt most chefs who pass through the kitchen. One day when I'm attending a party at La Torre, a local pokes her head into the kitchen, enquiring about me. "È nostra!" the dishwashing nonna warns. (He's ours!)
Tuscany is known for its pasta and steak, its wild boar, its creamy cannellini beans, and of course its wine, but in these cold, rainy months, as I learn from Betti, zuppa alla frantoiana (olive oil maker's soup) steals the show. The humble, traditional Lucchese soup is made in November, when that year's crop of olives is pressed to make a highly prized mild oil. For centuries, the peasants would come to the frantoio, or oil mill, with this soup and bread in hand, their preferred means of tasting the golden green stuff.
In Italy, soups in a similar vein—laden with soggy croutons, nurturing vegetables, creamy beans and lentils, everything sloshed with olive oil—pop up throughout the year, varying by season and regional ingredients: chickpeas in the southwest of Tuscany, favas in Sicily. There is one Lucchese soup that's only made in the few weeks when the last of the winter artichokes cross paths with the first spring peas and asparagus. On the first of May, in Teramo, Abruzzo, nonnas fire up every burner on the stove to make le virtù, a pork, pulse, and vegetable stew that expresses the virtue of the cook who has the foresight to organize her winter pantry for one last hurrah at the dawn of each spring.
The ingredient that connects them all? "Tanto amore," as any nonna is quick to explain.
The amore is palpable as we fire up the stove at La Torre. We cook the beans first, and while I stem the kale, Betti heats a few cups of olive oil that she flavors with sage and garlic, then mills together with the beans and a smear of tomato paste. The bean purée goes back onto the stove in a giant, worn cauldron, and Betti roughly chops the kale and cabbage, emphasizing speed and using nearly all of the cabbage core. Her ancient Tuscan techniques are breaking all the fine dining rules I've learned, and I'm loving it.
"In this soup, it's important that the vegetables have enough time to scompare," Betti says, gesturing for the word with her hands, rubbing her fingers together then spreading them open as if transforming something into nothing: disappear. The winter vegetables will simmer for an hour, until they've reached the sought-after mush level, at which time, just before the restaurant opens for service, we're ready to sit down to family meal.
We head to the table with toasted, garlic-rubbed, olive oil—drenched bread and backup mini jugs of olive oil in hand. In this home of a restaurant, as far as I can tell, there's no division between me, a total stranger, the grandma, the chef, and even the town drunk who has found his way to the table—tonight is La Torre's turn in his weekly rotation of local trattorias. Everyone gets zuppa alla frantoiana. As we sit, Cesarina tells me, with shaking voice and gestures, that over 30 years ago, her husband taught the cooks at Le Cirque how to make the soup in a demonstration that was covered by the New York Times. We pass the olive oil. It's coziness and home in a bowl. I'm told it will be better tomorrow.