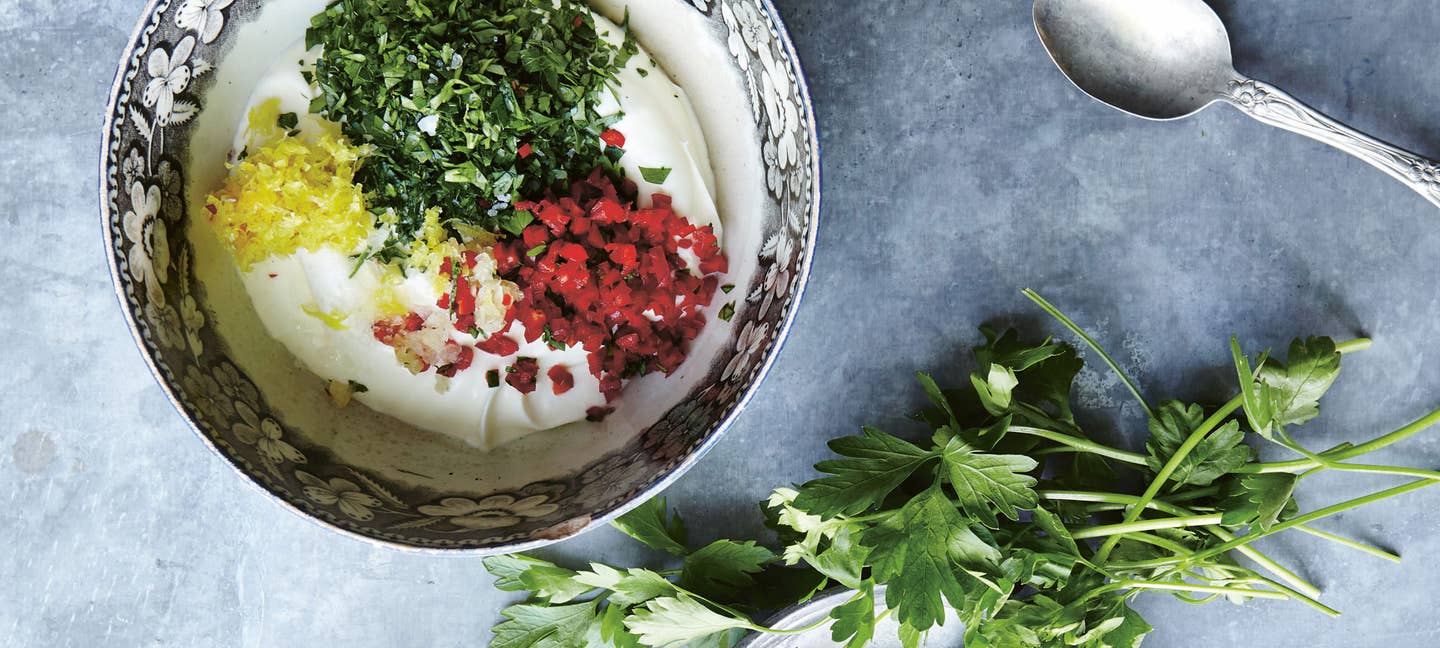 Techniques
Julia Turshen's Secrets To Better Home Cooking
Master the art of cooking at home one "small victory" at a time
Lately, it seems all anyone can talk about is how cooking is the truest form of self care. "Cooking is zen," I read, or "Cooking is a way to feel grounded," and even "When I have a very stressful day, I just get cooking and turn off the world." But what about those of us for whom daily cooking isn't quite a walk in the park? What do we do when just gathering ingredients and arriving at the stove is enough of a daily struggle? For anyone looking to find a little comfort in their daily meals—and maybe even find the act of making them downright soothing—cookbook author Julia Turshen recommends seeking "small victories."
Turshen should know—she's been cooking her whole life. As a writer and recipe developer, she has co-authored numerous books including The Fat Radish Kitchen Diaries, Buvette, and Gwyneth Paltrow's It's All Good, hosted the first two seasons of Radio Cherry Bombe, written for Vogue, Bon Appétit, and Saveur, and in the process, penned and cooked thousands of recipes. "I am pretty peaceful and calm in the kitchen," she says. "It is in the kitchen that I feel most grounded."
That calm demeanor doesn't just come from knife skills. It comes from building a life around cooking—watching others cook, reading about cooking, and cooking without an excuse. Turshen eats most of her meals at home, a home readers can peek into through the pages of her book, but it hasn't always been a light-filled kitchen with exceptional ingredients a short market trip away. She's spent many a night cooking in a studio apartment (where she found that the "small victory" of parchment paper helped her enjoy home-cooked fish), cooking in kitchens that weren't hers, and, in short, learning through the daily practice that there is not one correct way to get to cooking.
As Turshen writes in her book, "The road to becoming a good cook is paved not only with repetition but also with the intuition you gain along the way." She encourages us fretful, would-be home cooks that we, too, can ultimately find relaxation in the kitchen (and manage to get a meal on the table).
Beyond that parchment paper trick, there are plenty of tidbits that Turshen collects for us here so that we may get a leg up on our own successes. She suggests tossing apples in flour before adding them to muffin batter so the fruit doesn't sink to the bottom; she encourages massaging hearty greens such as radicchio and kale with olive oil and salt before dressing so the texture is more pleasing to the palate; and she says that roasting mushrooms instead of sautéing them still provides plenty of flavor without depleting your olive oil supply. She's an expert, a chef, and an avid home cook, and through sharing, she hopes to buoy cooking confidence across the board. And it's not all about technique, either. Sometimes it's the more practical considerations that count. "I'm always thinking about being resourceful in the kitchen, including economically," Turshen says. "And that's always a small victory. You don't have to spend a lot of money to cook good food."
And recipes such as All-Day Pork Shoulder with Apple Cider—with its use of only five ingredients in a cast-iron skillet or roasting pan—can help the reader feed a crowd without a slow cooker or a lot of fuss. The Roasted Scallion and Chive Dip is just as wonderful stirred into a rice bowl for an office lunch as it is for a potluck take-along, and the Sour Cream Pancakes with Roasted Blueberries are equally delicious for a decadent solo weekend breakfast or a group brunch. In short, Turshen aims to help us cook more from where we are, refusing to create an aspirational table reserved for holidays or special occasions, but one that is part of the fabric of your life as you make it. Each recipe has forthright instruction as well as spin-off variations, so the book's 95 recipes actually total many more you can learn as you cook through it. As Turshen says, "recipes are so flexible." Cooks can be, too.
For many of us, just getting into the kitchen is a small victory in and of itself, but with Turshen's instruction, that victory can be just the beginning. And if you're worried about making mistakes along the way, take inspiration from the title of her new podcast, and simply Keep Calm and Cook On.