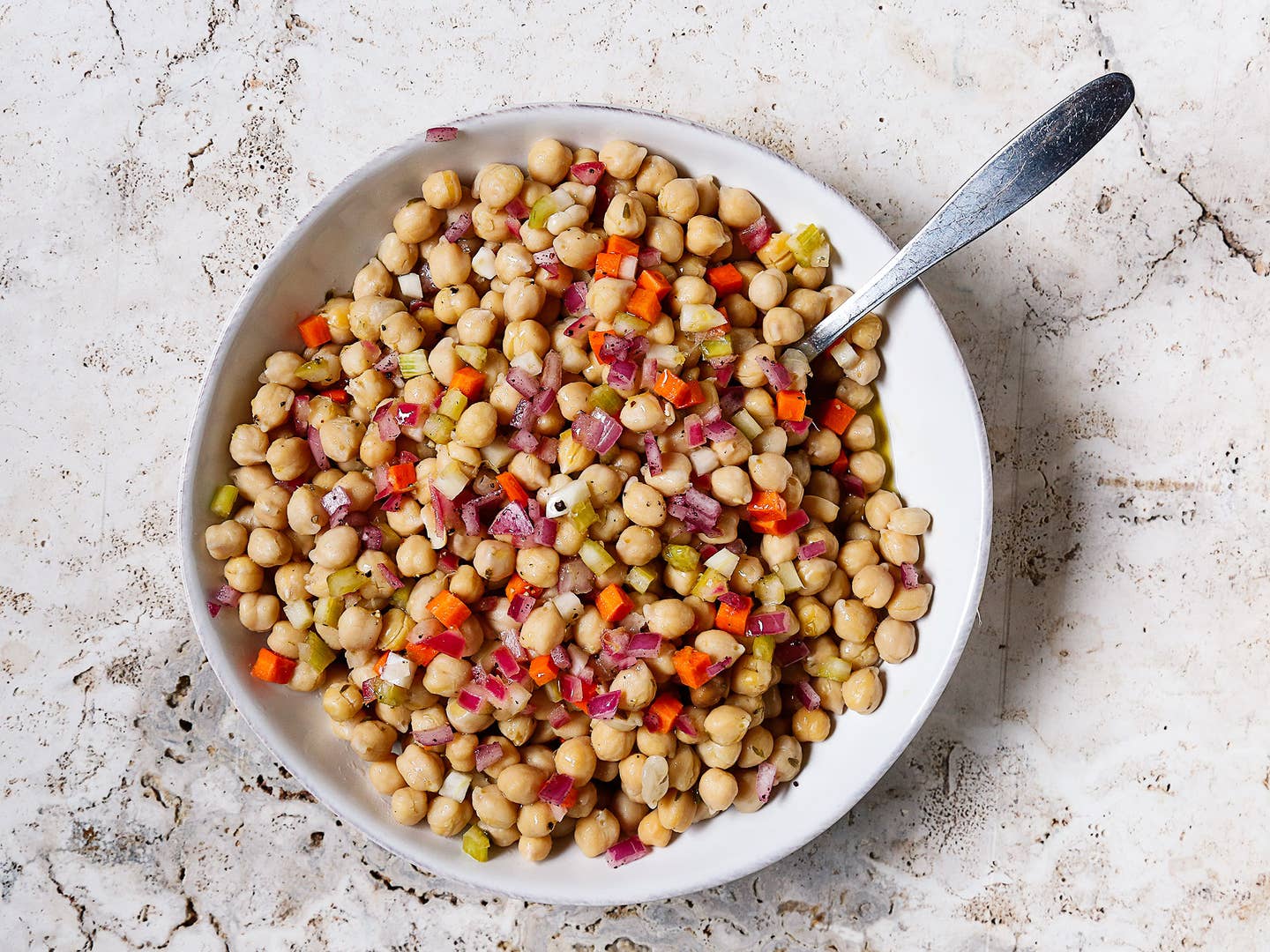 Techniques
How to Make the Most of Your Chickpeas
New York chef Justin Smilie shares the tricks to a transcendent batch of beans
Hummus is fine. Canned ones get the job done. But if you give them some love, chickpeas can be downright transcendent. Tender, creamy, even meaty without an ounce of meat—they have everything we want in a main or side dish, and New York chef Justin Smilie's treatment in his new cookbook, Slow Fires, is everything we want in a chickpea recipe.
All the dish contains are slow-cooked chickpeas tossed with carrot, celery, fennel, red onion, and a sample vinaigrette. But where you get your chickpeas, and how you cook them, make all the difference. Here are Smilie's ways to turn a staple legume into something extraordinary.
Dried are better than fresh: For a slow-cooked recipe like this, dried chickpeas are better than fresh ones. "Dried ones take on a nuttiness, and get really creamy," Smillie says. "Fresh chickpeas are great on their own, but in this recipe, they'd disintegrate." And canned? They're fine in a pinch, but won't develop the deep earthy flavor that makes chickpeas so good.
Avoid big brands: Not all chickpeas are created, or stored, equal. For this recipe, avoid Goya and other standard supermarket brands—they're often stored too long and have gone stale. Instead, go to a Middle Eastern market, or even a health food store, and bag bulk chickpeas yourself. You can also order them online from Rancho Gordo.
Soak your chickpeas: The single most important step in this recipe is allowing the chickpeas to soak until they've plumped up to twice their original size (think the central ball of a piece of popcorn). This slow hydration will yield chickpeas that are creamy but still maintain their shape. Rehydrating them by cooking in simmering water will make them mealy and ragged.
Season at the end: Smillie holds off on seasoning until the very end, but not because salt supposedly dries the chickpeas out (it doesn't). "The water will reduce as it cooks, so I can better control the seasoning this way," Smillie says.
Remember vinaigrettes are versatile: A fresh, acidic dressing goes great with any boiled starch to make a refreshing salad that can be served warm or cool. Waxy potatoes, fava beans, even pasta shells are great when tossed, still-warm from the pot, with the vinaigrette. But chickpeas take especially well to the vinaigrette treatment as a way to complement their mild sweet earthy qualities.