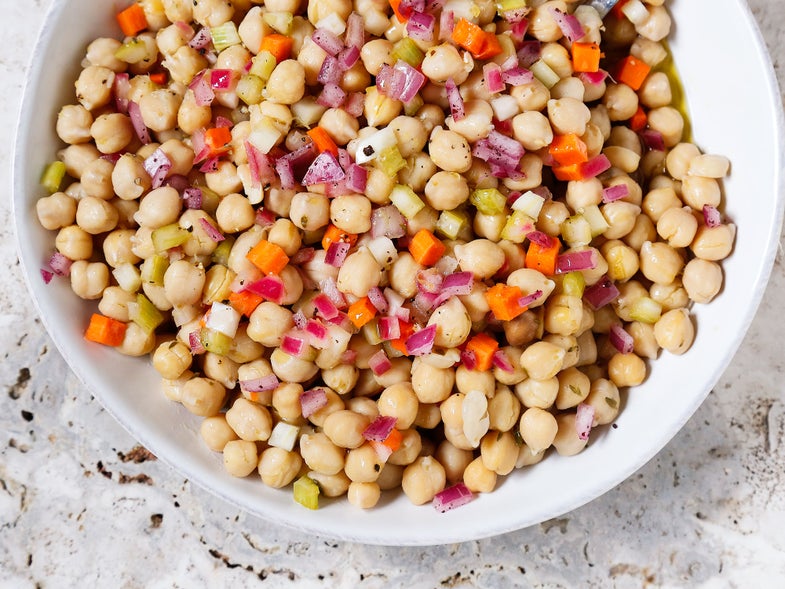 A few simple steps can make ordinary chickpeas extraordinary.
Featured in: Make the Most of Your Chickpeas
Yield: serves 4 to 6
Time: 1 hours 30 minutes
Ingredients
2 lemons
12 thyme sprigs
2 fresh bay leaves
2 cups dried chickpeas, soaked overnight in the refrigerator
4 garlic cloves
Kosher salt and freshly ground black pepper
1⁄3 cup olive oil, plus more for drizzling
3 tbsp. Champagne vinegar
2 tbsp. finely chopped carrot
2 tbsp. finely chopped celery
2 tbsp. finely chopped fennel
2 tbsp. finely chopped red onion
Instructions
Using a vegetable peeler, peel the zest from one lemon, and using the back of a chef's knife, bruise it along with the thyme and bay leaves to release their oils. In a 4-qt. Dutch oven, bring the chickpeas and 8 cups water to a boil and cook for 2 minutes, skimming off any scum from the surface. Add the lemon peel, thyme, and bay leaves along with the garlic, reduce the heat to maintain a simmer, and cook until tender but not falling apart, about 1 hour. Remove the pot from the heat and season the cooking liquid with salt and pepper.
Finely grate the zest from the remaining lemon into a bowl then stir in its juice. Whisk in the olive oil, vinegar, carrot, celery, fennel, and red onion, and season with salt and pepper.
Once cooled, drain the chickpeas, reserving 1 cup cooking liquid, and return the chickpeas and reserved liquid to the pot over medium heat. Bring to a simmer and cook the chickpeas until warmed through, about 5 minutes. Using a slotted spoon, transfer the chickpeas to a large bowl and toss with the dressing. Scrape the chickpeas into a serving dish, drizzle with olive oil, and serve immediately.