Making Pasta e Fagioli: One of Italy's Most Beloved Bowls
Despite a reputation for being one of the simplest Italian dishes, pasta e fagioli actually has a depth of flavor, story, and inspiring regional variations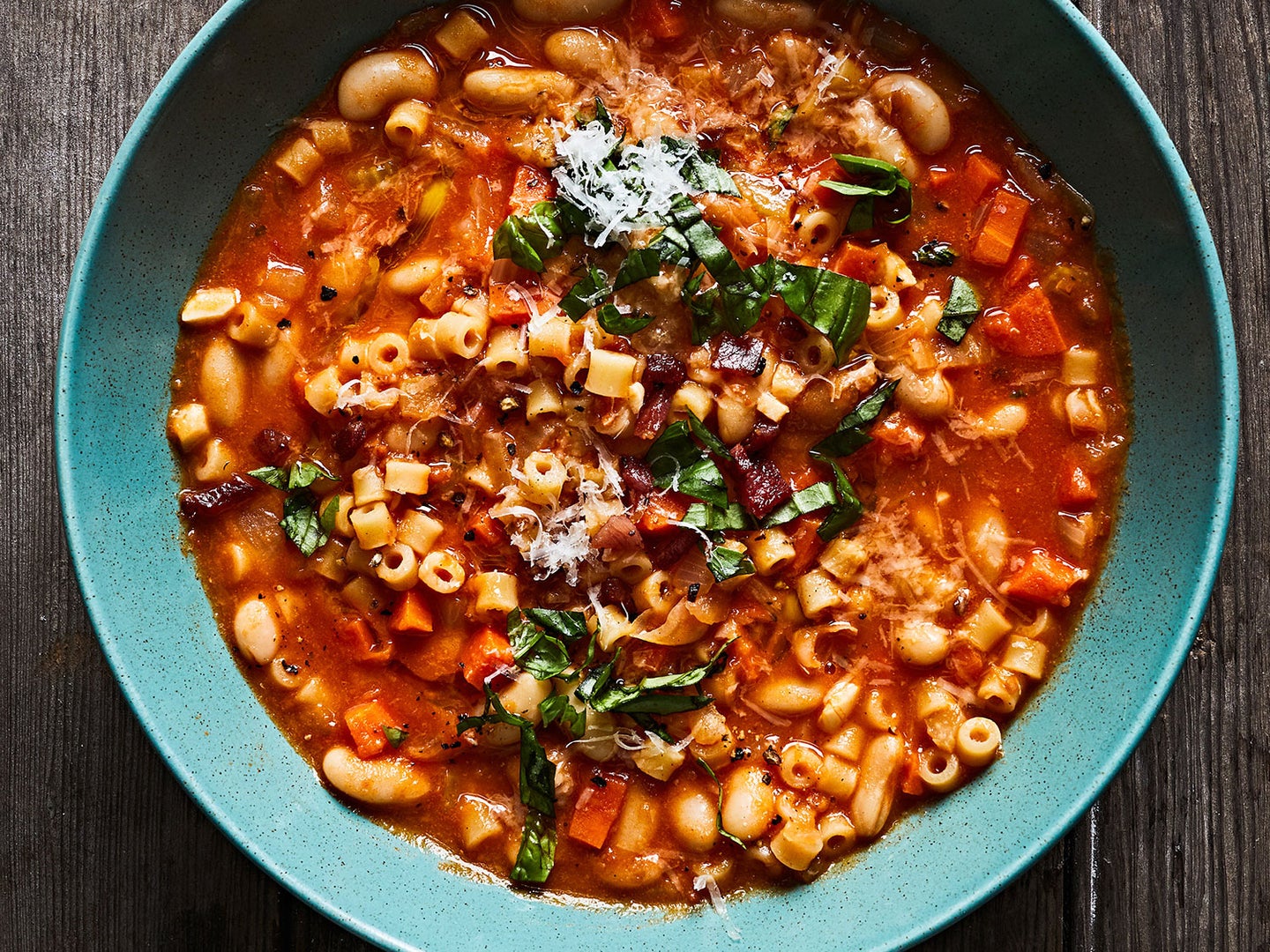 While you might think of tomatoes or basil or zucchini first, in many parts of Italy from Tuscany to Sicily, one of the most signature items to pick up at the market is a sack of colorful fresh or dried beans. "As enduring as the Italian landscape, fagioli—in all their different shapes, colors, and sizes—have been a cornerstone of the cuisine of Italy for thousands of years." So writes Judith Barrett in her genius albeit out-of-print cookbook published in 2004 called Fagioli: The Bean Cuisine of Italy, a collection of legume-based dishes from all over the country.
"Long before beans became an essential ingredient of the cooking of the Roman Empire, they provided sustenance and sustainable agriculture to the ancient civilizations that inhabited the Italian peninsula," she writes. While history shows that the Romans embraced a wide variety of beans, using them both in myriad dishes as well as in cultural rituals (they were said to represent regeneration), legumes fell in and out of favor over the centuries. "The final blow came during the Renaissance of the 1400s, when Catherine de' Medici attempted to refine Italian cooking along the lines of royal French cuisine," Barrett writes. Beans of all varieties came to be regarded as peasant fare. They were disdained as 'the meat of the poor.' Today, beans are again used all over the country's cooking, simmered into soups and pastas; served with pork sausages or sliced pork loin, beef, seafood, and game; teamed with rice and other grains; and eaten as an antipasti or side dish with good olive oil, aromatics, and cheeses. And they are grown widely in the mountains of northern Italy, across the Veneto, and in Puglia.
---
Get seasonal recipes, methods and techniques sent right to your inbox—sign up here to receive Saveur newsletters. And don't forget to follow us on Instagram at @SaveurMag.
---
In comparison to Italy, America has very few bean dishes. But between the affordability, dependability, and deliciousness of Italy's, we would be wise to borrow from them a tradition of weekly bean-making. The perfect gateway dish is pasta e fagioli. Somewhere between a thick soup and a loose pasta, the dish is a staple in many northern and central regions in Italy. And it's an easy, comforting win for weeknight and big-batch cooking.
Depending on where you are, the aromatics in pasta e fagioli may change, or the shape of the pasta may vary, but most have in common a simple broth fortified with onion, carrot, and celery—a soffrito of sorts. From there, the dish is made slightly differently in certain regions. In Veneto, for example, pasta e fagioli is said to be linked with a feast day in which pigs were slaughtered, so along the way it began incorporating what originally were cheap cuts of meat like trotters and skins. Today, as a result, many versions use pancetta in Italy or bacon in the U.S. The Veneto version also incorporates potatoes. And there is almost always some combination of regional aromatics, from rosemary in Tuscany to bay leaves in the south. The pasta style also varies—noodles or macaroni, homemade fresh or dried—depending on where you are.
But one thing that rarely changes is the beans. Although the dish is often translated to mean "pasta with beans," fagioli refers to a specific style of bean—typically cannellini, Barrett writes, a kind ubiquitous in Tuscany. You will see pasta e fagioli with borlotti or cranberry beans from time to time in recipes from the north, but almost never in Italy with other legumi like lentils or chickpeas.
Easy and multidimensional, this dish is one to keep on rotation, tweaking to your family's tastes. Here's what to keep in mind.
Consider the Beans
For most traditional recipes, I admit: it's a bit of sacrilege to use canned beans. Dried or fresh are so widely available and tend to smush and break less during the cooking process, plus simmering them with aromatics yourself ultimately lends more flavor to the broth and overall dish. But, as cooking beans from dried can take up to 2 hours, I do take this shortcut—and still love the results. If you prefer to be a purist, sub in about 3 cups of cooked-from-scratch beans, and consider adding a few aromatics like fresh sage, bay leaf, rosemary, garlic, or onion to the cooking water while the beans initially simmer. I also add a tablespoon of olive oil to help prevent sticking and add flavor.
Thicken the Broth
Cooking the pasta directly in the broth instead of in a separate pot helps release the pasta's starches and naturally thicken the soup. Many cooks (like me) also go one step further by mashing or puréeing a small portion of the cooked beans directly into the final broth to make it heartier and richer.
Play with the Pasta
In the various regions of Italy where pasta e fagioli is served, the pasta changes. In the north, like in Piemonte, cooks will often make their pasta from scratch—a variety like maltagliati, made from irregular scraps of rolled-out dough—or break up a long, thick noodle such as fettuccine. In the south, small macaroni seems more common. It's my preference because the little shapes are easier to spoon up. I use ditalini here, but lumachini, mini shells, or elbows work well too.
Garnish Liberally
Because the dish is so rustic and simple, lots of the flavor comes from the pork fat, soffrito, and eventually the toppings—a critical component you'll want to play up substantially. My favorite method is adding back the crispy rendered pancetta or bacon to each bowl at the end, and finishing with fresh basil or thyme leaves, black pepper, loads of grated Pecorino Romano cheese, and a generous drizzle of delicate extra-virgin olive oil over the top. For those inclined, crushed red chile flakes work well too.
---
Easy Pasta e Fagioli Recipe
Pasta e Fagioli
Italy's simple but comforting pasta and beans recipe is a classic for a reason.
Time: 40 minutes
Ingredients
3 Tbsp. extra-virgin olive oil, plus more for drizzling
1 slice pancetta or ham, finely chopped, or substitute 2 slices bacon
1 large yellow onion (8 oz.), finely chopped (about 1 cup)
1 cup finely diced carrot (about 2 medium carrots, 5 oz. total)
1 celery stalk, finely diced (½ cup)
Kosher salt
Freshly ground black pepper
5 cloves garlic, peeled and finely chopped (3 Tbsp.)
1 sprig fresh thyme (optional)
1 (15-oz.) can crushed tomatoes
2 (15-oz.) cans cannellini beans, drained and rinsed
4 cups chicken stock
1½ cups (about 8 oz.) ditalini or other short, tubular pasta
¼ cup chopped fresh basil leaves, for serving
Grated pecorino-romano cheese, for serving
Instructions
Set a small paper-towel-lined plate next to the stove. In a heavy medium-large pot or dutch oven over medium heat, add the olive oil and the pancetta, ham, or bacon. Let cook, stirring frequently, until some of the fat has rendered out from the meat and it is just crisp, about 6 minutes. Quickly remove the meat using a slotted spoon and reserve on the prepared plate. In the pot with the fat, quickly stir in the onions and season with salt. Turn the heat to medium-high and cook, stirring frequently, for 2 minutes. Add the carrots and celery and another small pinch of salt, and cook, stirring occasionally, until some of the vegetables are lightly browned, 6–8 minutes more. Add the garlic and let cook, stirring, for 30 seconds. Stir in the tomatoes and bring to a simmer. Let simmer until the ingredients are better combined and the vegetables have softened slightly, about 5 minutes.
Using the back of a fork, mash about ½ cup of the beans well, then add them to the pot. Add the remaining beans whole, then pour in the stock and 2 cups water. Bring the soup to a boil, then reduce the heat and simmer for 5 minutes.
Add the pasta and adjust the heat to maintain a low simmer. Cook, stirring occasionally, until the pasta is al dente, 8–10 minutes.
Ladle the soup into bowls. Drizzle each with olive oil, and sprinkle with the reserved crispy meat pieces, the fresh basil, plenty of pecorino-romano, and more black pepper if desired. Serve immediately.