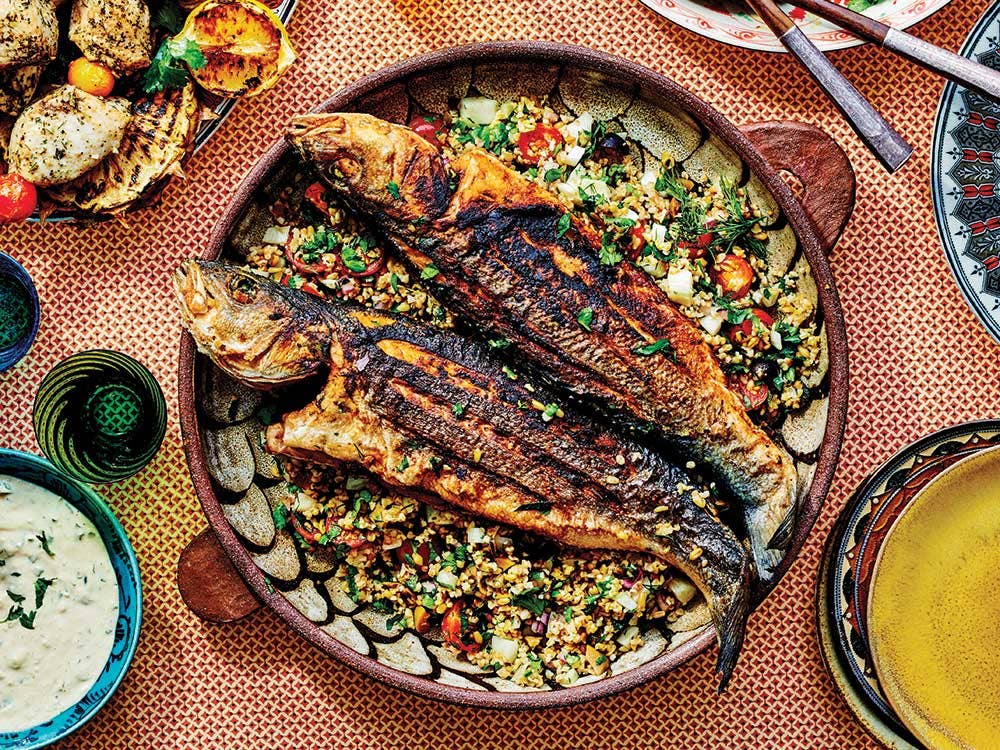 Culture
The Friday Fish Fry Has Special Meaning to the Chef of Brooklyn's Tanoreen
Galilee-born chef Rawia Bishara shares the whole fried fish she's loved since childhood
As a Palestinian Christian, raised in Nazareth near the Sea of Galilee, I remember my family observing "Fish Fridays" all through my childhood. Abstaining from red meat was a religious ritual (in the early days of Christianity, the church designated Friday as a day of fasting). But since my father adored fish, a love he passed down to all of us, Fish Fridays never felt like a deprivation.
When you're in a minority, as Christians are in the Middle East, you tend to cherish simple traditions that make you feel part of a larger community. For us, it was this seafood feast—which included my extended family and neighbors—that had us gathered around the table for hours. To ensure we got the best catch, my father would wake up before the sun rose to be one of the first customers at the fishmonger's counter. He'd bring back hamour, a prized grouper from the Persian Gulf, and delicate barbonies from the Mediterranean. Anything that came from those salt-saturated waters didn't even need to be seasoned.
With fish that fresh, the most common practice was to fry them whole. So later in the day, my mother would haul out the big pot she reserved for just that purpose, fill it partway with oil, and set it on the stove. I loved the crackling sound the hot oil made and would stand by enraptured, watching her remove the golden, crispy specimens to a platter with her big spoon.
Those meals were a celebration. They would start around lunchtime and extend well into the evening. Sides would land on the table in waves—tomato salad, fried eggplant, squash, pickles, and a tahini and parsley sauce called tarator.
When I married and moved to New York City, becoming part of a cultural minority (if no longer a religious one), I tried my best to hold on to this tradition. I found a fish store that sold porgy, a useful local stand-in. My one fish fry in my tiny, windowless apartment rendered the place uninhabitable for a week. Later I made friends with a Greek fishmonger. She had her own memories of fresh Mediterranean catches and her own family's custom of preparing them on Fridays, and we struck a deal: If she fried our fish for us in her store and let us eat them there, I would contribute my Arabic bread, tomato salad, and plenty of arak, an anise-flavored liquor. Our émigré fish fries became a weekly ritual.
When I opened my own restaurant, Tanoreen, in Bay Ridge, Brooklyn, in 1998, I was ready, once again, to fry fish in my own kitchen. I set about finding substitutes for Middle Eastern fish—Atlantic grouper worked nicely in place of hamour, and sturdy, meaty tuna or swordfish were just the thing for smoky, grilled kebabs. A meal with its roots in fasting has become a celebration of plenty.