Our New Favorite Cooking Tools
Form meets function meets fun with home herb gardens and smarter knives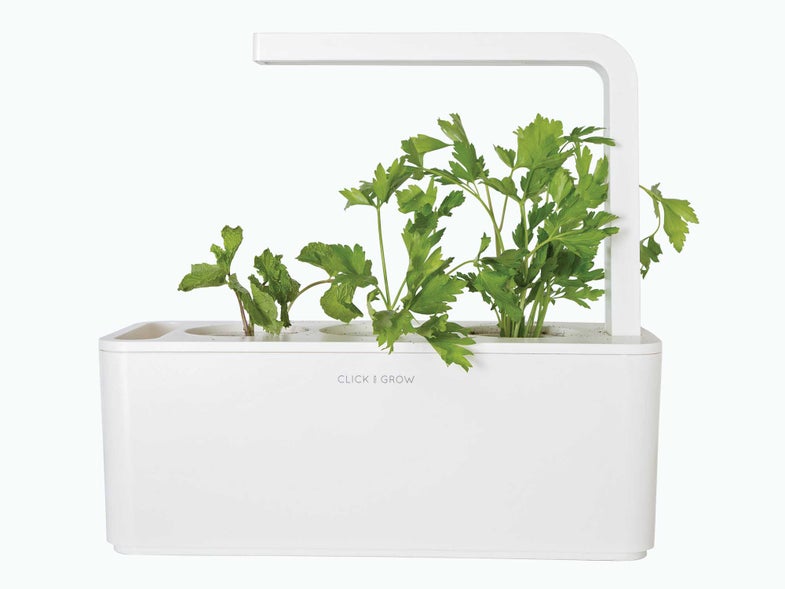 The Click & Grow Smart Herb Garden comes with pre-potted herb plants. You put them in the machine, plug it in, and the overhead LED bulbs give off the quasi-sunlight the plants require, while the water reservoir (you have to keep it filled) disburses moisture as needed. Senior editor Sophie Brickman swears by hers. "I have a black thumb," she says. "I had it even when I lived in California, where everything grows. I now have more basil than I know what to do with, in a Manhattan apartment no less."
Click & Grow Indoor Smart Herb Garden with Three Basil Cartridges, $60 at amazon.com
Tomoya Nasuda's Haori cups showcase two ancient Japanese crafts: hasami yaki, handmade porcelain from the town of Hasami, and hakata magemono, the artful bending of pieces of wood by hand. A ribbed wood jacket keeps hands cool when you're holding hot beverages, and absorbs condensation from iced ones.
Haori Cup, $48 at haoricup.com
When avid home cook and entrepreneur Josh Moses went hunting for a new chef's knife, he found them all too expensive. So he and two friends created the Misen Chef's Knife, combining elements of hefty German knives and the razor-sharp blades from Japan. Selling direct to consumers and offering the high quality and consistency found in a China-based manufacturer, Misen delivers full functionality at half the price. "The knife is the perfect weight and length, and it's easy to use," says food editor Ben Mims.
Misen Chef's Knife, $60 at misen.co
Air plus dry goods equals bacteria and mold. The solution: Evak's glass storage tubes, with valve-controlled plunger lids that you can raise and lower to match the volume of whatever you're storing inside.
Evak Food Storage Containers, from $10 at amazon.com
Allow us to introduce you to the kitchen tool you didn't know you were missing: the melanger. From the French "to mix," it was made specifically for grinding roasted cocoa beans and sugar into chocolate, but bring one into your kitchen and you'll find that's just the beginning. A spinning drum with granite wheels creates a steady friction that gently warms and crushes whatever you put inside. Nuts transform into natural nut butter, sesame seeds into homemade tahini, and dal into Indian dosa batters. It may be marketed with one purpose in mind, but unlike your bagel slicer, it can do so much more.
See the recipe for Homemade Chocolate Bark »
Premier Wonder Table Top Wet Grinder, around $180 at amazon.com
Designed by Canadian coffee guru (and 2014 Micro Roaster of the Year) Chris Chekan, this gooseneck kettle consistently produces an expert pour-over brew. Made from more than a pound of pure copper, it's designed to maintain water temperature throughout the brew and features a recessed port for inserting a thermometer, for ultimate precision. A narrow spout restricts the flow of water, so you get a thin, controlled stream no matter how sloppily you pour, and it's handle-less, a feature that both streamlines the design and improves pouring accuracy by allowing you to grip the body of the kettle directly. A sheath of cork keeps it cool to the touch and provides additional insulation. The kettle is also designed to age gracefully—with every use the copper will develop a natural patina—no futzy maintenance required.
Monarch Methods 320-ml. Kettle, $109 at monarchmethods.com
Behold the unicorn of the tea-drinking world: a light, no-spill, unbreakable, desk-friendly device for brewing and toting loose-leaf tea.
The plastic, goofily named Piao I Travel Buddy is a Taiwanese precision-engineered marvel of a bottle ideal for hot tea and cold brew. A removable, easy-to-clean fine-mesh brew basket gives leaves enough room to unfurl, and it loads from a separate chamber at the bottom of the bottle, not the top, for easy access that doesn't get in your way as you sip. And the finishing touch is the kind of detail that wins you a design award: a tiny pressure-release gasket in the wide-mouth cap, which keeps hot tea from building up pressure and exploding when you unscrew the top for a drink.
The Travel Buddy won't keep your tea hot for as long as an insulated travel mug would, but for fast, easy drinking in a light package, there's nothing better.
Travel Buddy 20-oz. Tea Thermos, $28 at teacuppa.com