Recipes
Wine-Poached Rhubarb and Poppy Seed Crisp
Serves

serves 6 to 8

Cook

1 hour 15 minutes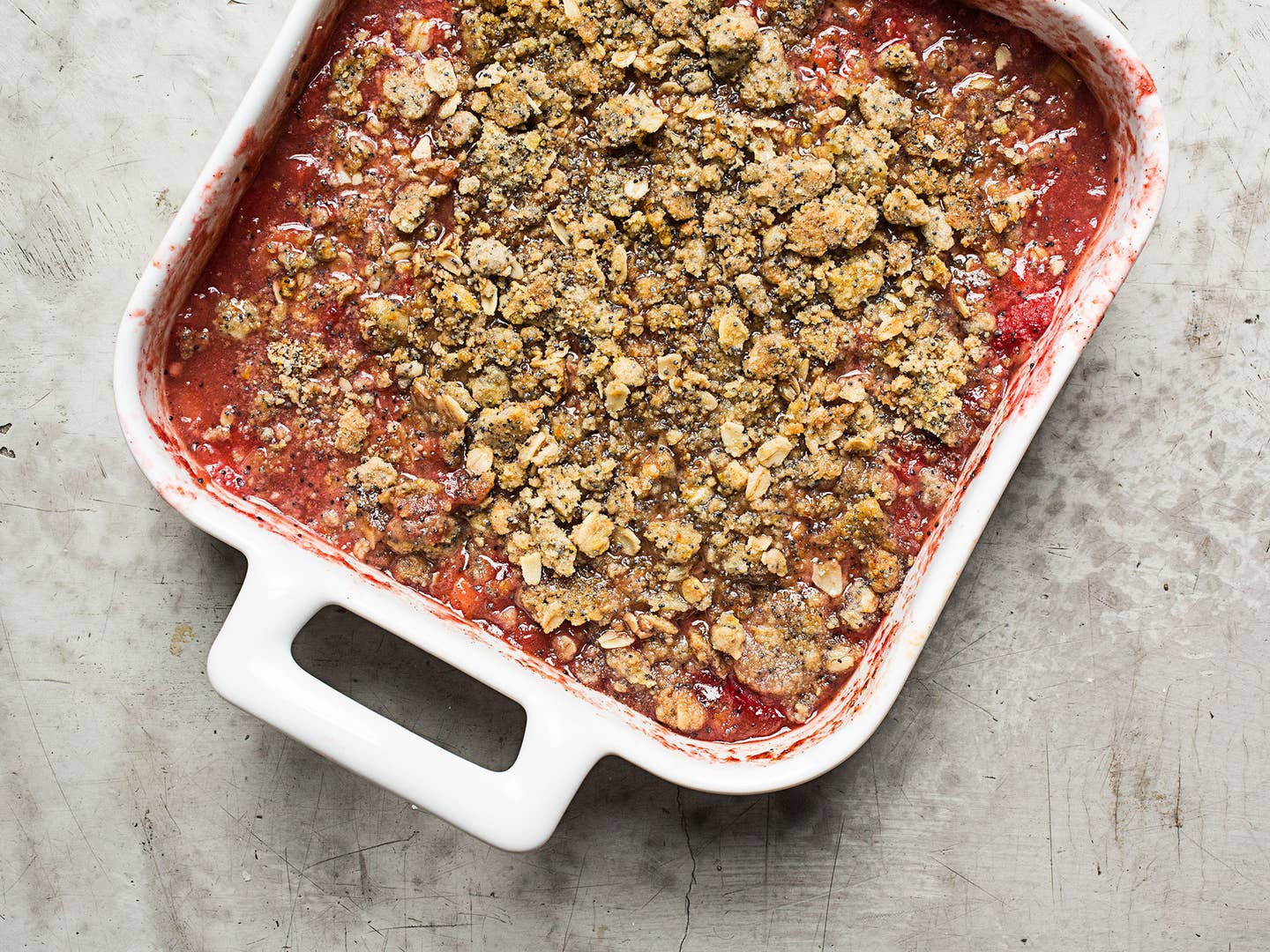 Rhubarb takes the spotlight in this bright, rose-colored crisp, sweetened with strawberries and topped with a crunchy poppy seed crumble topping, from Erin Patinkin and Agatha Kulaga of Brooklyn's Ovenly. Par-baking the topping before adding it to the fruit helps keep it from getting soggy.
Ingredients
3⁄4 cup packed light brown sugar
1⁄2 cup all-purpose flour
1⁄4 cup rye flour
1⁄4 cup rolled oats
2 tbsp. poppy seeds
1 tbsp. finely grated orange zest
3⁄4 tsp. ground cardamom
1⁄2 tsp. kosher salt
6 tbsp. chilled unsalted butter, cut into 1/2-inch cubes
1 1⁄4 lb. rhubarb, trimmed and sliced
1 lb. strawberries, hulled and sliced
1 tsp. ground cinnamon
1⁄4 tsp. freshly ground black pepper
1 vanilla bean, split and seeds scraped
Finely grated zest and juice of 1 lemon
1⁄2 cup red wine
1⁄4 cup corn starch
1⁄2 cup granulated sugar
Vanilla ice cream, for serving (optional)
Instructions
Step 1
Heat oven to 350°. In a food processor, combine 2 tablespoons of the brown sugar with both flours, the oats, poppy seeds, orange zest, cardamom, and salt. Add the butter and pulse until a loose dough forms. Scrape the dough onto a parchment paper-lined baking sheet, forming small and large clumps of dough with your hands. Bake the crumble topping until cooked through but not browned, about 15 minutes. Transfer to a rack and let cool completely.
Step 2
In a large bowl, combine the remaining 1⁄2 cup plus 2 tablespoons light brown sugar with half of the rhubarb, the strawberries, cinnamon, pepper, vanilla seeds, and lemon zest and juice. In a small bowl, stir 2 tablespoons of the red wine with the cornstarch to make a slurry.
Step 3
In a 2-qt. saucepan, bring the remaining rhubarb and 6 tablespoons red wine and the granulated sugar to a simmer over medium heat. Cook, stirring, until the rhubarb is tender, about 4 minutes. Whisk in the slurry, and cook, stirring, until thickened, 1 to 2 minutes more. Transfer the sauce to a blender, and puree until smooth. Pour the sauce over the rhubarb and strawberries, and toss until evenly coated.
Step 4
Scrape the fruit into an 8-inch square baking dish, and sprinkle the crumble topping evenly on top. Bake until the crumble topping is golden brown and the fruit is bubbly, about 25 minutes. Let cool for 5 minutes and then serve hot with a scoop of ice cream.