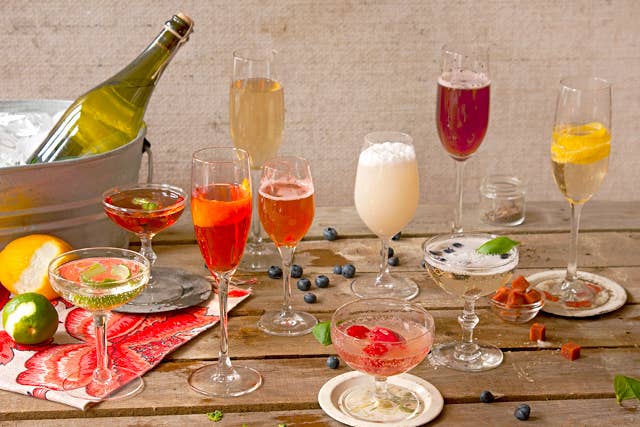 Drinks
10 Perfect Champagne Cocktails
Delightful ways to enhance your brunch bubbly
You might drown your sorrows in a whiskey or martini, but when it's time for good news, only sparkling wine will do. And when it's time for a celebratory brunch, there's nothing more delightful than a Champagne cocktail.
The most familiar sparkling cocktail for morning is likely the Mimosa, a simple mix of orange juice and sparkling wine. But if you're looking to drink something a little different with your eggs benedict, there's an endless array of possibilities to be made with a bottle of sparkling wine and a bit of creative mixology. Here are ten of our favorite combinations:
1. Add a splash of pomegranate liqueur (like Pama); garnish with mint.
2. Add a bit of amaretto and a good amount of pear juice.
3. Soak a sugar cube in bitters then drop it in a full glass of bubbly.
4. Mix in a spoonful of coconut cream.
5. Add a dash of grenadine; garnish with freshly ground pepper.
6. Stir in a splash of elderflower liqueur; garnish with a large lemon twist.
7. Muddle a handful of blueberries and basil in a glass, add bubbly.
8. Top with a few fresh or frozen raspberries, and add a scoop of raspberry sorbet, if you like.
9. Add a dash of Campari or Aperol; garnish with an orange twist.
10. Mix with mango juice; garnish with a lime twist.