Pommes Tapées with Jalapeño Vinaigrette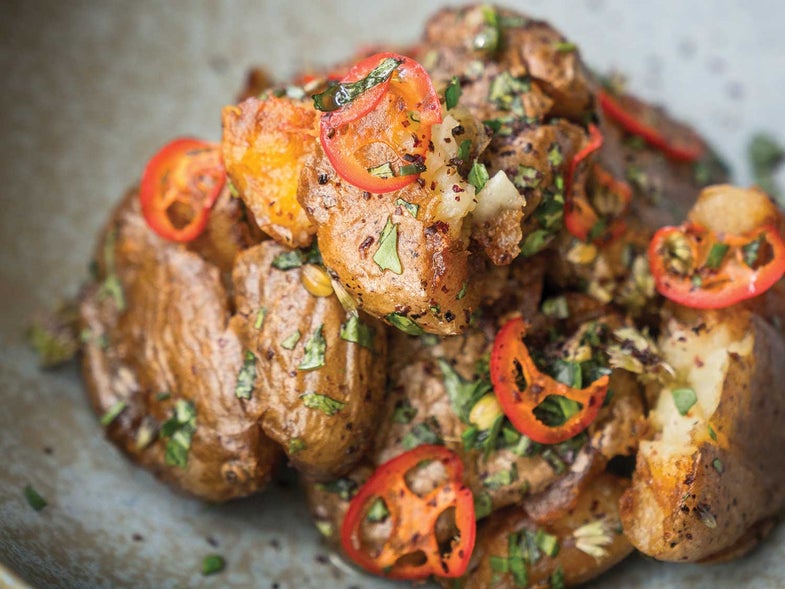 Sautéeing these boiled-then-smashed potatoes in browned butter produces an irresistibly crispy skin. "At Mokonuts, we use ostara potatoes, which grow on the island of Batz in Brittany," Omar says. "The flavor is quite distinct, as the soil they grow in is naturally fertilized with seaweed. It's like nature giving umami to vegetables."
Featured in: Here's Where to Eat Paris' Best Cookies
What You Will Need
Pommes Tapées with Jalapeño Vinaigrette
Lightly smashed and crisped potatoes soak up a jalaleno-anchovy dressing.
Time: 1 hour, 5 minutes
Ingredients
1 lb. small yellow potatoes, such as Charlotte or small Yukon Gold
2 tsp. colatura or anchovy paste
1 tbsp. plus 1½ tsp. fresh lemon juice
1⁄2 cup extra-virgin olive oil
1 tbsp. finely chopped Italian parsley or chervil
12 thin jalapeño slices, or to taste
3 tbsp. (1½ oz.) unsalted butter
Flaky sea salt, for topping
Instructions
In a large pot, add the potatoes and enough water to cover. Salt the water generously and bring to a boil over medium heat. Cook until the potatoes feel tender when pierced with a paring knife, 20–25 minutes. Drain and set aside.
Meanwhile, make the vinaigrette: In a large bowl, add the colatura and lemon juice. Whisking constantly, slowly drizzle in the olive oil, then stir in the parsley or chervil and jalapeño slices. Set the vinaigrette aside.
Use a spatula or the back of a spoon to lightly squish each potato by pressing down until the skins are just cracked but the potatoes remain whole. In a large skillet over medium-high heat, melt the butter. When the foam subsides and the butter begins to brown (2–3 minutes), add the potatoes in a single layer and cook, turning as needed, until crispy and golden brown on both sides, 8–10 minutes total.
Immediately transfer the hot potatoes to the bowl with the vinaigrette, and toss gently to coat. Sprinkle with flaky sea salt, and serve hot or warm.