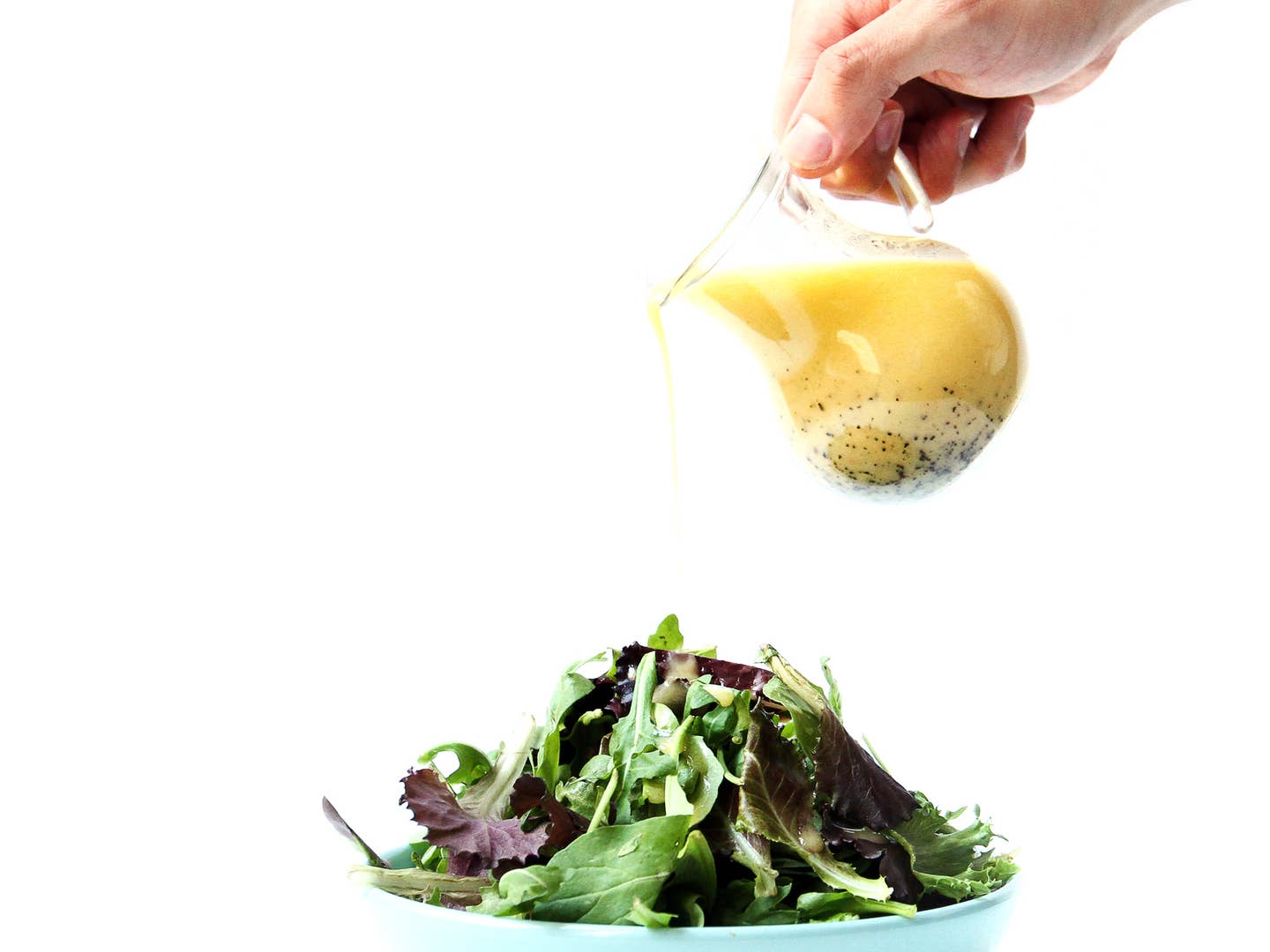 Recipes
Put Papaya Seeds in Your Salad Dressing
In Hawaii, sweet-tart papaya seed dressing is a classic
When you are in Hawaii and you pile tender salad greens, perfectly ripe avocado, and halved cherry tomatoes onto your plate and see a nearby bottle labeled "Papaya Seed Dressing," you may be wary of the liquid's bright yellow color or its fragrant sweetness. But to embrace Hawaiian food—real Hawaiian food—is to embrace the pasty, the sweet, and the questionable. And so you will pour it on your salad, stab a bite and eat it, and it will be good.
Made from basic ingredients (honey, vinegar, neutral oil), Hawaiian papaya seed dressing tastes like an extra-zippy poppy seed dressing, except the suspended black flecks aren't from the poppy plant—they're ground up pieces of the glossy, fat, chia-like seeds that you dig out of the center of the papaya's musky flesh. You also, probably, tend to throw them away.
But in Hawaii, there's a no-waste, no-frills mentality that permeates the cuisine. From wrapping meats in taro leaves before nestling them into an imu (an underground Hawaiian oven) to incorporating Maui's sweet onions into everything from lomi lomi salmon to this dressing, Hawaiian cuisine makes the most of its local foods and proves that tops are just as important as roots—and that seeds are just as important as fruit.
In the Aloha State, you'll find papaya seed dressing at luaus, on buffets, bottled at the closest Longs Drugs convenience store, and also in cookbooks—though it's unclear as to when exactly the dressing was born. It shows up in books dating back to the 1970s, but there doesn't appear to be one set instance or recipe that gave the dressing its groove. It seems, instead, that it's something that just naturally came to be.
"When I lived in Nigeria in the 1960s, it was taken for granted that you ate papaya with a few of the peppery seeds, and when I arrived in Hawaii in the 80s, I found people did the same there," says Rachel Laudan, author of The Food of Paradise: Exploring Hawaii's Culinary Heritage. "Seeds were definitely not to be discarded—at least not all of them."
So when you mix together shallots (or sweet Maui onions, if you have them), oil and vinegar, mustard powder, and the namesake seeds, ignore the fact that this dressing has nearly as much honey as it does vinegar, or that it includes seeds that you may think are more at home in your trash can than on your plate. Just spoon it over baby lettuce or papaya flesh, add a twist of pepper or handful of chopped macadamia nuts, and say, "brah, this is delicious"—or ono, if you're really feeling Hawaiian.