Recipes
Quick Basic Kimchi
Serves

makes marinade for one pound vegetables

Cook

30 minutes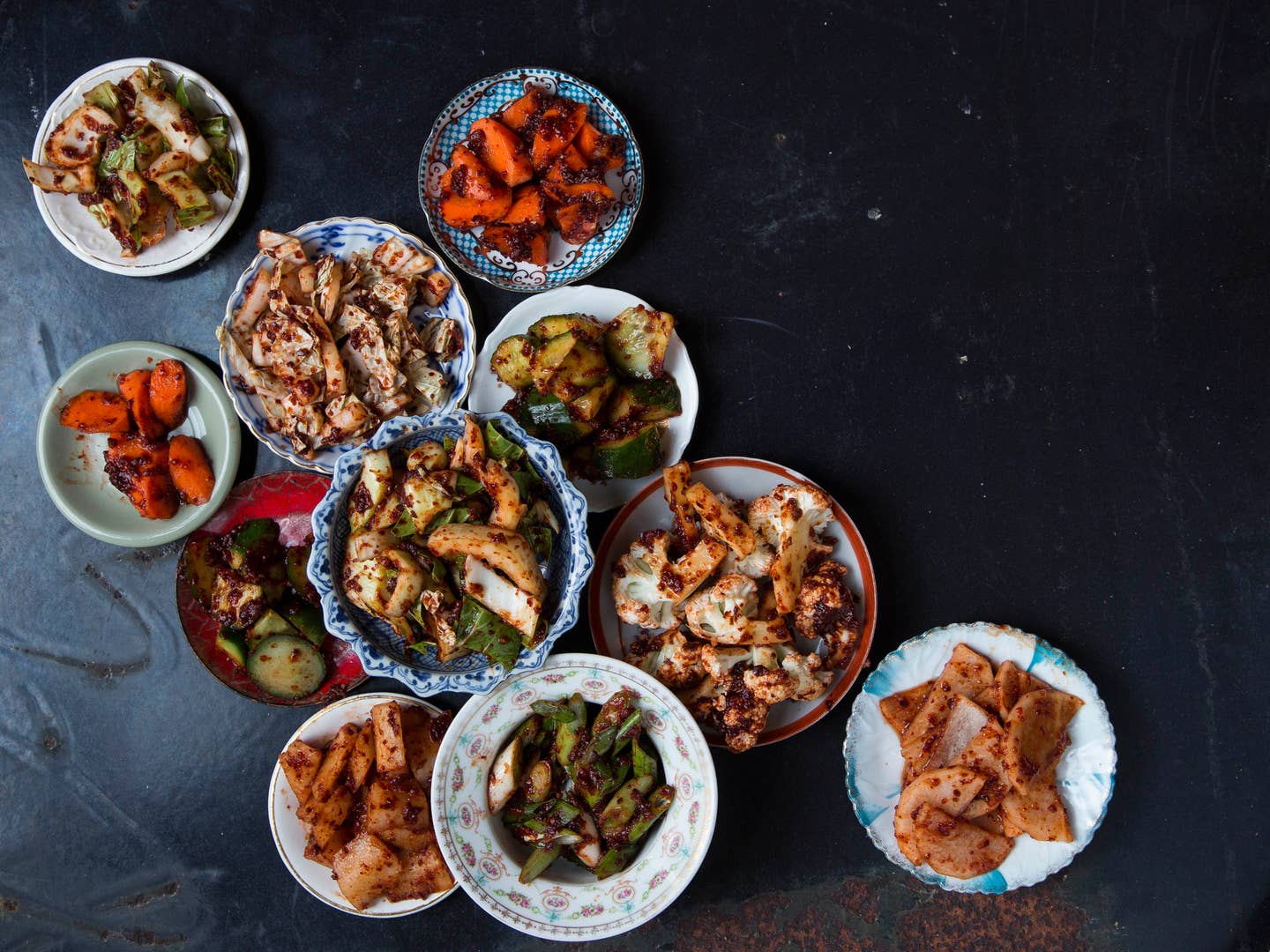 The next time your CSA box presents a conundrum or your garden explodes with a particular vegetable, turn to this time-honored Korean solution: kimchi it. Fresh vegetables transform into a spicy, fragrant, flavor-packed condiment with Matt Rodbard's easy technique for quick-fermenting at home.
Note: Kimchi is ready after 30 minutes, but if you would like to age it, leave, covered, at room temperature 2–3 days, and then refrigerate for up to 1 month.
Ingredients
5 tbsp. sugar
3 tbsp. kosher salt
1 lb. Persian cucumbers, daikon radishes, baby bok choy, scallions, cauliflower, carrots, or napa cabbage (or a mix of any combination), roughly chopped
1⁄2 cup peeled, cored, and finely chopped Asian pear
1⁄2 cup coarsely ground gochugaru (Korean red chile flakes)
1⁄4 cup fish sauce
2 tsp. minced ginger
2 cloves garlic, minced
Instructions
Step 1
In a large bowl, combine 3 tablespoons sugar with the salt. Add the vegetables, toss until evenly coated in the sugar and salt, and let stand for 20 minutes.
Step 2
Meanwhile, in a food processor, combine the remaining 2 tablespoons sugar with the pear, gochugaru, fish sauce, ginger, and garlic and purée until smooth.
Step 3
Lift the vegetables from the bowl, squeeze to release any liquid, and transfer to another large bowl. Scrape the purée onto the vegetables, toss to coat, and serve immediately.
How to Make Quick and Easy Kimchi