Recipes
Apple Fritters with Vanilla Sugar
This Roman Jewish dessert is the perfect end to any autumnal feast.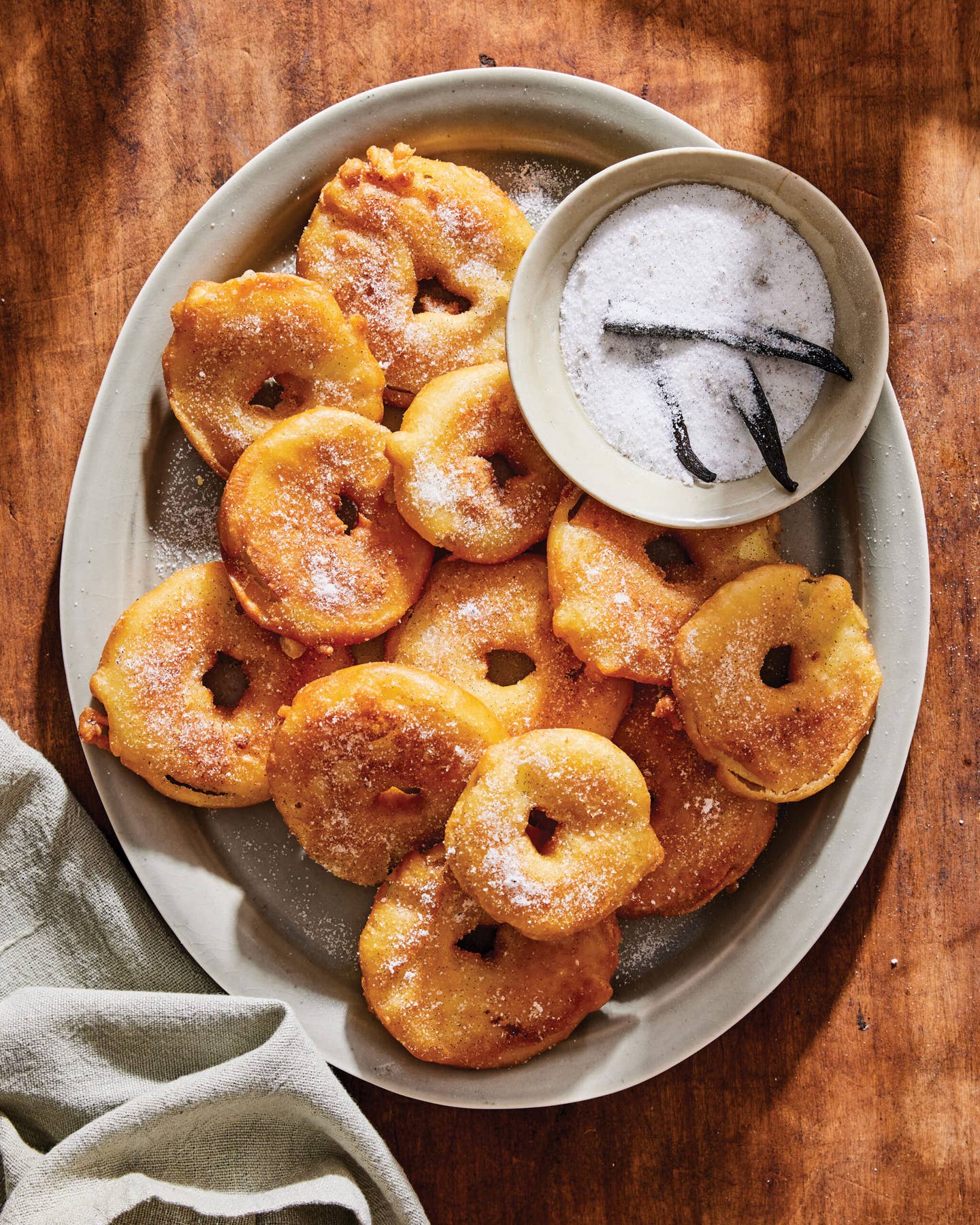 This recipe, adapted from Leah Koenig's new book Portico: Cooking and Feasting in Rome's Jewish Kitchen, is a perfect dessert to end a Rosh Hashanah dinner or any autumnal feast. It takes inspiration from two sources: The first is a handwritten cookbook, Dal 1880 ad Oggi: La Cucina Ebraica della Mia Famiglia, which Koenig encountered in her initial research during the COVID-19 pandemic. The book was written by Donatella Limentani Pavoncello, a Roman Jew who took shelter in Catholic convents during World War II and later documented her heritage and history through food. The second source of inspiration comes from the friggitori ("fryers") of the Jewish Ghetto neighborhood of Rome. During the 300-year-long period in which Jews were forced to live within a gated four-block portion of the city, Jewish street vendors used inexpensive oil and scraps of ingredients to make delicious fried snacks for passersby. Now the fritti tradition, perfectly applied in this recipe to firm crisp apples that fry up in a flash, is foundational to the city of Rome and its culinary culture.
Ingredients
For the vanilla sugar:
¾ cup sugar
1 vanilla bean, split lengthwise, seeds scraped and pod reserved
For the apple fritters:
1½ cups all-purpose flour
3 Tbsp. sugar
½ tsp. baking soda
½ tsp. kosher salt
1½ cups milk
4 large Honeycrisp or Granny Smith apples (1½ lb.) apples (1½ lb.), peeled, cored, and sliced into ½-inch thick rings
Vegetable oil, for frying
Instructions
Step 1
Make the vanilla sugar: In a food processor, pulse the sugar and vanilla seeds until combined. Transfer to a jar, bury the reserved pod in it, and cover tightly. (The sugar can be used right away, but it can also be stored at room temperature for up to 1 year.)
Step 2
 Make the apple fritters: In a large bowl, whisk together the flour, sugar, baking soda, and salt. Add the milk and whisk until smooth.
Step 3
 Into a large skillet, pour the oil to a depth of ½ inch and turn the heat to medium-high. When it's hot and shimmering, working in batches, dip the apple rings into the batter, let the excess drip off, and carefully slide them into the oil. Fry until golden brown, 2
–
3 minutes per side. Using tongs or a spider skimmer, transfer to a paper towel-lined plate. Sprinkle with the vanilla sugar and serve immediately. (Reserve the remaining vanilla sugar for another use.)