Drizzle, Dip—and Yes, Even Fry—With the Best Olive Oil Brands
Restock with eight options our editors rely on (and love).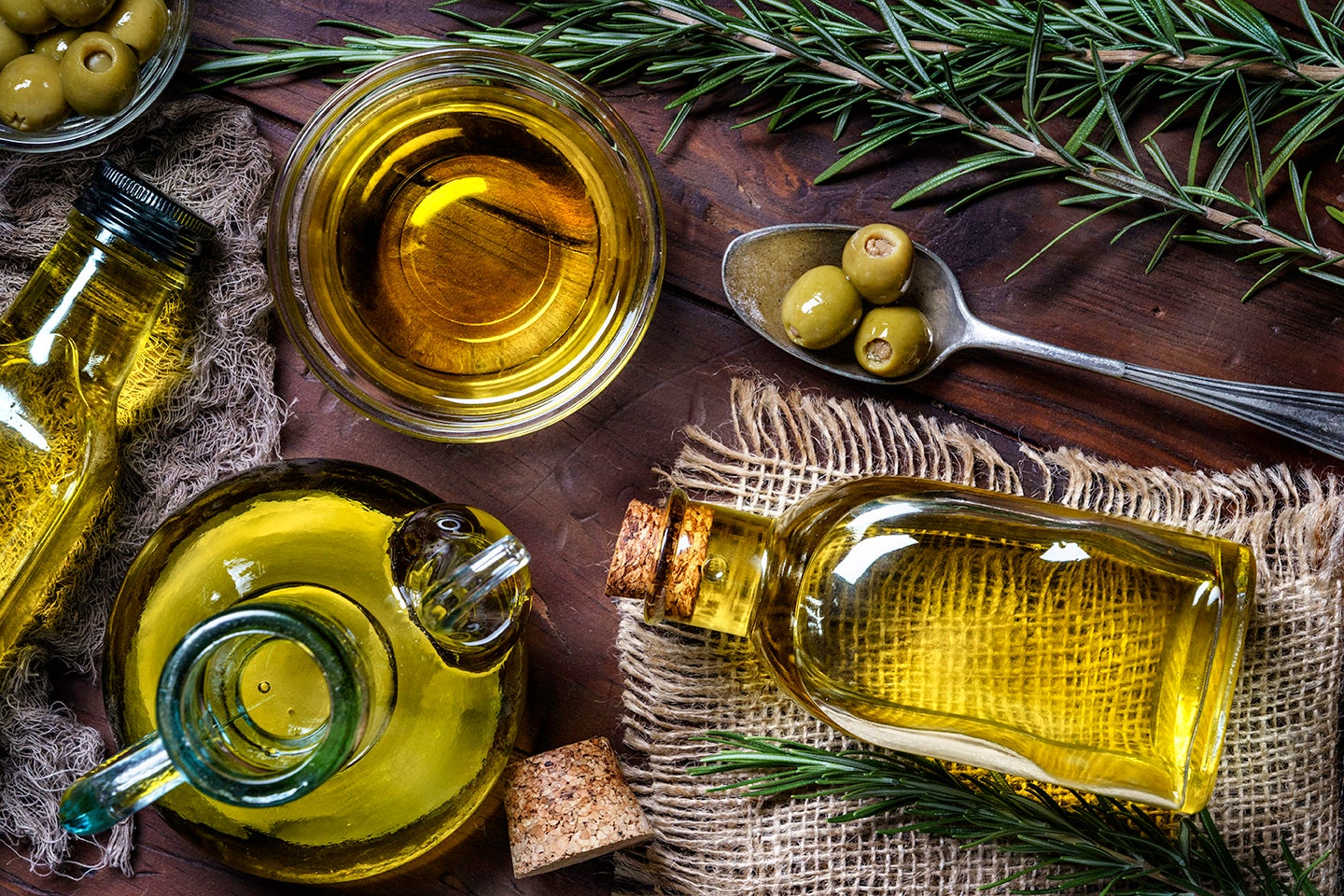 Whether you're brushing pizza crust, dipping sliced sourdough, or are just in need of a reliable, everyday workhorse, shopping for the best olive oil brand is all about versatility. As one of the most-used items in a kitchen pantry, you'll likely want your go-to to be flexible enough for sautéing and salad dressing. But there's no need to limit yourself to one region (no, not all olive oil is from Italy) or style, because there's flavor to be found all over the world. 
"It all depends on the ripeness of an olive," says Nancy Harmon Jenkins, author of Virgin Territory: Exploring the World of Olive Oil. "If you're in Spain or the south of France, you'll wait until the olives are fully ripe and black, producing a much more golden oil. Tuscans—and Central Italians in general—tend to prefer harvesting olives just as they're ripening, resulting in a very green oil." 
To help navigate the seemingly endless shelves of olive oil—made from nearly 400 varieties of olives, plus multiple production methods—we're sharing our favorite bottles (and tins) to explore, and what exactly to look for on their labels to indicate ideal freshness. But do keep in mind, the best olive oil really boils down to personal preference, so we included a few tasting tips, too.
Features to Keep in Mind
Production
The three main olive oils to know—refined, virgin, and extra-virgin—are defined by how they're produced. Extra-virgin olive oil earns its name because it's unrefined. "Produced exclusively using olives that are picked from the tree, milled through mechanical means, and then filtered [for clarity and longevity]," explains Skyler Mapes, co-founder of EXAU, based in Calabria, Italy, and Austin. It's the highest-quality product you can buy, which is why all but one option on our list lands in that category. On some estates in California, oil is pressed and bottled just hours after picking, and the same goes for EXAU, which mills within seven hours. "Olives have to be pressed within a rapid period of time because they start to deteriorate immediately afterward," she says. This is a best practice to follow, notes Jenkins, and why it's always beneficial to buy oil produced on a single estate.
Whereas no manipulation is allowed when it comes to extra-virgin, refined olive oil is the opposite—it has been filtered with heat and water during the extraction process. It keeps longer because of this, but its nutrients (antioxidants like polyphenols) have been stripped away. Virgin olive oil, in comparison, is rare and likely can't be found on the shelves of your local grocery store. "I know of only one French producer who makes a virgin olive oil, and that's because it's made deliberately with defective olives," shares Jenkins. "But because he makes it to the French taste, he can't call it 'extra-virgin'." In other words, like extra-virgin olive oil, it's cold-pressed but is allowed more defects. 
Taste
The best olive oil really comes down to one feature: taste. "Tasting olive oil is similar to tasting wine, and I believe the best approach is to search for desirable flavor profiles," notes Mapes. Smells can range between fruity, herbaceous, floral, and sometimes even a hint of cinnamon or black pepper. "Olive-y and grassy is much too general and overused," she argues. "At the end of the day it should smell reminiscent of a desirable food and it should make you want to consume it." 
Of course, there's a science to technical panel tasting, but Mapes points out home cooks should ensure they like the oil they use and that it complements their cooking style. Otherwise, she asks, what's the point? "When pulling the oil through your mouth, start at the tongue and move the oil fully through your mouth by sucking air through your teeth. This will aerosol the oil onto the back of your throat," she says. "The flavor profiles can range from fruit to vegetables to spices." 
Storage
To properly enjoy (and preserve) its nuanced flavor, it's best to use olive oil within 18 months of its harvest date and well before its use-by date. During this period, Mapes recommends always storing your product away from heat, light, air, and humidity. "People often forget about humidity, but it's important because water and oil do not mix—literally," she adds. Defects can start to occur as soon as the oil encounters water, air (it starts to oxidate), and light (it starts to photo-oxidate). The best place for safe-keeping? A cool, dry, and dark area, like the pantry or your kitchen cupboard.
It's also why you should look for opaque containers. "You shouldn't be able to see the color if the olive oil has been packaged properly; it should be in some kind of container that prevents light from getting to it," Jenkins contends. "Whether you're buying it at the supermarket or a gourmet product store, you won't know the color, which really only depends on the ripeness of the olives." 
Our Top Picks
Our editorial director Kat Craddock has been pouring this collaboration between the Pineapple Collaborative and EXAU's co-founder Skyler Maples (the first Black woman to produce an Italian olive oil) all over everything, including her favorite: summer's best heirloom tomatoes. Produced on fellow founder (and partner) Giuseppe Morisani's family estate in Calabria, Italy, where olive trees have been growing for hundreds of years, this extra-virgin olive oil is a third-generation masterpiece. Specially made for Pineapple Collaborative, this limited run features three cultivars: Carolea, native to Calabria, brings in the subtle profile of green apples; Croatina, which Mapes says features notes of fresh almond, herbs, and artichoke leaves; and Leccino, originally from Tuscany, completes the blend with a soft sweetness.
For the quality, this "budget bottle" is a great multi-purpose oil that plays well with both sweet and savory dishes. Recommended for roasting, grilling, and more, or as the base of a sauce or marinade, it's a reliable everyday olive oil that still delivers a smooth flavor. Produced in the Mendoza wine region of Argentina, it's a small-batch blend of Italian and Spanish olives that has gourmet appeal at a price point that won't break the bank. 
Only a small percentage of olive oil consumed in the U.S. comes from the West Coast, but California's groves shouldn't be overlooked. Available in two styles—a vanilla-infused extra-virgin olive oil and a combination of almond oil and extra-virgin olive oil—California Olive Ranch's Baking Blends are best for just that. The almond oil blend has a mild taste with just a hint of nuttiness that makes it a perfect fit for cookies, cakes, and more. It's also an easy, no-fuss solution to create a barrier between your meal and appliance of choice, whether that's an air fryer or waffle iron. A quick tip from the company: spritz the vanilla blend on ice cream or add to oatmeal and fruit dishes. 
Made from three varieties of Sicilian olives, this cold-pressed, unfiltered extra-virgin olive oil is a steal: you can snag a two-pack for less than $45. It's our deputy commerce editor's all around go-to. Buttery with a bite, its almond-y aftertaste and spicy aroma make it a reliable option for home cooks when searing and sautéing, as well as blended into soup or sauces. 
For people who want big flavor, this sustainably-sourced, organic Turkish oil is made with Memecik olives high in polyphenols, which gives it a signature, peppery bite. Cold-pressed within two hours of harvest in Southwest Turkey, the Private Select's earthy aroma pairs with a fruity flavor. Sold in 500ml bottles or 3-liter tins, its subtle, unique notes of figs and lemon make it ideal for serving with cheese and veggies. 
Produced in California's Capay Valley by the Yocha Dehe Wintun—an indigenous, self-governed nation—Séka Hills is a line of agricultural projects named after the landscape's blue hills in Patwin. "Dedicated stewards of the land, the Tribe sustainably manages more than 24,000 acres, farms over a dozen crops, partners with organic growers, and grazes a growing herd of 700 cattle," shares Jim Etters, director of land management for the Yocha Dehe Farm and Ranch. You'll only find extra-virgin olive oils at Séka Hills: four estate single varietals and one proprietary blend, categorized by flavor intensity (delicate or mild, medium, and robust), which Etters encourages home cooks to have at least one of each. The Frantoio, for example, leans more intense. "With flavors of thyme, a hint of cinnamon with a pleasant, long, pungent finish … it is ideal as a dipping and finishing oil," he says.
Crafted from three ancient Roman olive varieties—Favarol, Grignano, and Nostrano—the makers of Jovial share that this is a great all-purpose oil, but it's even more suited to finishing. In homage to the old-world version of this product, these olives are grown in northern Italy, then picked, pressed, and bottled by a small group of farmers. Jovial's fruity flavor and peppery notes make it a fine choice for garnishing lettuces, soups, and pasta. 
For those who love a kick, this infused, estate-grown oil is sure to satisfy palates that prefer a little heat. Made in California's San Joaquin Valley, its main point of differentiation from the rest of this list is the clever addition of Fresno chilies—similar in taste to Calabrian chiles—to add a bit of spice to the likes of white pizza or clams, but the company also suggests trying it in your baked creations.
Ask the Experts
What is the smoke point of olive oil? 
"If you go back to The Joy of Cooking, a staple for most Americans, the temperature Irma Rombauer recommends for deep fat frying is 355 to 365 degrees [Fahrenheit]. The smoke point for EVOO, for example, is usually around 405 degrees [Fahrenheit]," explains Jenkins. So, not only is it safe, but it's excellent for frying. She does warn against doing so with an expensive import (that'd be like cooking with Cristal Champagne). Instead, opt for a more affordable all-purpose solution sold in larger quantities, such as a five liter tin.
How can you tell if olive oil has gone bad? 
It's all about smell and taste. Rancid oil shares a scent similar to crayons, wax, and plastic, says Mapes. To avoid that surprise, experts advise it's best to use your olive oil as quickly as possible: Buy as close to the harvest date and as far away from the best by date as you can. According to Jenkins, the time of harvest is far more important than the expiration date (generally four years later) when it comes to selecting the best olive oil. "You can pay a lot of money for an olive oil at six months old, but you don't want to pay the same amount for an olive oil that's two years old," Jenkins adds. "A lot of retailers don't understand that—they'll keep oils on their shelves for a long time and charge the same price as if they were fresh." 
Every product is independently selected and vetted by editors. Things you buy through our links may earn us a commission.