Recipes
Bottarga Caesar Dressing
Give the classic composed salad a savory boost with the addition of cured mullet roe.
Serves

makes 2 cups

Cook

15 minutes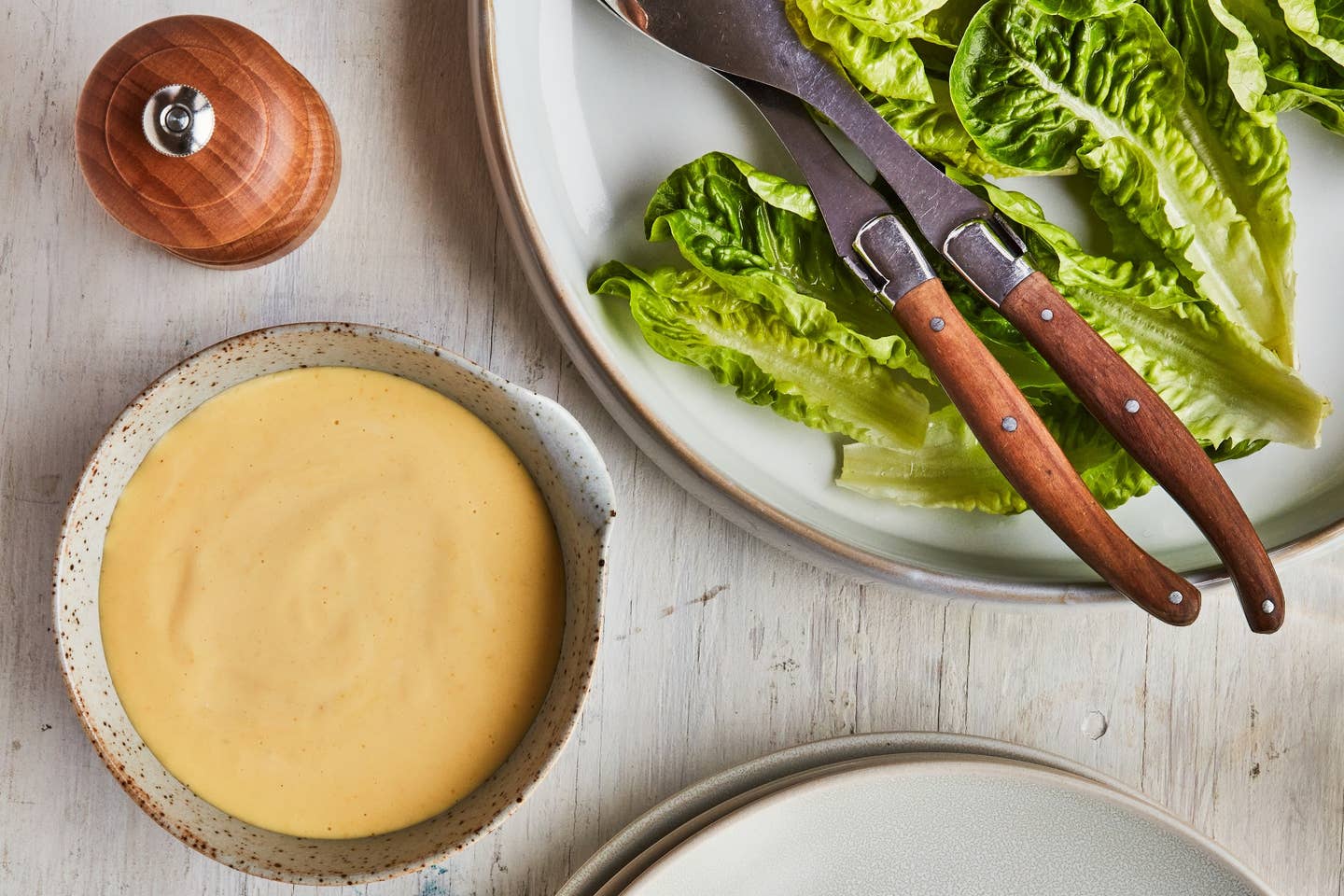 Bottarga—the salted and dried role of the grey mullet—is used in coastal Italy to elevate and add savory richness to foods like eggs, rice, and pasta. Chef Eric Montagne of North Carolina's Locals Seafood makes his own house-cured version, which he incorporates into classic American dishes.. In his Caesar salad dressing recipe, he uses the shaved roe in place of the traditional anchovies.
Although Locals does not currently ship its house-cured bottarga, that is set to change soon: Montagne and his team plan to move into their new production space in time for the 2022 autumn mullet run. In the meantime, domestic versions may be ordered online from both Clearwater and Cortez, Florida; imported Sardinian bottarga is available at well-stocked Italian grocers and on Amazon.
Ingredients
2 large egg yolks
¼ cups finely grated bottarga
3 tbsp. finely grated Parmigiano-Reggiano
2 medium garlic cloves, finely chopped (1 Tbsp.)
1½ tsp. Dijon mustard
1 tsp. Worcestershire sauce
3 tbsp. fresh lemon juice, plus more to taste
1 cup canola oil
Kosher salt and freshly ground black pepper
Instructions
Step 1
To a blender, add the egg yolks, bottarga, mustard, garlic, Parmigiano, and Worcestershire and pulse 4–5 times to lightly blend together. Add the lemon juice and blend on medium speed until emulsified, about 15 seconds. Turn the blender down low and, with the motor running, slowly drizzle in the canola oil until the dressing is thickened, creamy, and fully emulsified. Season with kosher salt, freshly ground black pepper, and more lemon juice to taste. Use immediately or transfer to an airtight container and refrigerate for up to 1 week.