Recipes
Fried Artichoke Hearts with Taratur Sauce
Pair the versatile vegetables with this Syrian tahini-based sauce.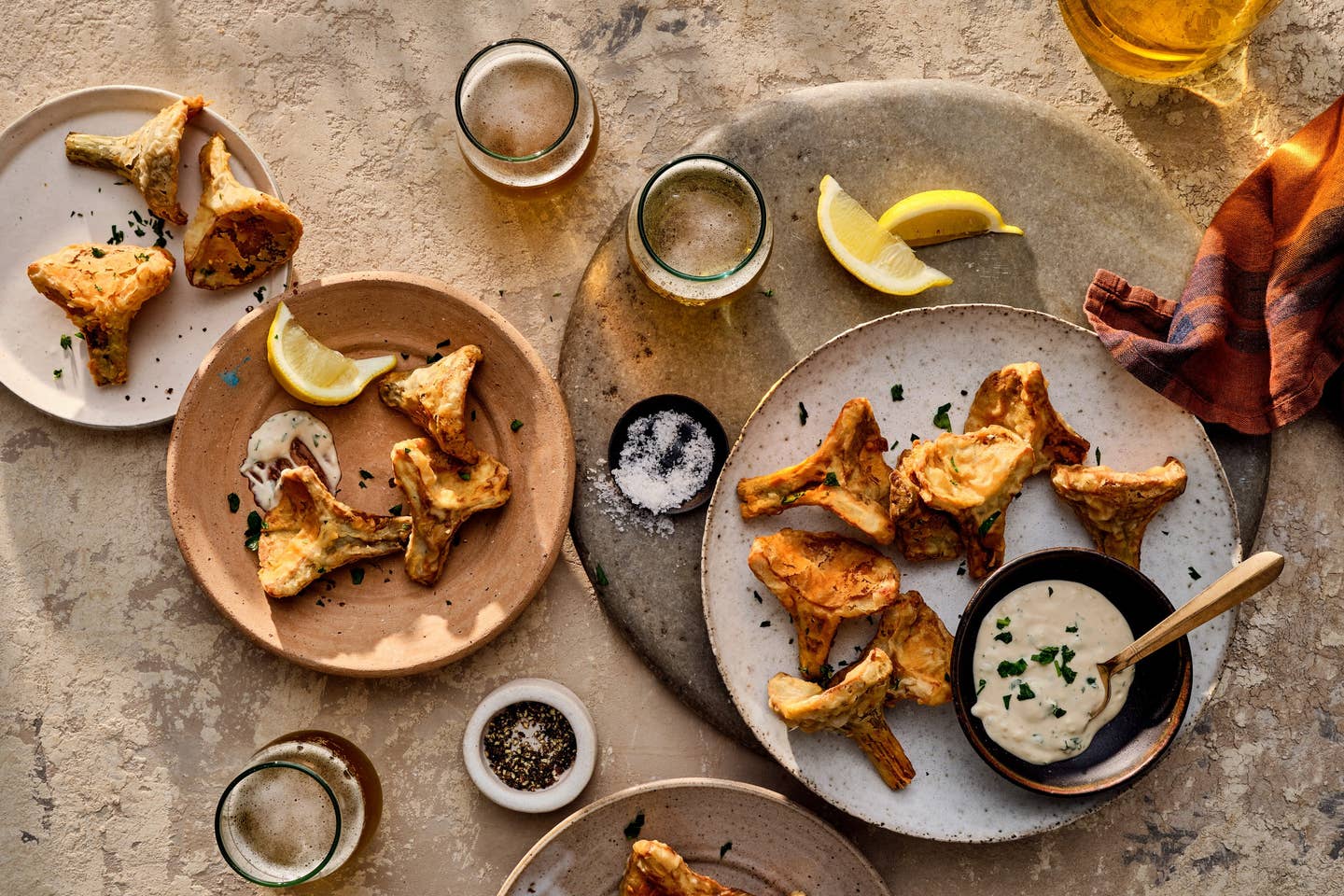 This flavorful Syrian recipe, in which tender artichoke bottoms are fried and served with an intense, tahini-based sauce, comes from Damascus, where the beloved vegetable known as ardi shawki is also prepared in stews and stuffed with spices. When paring the freshest whole artichokes, keep the stems intact, which become as delicate as the hearts after frying.
Ingredients
For the taratur sauce:
6 garlic cloves, mashed into a paste with 2 tsp. fine sea salt
½ cups tahini
½ cups fresh lemon juice
1 tbsp. finely chopped fresh parsley, divided
For the artichokes:
2 tbsp. fresh lemon juice
8 medium artichokes (about 12 oz. each)
½ cups all-purpose flour
Fine sea salt
Instructions
Step 1
Make the taratur sauce: In a small bowl, whisk together the garlic and tahini, then slowly pour in the lemon juice. Add water, 1 tablespoon at a time, to achieve the consistency of a thick sauce (1–3 tablespoons more). Stir in 2 teaspoons of the parsley.
Step 2
Make the artichokes: Fit a pot with a steamer basket. Pour in the lemon juice and enough water to almost reach the bottom of the steamer. Working with 1 artichoke at a time, use a paring knife or vegetable peeler to remove the stem's fibrous outer layer, and leave attached. Slice off the top third of the closed leaves, then spirally snap off the tough dark green outer leaves. Place the trimmed artichokes in the pot (it's fine if they're not in one layer), turn the heat to medium-high, and steam, covered, until the hearts are tender when pierced with a knife and the leaves pull off easily, 25–35 minutes. Using a teaspoon, scoop out and discard the choke. Transfer the steamed artichokes to a paper towel-lined plate and pat with additional paper towels to dry thoroughly.
Step 3
Attach a deep-fry thermometer to a skillet or Dutch oven set over medium-high heat, then add the oil. While the oil heats, add the flour, salt to taste, and artichokes to a bowl and toss to coat, shaking off any excess. When the temperature reads 375°F, fry half of the artichokes, turning occasionally, until golden, about 2 minutes. Using a slotted spoon, transfer to a paper towel-lined plate. Season with salt and tent with foil. Repeat with the remaining artichokes.
Step 4
To serve, transfer the artichokes to a platter, drizzle with the taratur sauce, and sprinkle over the remaining parsley.