Recipes
Fried Onion Rings
The perfect accompaniment to any burger.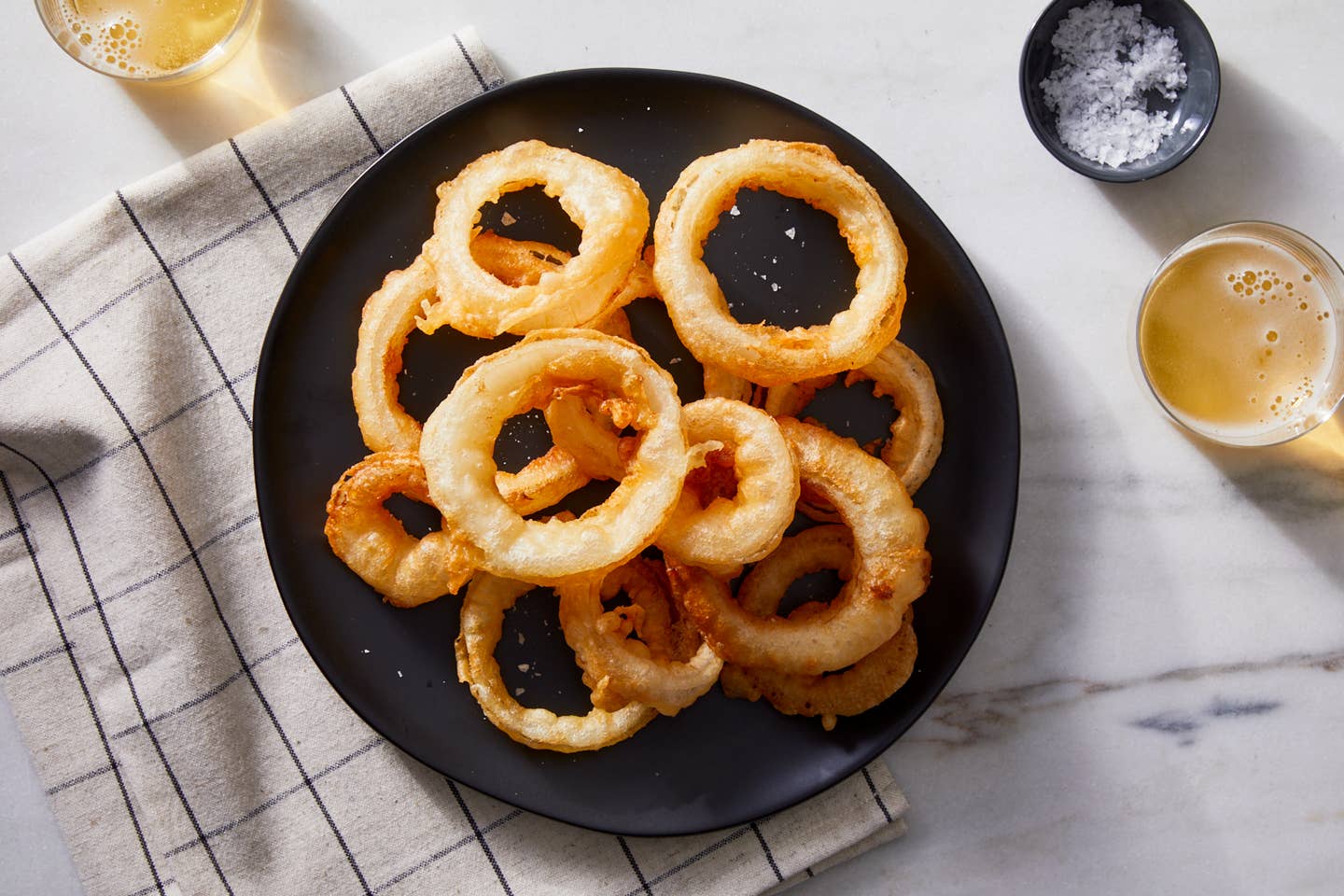 These crispy onion rings from cookbook author Colman Andrews are an indulgent accompaniment to any burger. Though Prosecco adds unique fizz, any sparkling wine, beer, or water can be used to lighten the batter. Peanut oil is ideal for fast-frying tasks because it has a high smoke point, meaning it won't scorch at the hot temperature needed to make these rings puff and crisp. Find all of our best fried recipes here.
Ingredients
2 cups all-purpose flour
2 1⁄4 cups prosecco or other sparkling wine
½ tsp. fine sea salt, plus more for serving
Freshly ground black pepper
Peanut oil, for frying
3 large vidalia or other sweet onions, peeled
Instructions
Step 1
In a large bowl, whisk together the flour, prosecco, ½ teaspoon of the salt, and black pepper to taste to form a smooth batter.
Step 2
Line a large plate with paper towels. Into a large Dutch oven set over medium-high heat, pour the oil to a depth of 4 inches and attach a deep-fry thermometer.
Step 3
When the temperature reads 365ºF, fry the onion rings: Working in small batches, separate the onion rounds into rings and coat with batter. Using a fork, drop the battered rings one by one into the oil. Fry, turning often, until golden and crisp, 2–3 minutes per batch, then transfer to the plate. Season generously with salt while hot. Repeat with the remaining batches and serve immediately.
From the ultimate grilled cheeseburger to a Japanese-inspired pretzel-and-panko number, here are our favorite variations on the American classic >