Recipes
Hanky Pankys
An unassuming delicacy with Midwestern roots transforms ground beef into a craveable party trick with liquid smoke and Velveeta cheese.
Serves

Serves 6–8

Cook

15 minutes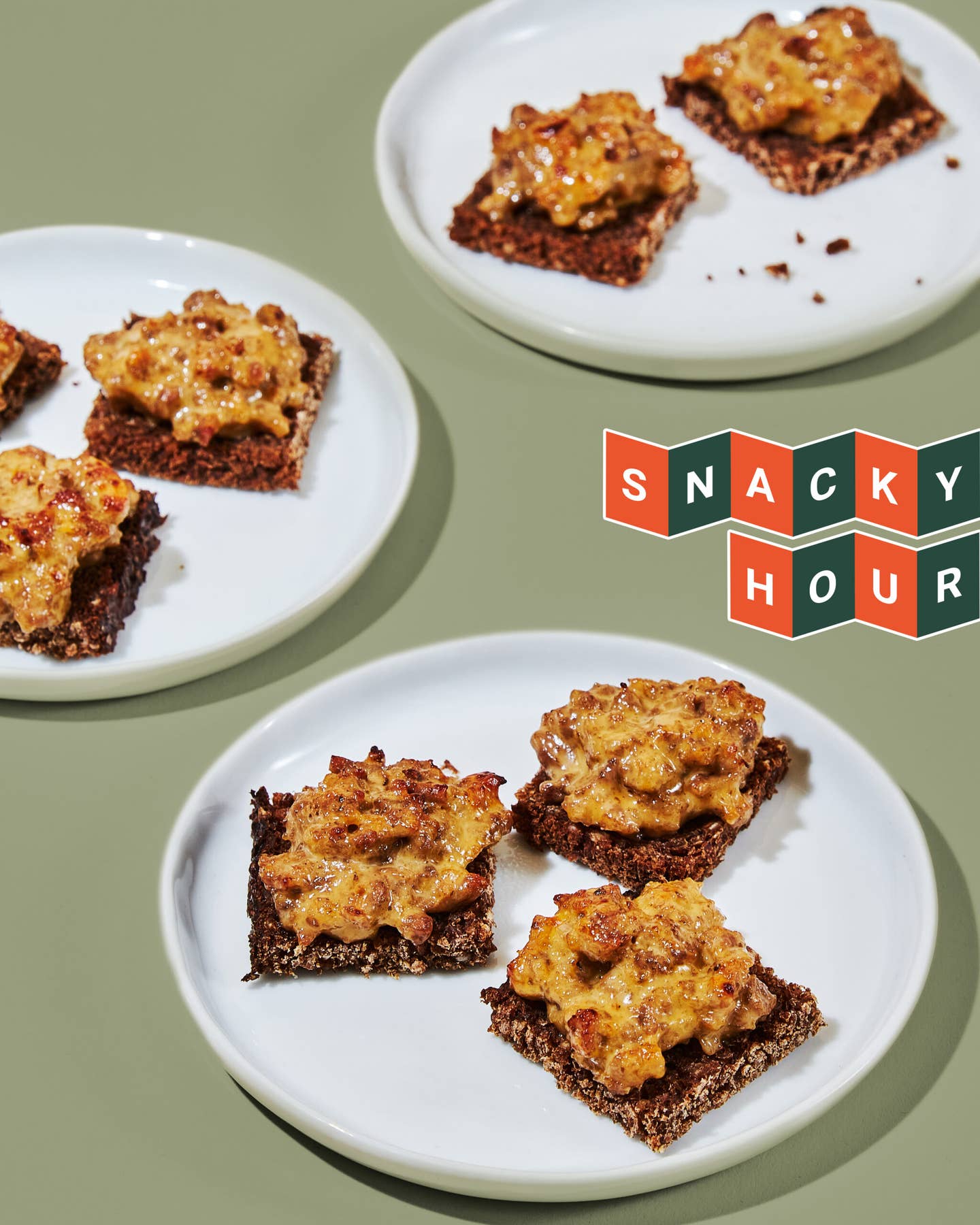 It's always Snacky Hour somewhere, at least according to snack-obsessed SAVEUR senior editor Ellen Fort. Follow along as she discovers the best bites that fall outside the confines of breakfast, lunch, or dinner. Savory, salty, spicy, sweet, sour: everything's fair game during Snacky Hour.
Growing up, I was lucky to be the child of parents with friends who loved my twin sister and me like their own. Dinner parties, cocktail hours, and weekends with friends were some of our favorite times to impress grown-ups with our comedy routines, fashion shows, and general antics. They tolerated all this gracefully and left their own impressions by including us in the festivities. As is the custom in the South, almost every group has its own signature delicacy, whether it was Molly's homemade mustard, Diana's toffee, or Sybil's Bread. This recipe is one of those signature treats, with exotic ingredients that my vegetarian, natural grocery-loving mother usually did not have on hand: Velveeta, liquid smoke, and sausage being key ingredients. I only knew this as "the thing Toni makes" until recently when I aspired to include it in Snacky Hour. Only then did I find out it had a name and an origin: Hanky pankys, an appetizer hailing from Cincinnati. All of this makes sense now—Toni grew up in Ohio—but I'll always remember eating it on a screen porch in Tennessee with the clink of ice and grown-ups laughing in the background.
Note: There are no substitutions allowed for any part of this hanky panky recipe, particularly when it comes to Velveeta. We're partial to Pepperidge Farms' Dark Pump party bread, but S. Rosen's is a great option too.
Ingredients
1 lb. ground beef
1 lb. bulk sausage, mild or hot
1 lb. Velveeta cheese, cut into cubes
1 Tbsp. Worcestershire sauce
½ tsp. liquid smoke
1 sleeve party-size rye or pumpernickel bread
Instructions
Step 1
To a large skillet over medium heat, add the beef and sausage and cook, stirring frequently, until evenly browned. Pour off and discard any excess fat, then turn the heat down to low and and add the Velveeta. Stir in the Worcestershire and liquid smoke, then adjust the seasoning to taste. and Worcestershire.
Step 2
Preheat the broiler to high heat and arrange the rye slices in an even layer on a large baking sheet.
Spread about 1 tablespoon of the beef-sausage-Velveeta mixture onto each slice, then broil until bubbly and browned, about one minute. Serve the hanky pankys hot.