Recipes
Sufganiyot with Bourbon-Orange Glaze
Put away the piping bag: This Southern riff on the classic Hanukkah donut recipe is easier—and boozier—than the original.
Serves

makes 18 donuts

Cook

45 minutes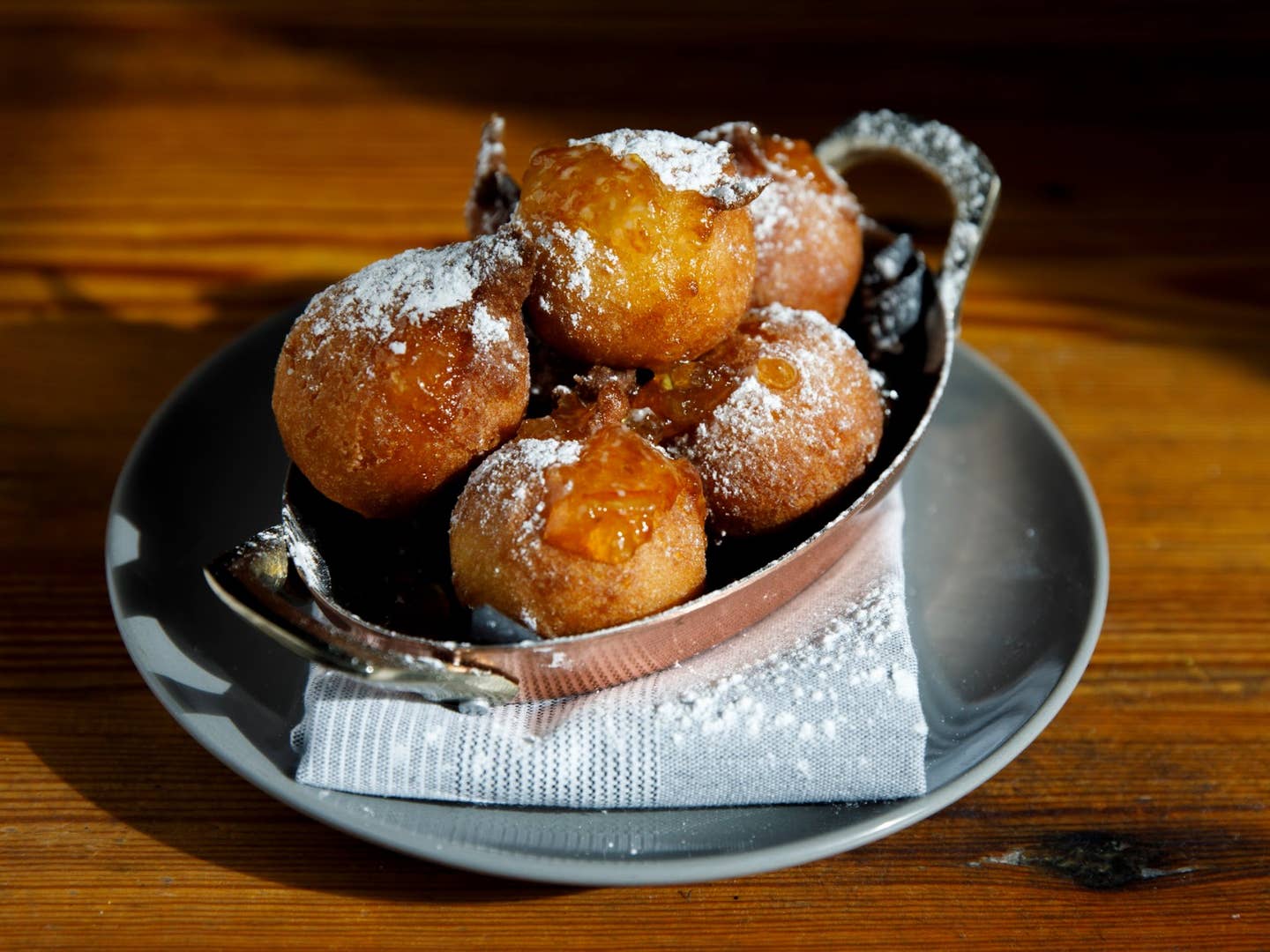 The use of chemical leavening—baking powder—makes chef Sara Bradely's Kentucky riff on the classic Hanukkah donut recipe quicker and easier than old-school yeasted versions, while drizzling the warm donuts with boozy orange jam eliminates the need for fiddly piping bags. Don't be alarmed by the density of the dough—once the egg whites are folded in, it will loosen to a light and easy-to-fry batter.
Ingredients
For the donuts:
1½ cups all-purpose flour
½ cups sugar
1 tsp. baking powder
Pinch of kosher salt
½ cups buttermilk
2 large eggs, separated
1 tbsp. melted unsalted butter
1 tbsp. fresh orange juice
2½ tsp. finely grated orange zest
1 tsp. vanilla extract
Neutral oil, for frying
For dusting and glazing:
¼ cups orange marmalade
1 tbsp. bourbon
Confectioners' sugar
Instructions
Step 1
Make the donuts: In a large bowl, whisk together the flour, sugar, baking powder, and salt. In a medium bowl, whisk together the buttermilk, egg yolks, butter, orange juice and zest, and vanilla. Fold the wet mixture into the dry ingredients until just combined (do not overmix), then set aside.
Step 2
Fill a heavy-bottomed fitted with a deep-fry thermometer with oil to a depth of 2 inches, then set over medium heat and preheat to 375°F.
Step 3
Meanwhile, in a clean medium bowl, use a wire whisk or an electric mixer to whip the egg whites to medium-stiff peaks. Switch to a silicone spatula and gently fold the whites into the reserved batter.
Step 4
Fry the donuts: Line a large rimmed baking sheet with a few layers of paper towels and set it by the stove. Working in batches and using a tablespoon-sized measuring spoon, scoop the batter into the oil and cook until puffed and golden brown on one side, about 3 minutes. Using tongs, a slotted spoon, or a spider skimmer, flip the donuts and continue cooking until evenly golden brown, about 3 minutes more. Transfer to the lined baking sheet to drain while you fry the rest of the donuts.
Step 5
While doughnuts are frying, mix the glaze: In a small bowl, whisk together the marmalade and bourbon and set aside.
Step 6
When all the donuts are fried, drizzle with the reserved glaze. Dust with confectioners' sugar and serve immediately.