Recipes
Ital Vegan Meatballs
Whether slathered in marinara or dunked in homemade BBQ sauce, these savory plant-based spheres are a much-loved meal in many Rastafari homes.
Serves

4

Cook

2 hours 30 minutes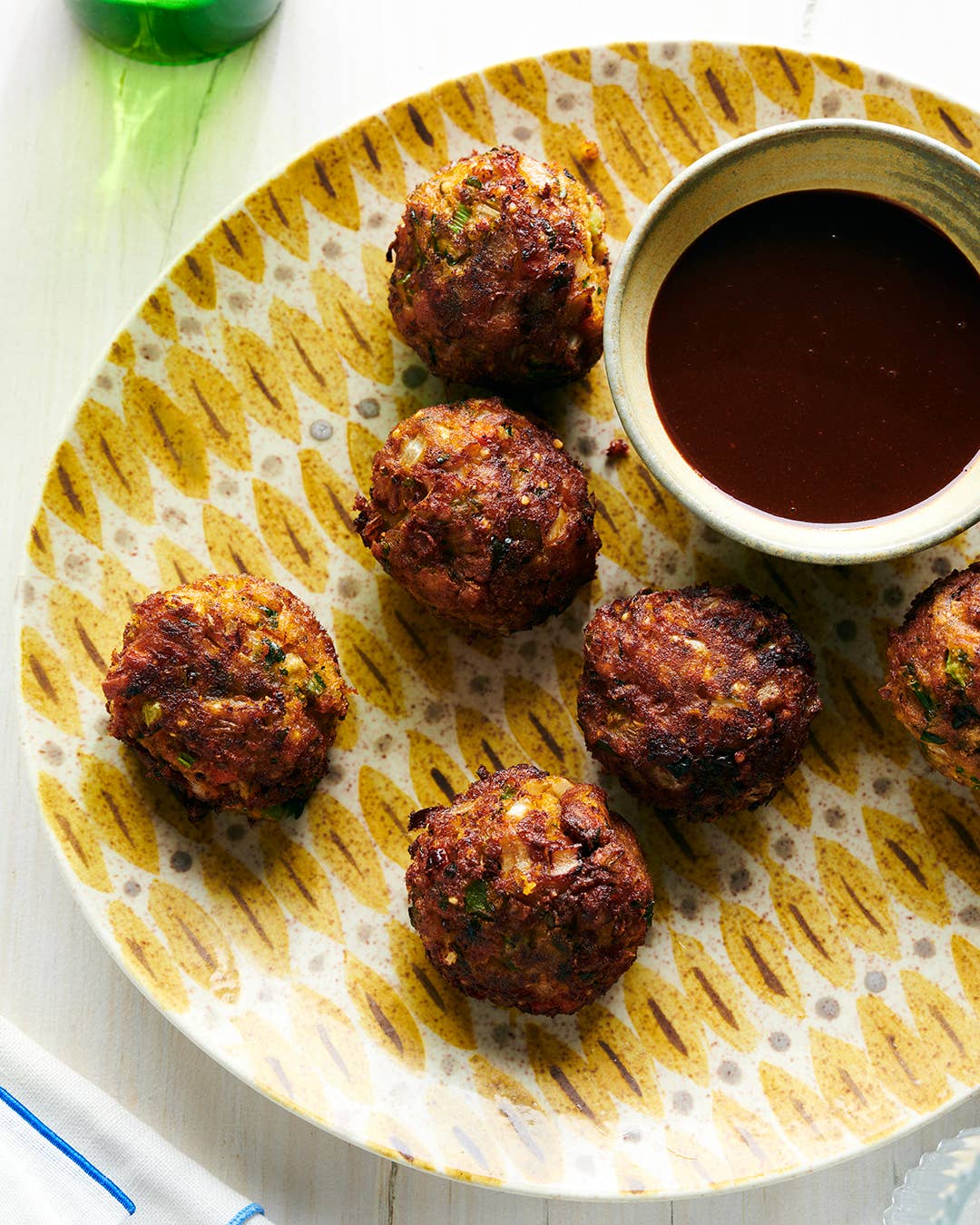 Rastafari (sometimes called Rastafarianism) is a religion that began in Jamaica during the 1930s. Vegetarianism is a pillar of the faith, and the way Rastafarians eat is based on the principle of "livity," the core tenets of which are harmony and balance, especially with the Earth. In addition to eating a plant-based diet, adherents avoid processed foods and salt. Rastafarians were early proponents of "clean eating," which they refer to as Ital (derived from the word vital), and which they believe is the key to eternal life. Ital cuisine is elaborately seasoned and uses lots of fresh herbs, garlic, onion, and in-season produce. Because mock meats fall into the processed food category, Ital-observant Rastafarians have developed tasty dishes that, in some cases, replicate beloved meat dishes with all-natural plant-based ingredients. These Ital balls (vegan meatballs) are one such recipe.
Each Rastafarian family has its own recipe for Ital balls, but the common thread that runs amongst them is affordability and nutrient density. You can enjoy this version atop pasta with generous amounts of tomato sauce or as an hors d'oeuvre, slathered in your favorite barbecue sauce (home-made, of course).
Ingredients
2 medium sweet potatoes (1 lb.)
½ cup red lentils
⅓ cup millet
2 Tbsp. chia seeds
1 Tbsp. ground flax seeds
1 large onion, finely chopped (1 cup)
1 small green or red bell pepper, finely chopped (½ cup)
1 small carrot, finely chopped (½ cup)
1 small celery stalk, finely chopped (½ cup)
¼ cup finely chopped parsley leaves
¼ cup finely chopped scallions (green parts only) or chives
3 garlic cloves, finely chopped
1 tsp. fresh ginger, peeled and finely chopped
1 tsp. finely chopped Scotch bonnet pepper
1 tsp. thyme leaves
½ tsp. ground pimento berries (or allspice powder)
¼ cup coconut oil
Instructions
Step 1
Preheat the oven to 400°F; line a baking sheet with parchment paper. Place the sweet potatoes on the baking sheet and roast until tender, about 1 hour. Set aside until cool enough to handle.
Step 2
Peel the sweet potatoes, place in a large bowl, and use a potato masher or fork to mash. (You should have about 2 cups.) Set aside.
Step 3
Meanwhile, to a medium pot, add the lentils and 2 cups of water. Bring to a boil, then cook over medium heat until the lentils are tender, 12–15 minutes. Strain the lentils through a fine sieve, discarding the cooking liquid, then transfer to a food processor. Pulse the cooked lentils a few times until you have a slightly coarse purée. Set aside until cool to the touch.
Step 4
In a medium skillet, toast the millet over medium heat, stirring continuously, until golden brown, 3–4 minutes. Stir ¾ cup water into the millet, bring to a boil, cover, and turn down the heat to maintain a gentle simmer. Cook until the seeds are tender and the liquid is fully absorbed, about 15 minutes. Remove from the heat and set aside, until the millet is cool to the touch.
Step 5
In a small bowl, stir together the chia seeds, ground flax, and ¼ cup cool water. Set aside until thickened and "gelled," about 10 minutes.
Step 6
To the mashed sweet potatoes, add the cooled lentil purée and millet. Add the onion, bell pepper, carrot, celery, parsley, scallions, garlic, ginger, Scotch bonnet chile, thyme, allspice, and the chia-flax mixture; stir until well-combined. (If the mixture seems dry, stir in an additional tablespoon of water.) Cover and refrigerate until the ingredients hold together when squeezed in the palm of your hand, about 1 hour.
Step 7
Divide the meatball mixture into sixteen ¼-cup portions and roll into balls.
Step 8
Line a plate with paper towels and set it by the stove. In a large skillet, melt the coconut oil over medium heat. Cook the balls in batches, turning occasionally, until brown on all sides, 8–9 minutes per batch. Transfer to the lined plate and continue cooking until all are finished. Serve hot.