Recipes
Jumeokbap
Take ingredient scraps to the next level with Korea's historically symbolic "fist rice."
Serves

Makes 6

Cook

15 minutes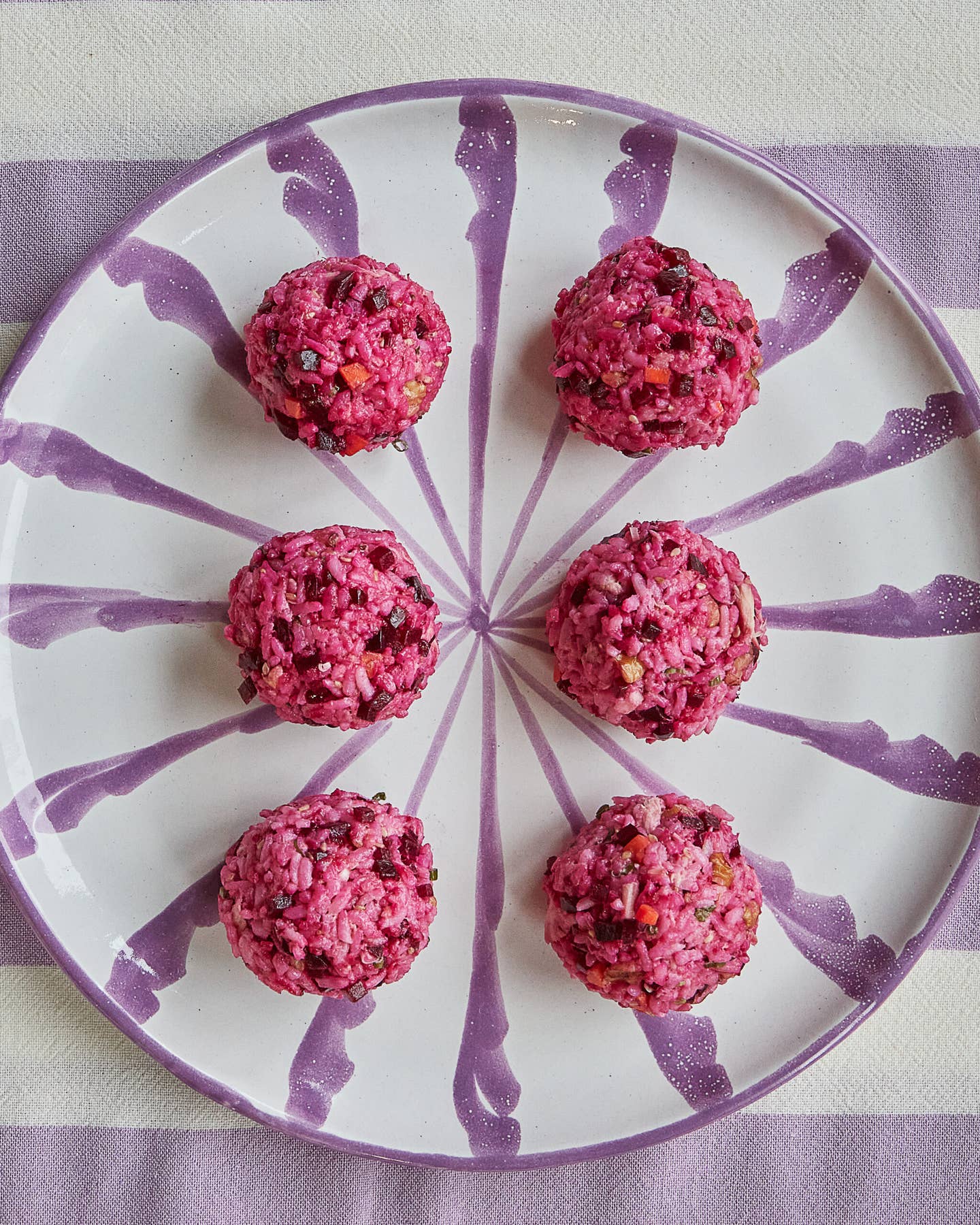 Eaten for centuries in Korea as a quick and convenient meal, jumeokbap or "fist rice" became a symbol of resilience and solidarity in 1980 in Gwangju. When armed military forces attacked civilians during a democratic struggle in the city, townspeople handed out fist rice to freedom fighters. More recently, the "anything goes" DIY-appeal of these hand-packed rice balls helped renew and expand the dish's popularity during the COVID-19 pandemic. In addition to traditional ingredient combinations like tuna and mayonnaise, chefs and home cooks around the world shared innovative new iterations on blogs and social media, and even restaurants began offering modern spins on the classic dish.
Im Hyun-sook, owner of the restaurant Haengbokhan Yangrim Bapsang in Gwangju and survivor of the uprisings in 1980, developed this jumeokbap recipe as a tribute to the courageous citizens who stood up against government oppression during that fateful period. Im incorporates non-traditional ingredients like beets and walnuts for vibrance and texture—and encourages everyone to experiment with their own favorite ingredients at home. Jumeokbap vary in size, from bite-size versions to spheres as large as baseballs; Im's are a little smaller than tennis balls.
You can wear a pair of food-safe gloves when rolling the jumeokbap, as the beets may stain your fingers.
Ingredients
11⁄2 cups of warm, cooked short-grain rice
1 medium beet, peeled, boiled, and finely chopped
1⁄3 cup mayonnaise
¼ cup (1 oz.) tuna packed in water, drained
5 walnuts, finely chopped
1 scallion, finely chopped
1 baby carrot, finely chopped
1 tsp. toasted sesame seeds
1⁄2 tsp. kosher salt
Instructions
Step 1
To a large bowl, add the rice, beet, mayonnaise, tuna, walnuts, scallion, carrot, sesame seeds, and salt; using a silicone spatula, stir well. Using your hands, divide the mixture into six ½-cup portions, then roll each portion into balls. Serve immediately.