Recipes
Braised Lamb Belly with Lemon, Harissa, and White Wine
Rhode Island Chef Kevin O'Donnell's bright and spicy riff on Roman classic.
Serves

serves 6

Cook

4 hours 45 minutes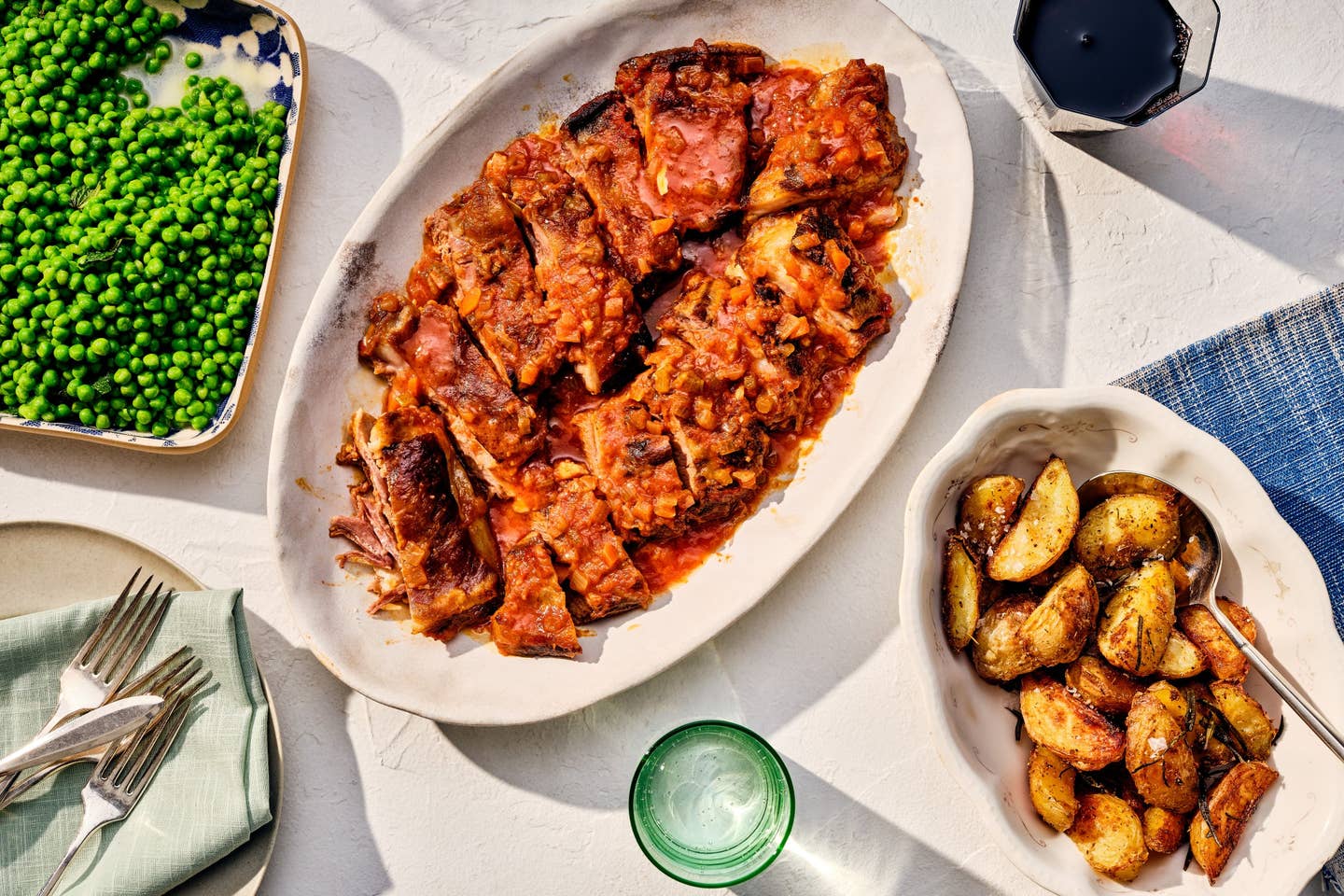 Chef Kevin O'Donnell of Newport, Rhode Island restaurant Giusto serves this spiced and aromatic braised lamb belly paired with buttery peas and crispy roasted potatoes for Easter dinner. If you can find it, seek out a rose petal harissa for the braising liquid—O'Donnell likes the Belazu brand.
Ingredients
2 lb. lamb belly
Kosher salt
1 tbsp. vegetable oil
½ small yellow onion, coarsely chopped (½ cup)
½ small carrot, peeled and coarsely chopped (¼ cup)
½ small celery stalk, coarsely chopped (¼ cup)
3 medium garlic cloves, peeled and crushed
½ tsp. ground cumin
½ cups dry white wine
1½ cups chicken stock
½ cups tomato purée
1 tbsp. harissa paste
2 tsp. finely grated lemon zest
2 tbsp. fresh lemon juice
Instructions
Step 1
Season the lamb belly lightly with salt, and transfer to a platter and refrigerate, uncovered, for at least 2 and up to 12 hours.
Step 2
Preheat the oven (with one of its racks positioned in the center) to 300º F. To a large Dutch oven or heavy pot set over medium-high heat, add the vegetable oil. When the oil is hot and shimmering, add the lamb, and cook until golden brown on both sides, about 8 minutes total. Turn the heat down to low and transfer the lamb to a plate. Add the onions, carrot, and celery to the pot, season lightly with salt, and cook, stirring frequently, until the vegetables just begin to soften and color, 2–3 minutes. Stir in the garlic and cumin, and continue cooking until fragrant, about 1 minute more. Deglaze with the white wine and cook until the alcohol is cooked off, 3–4 minutes. Stir in the chicken stock, tomato puree, and harissa, then return the lamb belly to the pot. Cover the pot with a lid or foil, then transfer to the oven and cook until the meat is fork-tender but not quite falling apart, 1½–2 hours.
Step 3
Remove the pot from the oven and set aside to cool the meat to room temperature in its cooking juices.
Step 4
Transfer the lamb to a cutting board then cut the meat crosswise into 1-inch thick slices and return the meat back to the pot and refrigerate until ready to serve.
Step 5
Return the pot to the stove and set over medium-high heat. When the lamb is heated through, stir in the lemon zest and juice; season to taste with salt, then use a slotted spoon to transfer the meat to a platter. Pour over some of the cooking liquid, spoon the vegetables over and around the meat, and serve warm.