Recipes
Mandazi
Coconut and warm spices perfume these vegan East African-style fritters.
Serves

8–10

Cook

1 hour 30 minutes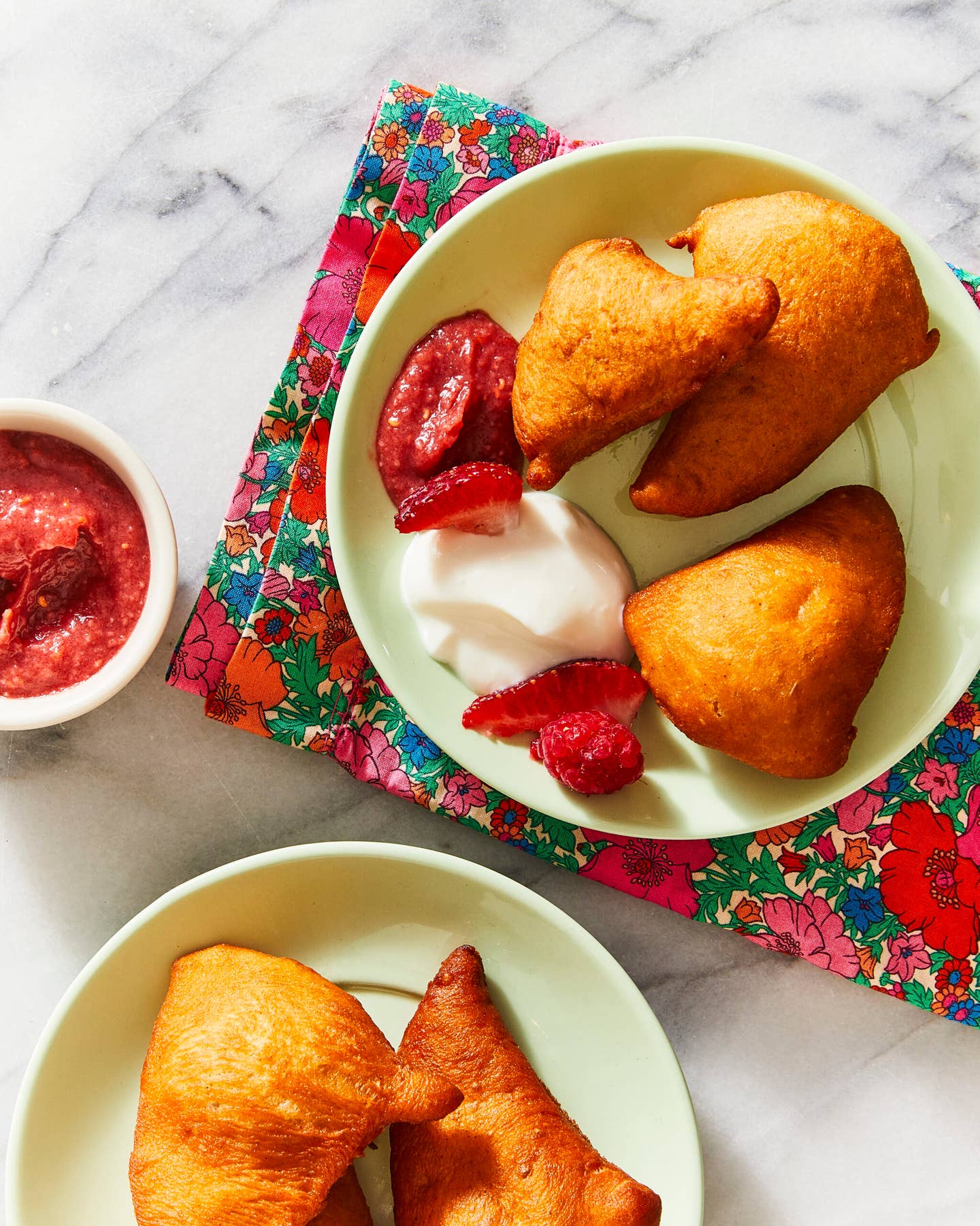 Charleston, South Carolina chef, caterer, and plant-based food expert Wibi Ashley served these lightly sweet, vegan fritters with a raw berry jam and coconut cream after a Charleston Wine + Food Festival workshop on plant-based cooking and working with botanical ingredients. Traditional mandazi are a popular East African street food. For her extra-fragrant vegan version, Ashley enriched the batter with coconut milk—though any plant-based or cow's milk will make a suitable substitute. Fresh out of the fryer, the fritters make an excellent breakfast food, snack, or dessert. Enjoy any leftovers at room temperature alongside savory dishes like stews or curries.
Ingredients
5 cup self-rising flour, plus more for dusting
¾ cup coconut sugar or date sugar
1 tsp. baking powder
½ tsp. ground cardamom
½ tsp. ground cinnamon
¼ tsp. fine salt
2 cup warm coconut milk, plus more as needed
Vegetable oil, for frying
Jelly or jam and whipped coconut cream, for serving (optional)
Instructions
Step 1
Into a large bowl, sift the flour, coconut sugar, baking powder, coconut sugar, cardamom, cinnamon, and salt. Make a well in the center of the flour mixture, then add the warm coconut milk and, using a fork or wooden spoon, begin stirring, drawing the dry ingredients into the liquid a little at a time until a shaggy dough begins to form. Put aside the fork and begin using your hands to knead the mixture directly in the bowl until the dough is firm and smooth, about 10 minutes. Cover with plastic wrap or a damp kitchen towel, and set aside until the dough is soft and pliable, 30–45 minutes. 
Step 2
Lightly flour a clean work surface and turn the dough out onto it. Divide the dough into 4 equal portions, then roll each portion between the palms of your hands to form a loose ball. Cover 3 of the balls and set aside.
Step 3
Using a lightly floured rolling pin, roll one dough ball out to an even circle, about 7½ inches in diameter and ¼ inch thick. Using a large chef's knife or bench knife, cut the circle crosswise into 8 even wedges. Cover with plastic wrap and set aside while you repeat with the remaining dough balls.
Step 4
Line a wide bowl or large platter with paper towels and set aside. To a large heavy-bottomed pot fitted with a deep-frying thermometer, pour the oil to a depth of 2 inches. Turn the heat to medium-high until the temperature reaches 350°F.
Step 5
Working in batches, fry the mandazi, turning occasionally, until evenly golden brown, 3–5 minutes. Using tongs or a spider strainer, transfer to a kitchen or paper towel-lined bowl to drain and cool while you continue frying the rest. Serve the mandazi warm, with jam or jelly and whipped coconut cream, if desired.