Recipes
No-Cook Berry Jam
Green coconut jelly and chia seeds thicken this Charleston chef's quick, no-cook fruit spread.
Serves

6–8

Prep

3 hours

Cook

10 minutes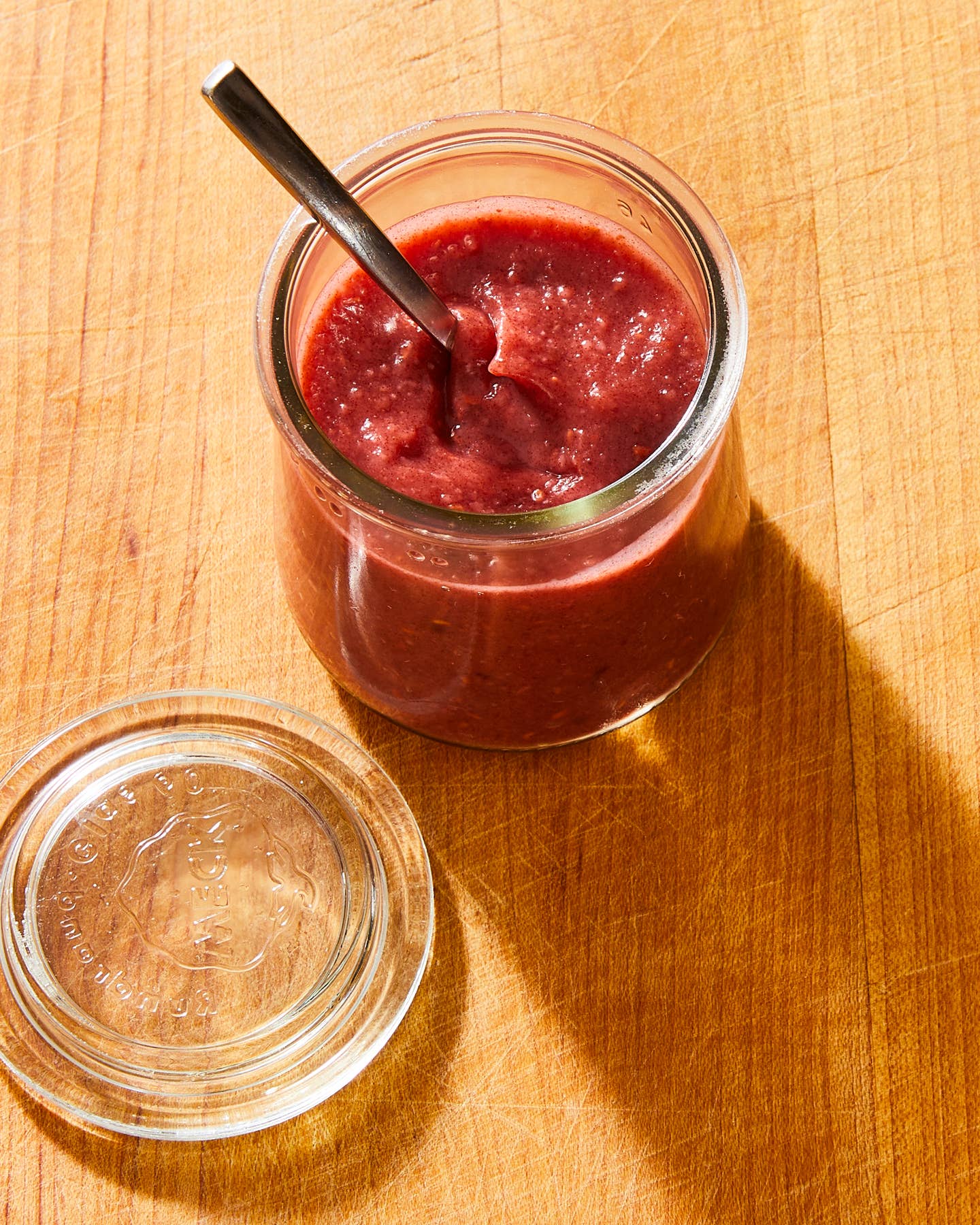 This no-cook berry jam is one of Charleston, South Carolina chef and caterer, Wibi Ashley's favorite things to make with seasonal spring and summer fruits. The ingredients are not cooked at all; instead of using pectin as a thickener, Ashley relies on the gelling properties of young green coconut jelly and chia seeds to lend fresh berries the requisite "jammy" consistency. Enjoy this quick, uncooked condiment however you would any glucose- and fructose-loaded store-bought version.
Fresh green coconuts contain more sweet liquid than the mature brown ones and the jelly-like substance inside helps to thicken this jam. For the best yield, look for a coconut that is green in color and feels heavy for its size.
Ingredients
2 cup raspberries, strawberries or other seasonal fresh fruit
¼ cup coconut jelly, scraped from inside 1 young, green coconut
1 Tbsp. chia seeds
6 medium medjool dates, pitted, soaked in warm water to soften, and drained
½ tsp. vanilla extract (optional)
Instructions
Step 1
To a food processor or blender, add the berries, coconut jelly, chia seeds, dates, and vanilla extract. Pulse, scraping down the sides and bottom of the bowl or blender occasionally, until smooth.
Step 2
Transfer the berry jam to an airtight container and refrigerate until thickened, at least 3 and up to 36 hours.