Recipes
Lemony Moroccan Lamb Stew with Garlic and Saffron
Tangia—Marrakech's most famous dish—is a fragrant, rib-sticking braise, no searing or sautéing required.
Serves

4

Cook

2 hours 20 minutes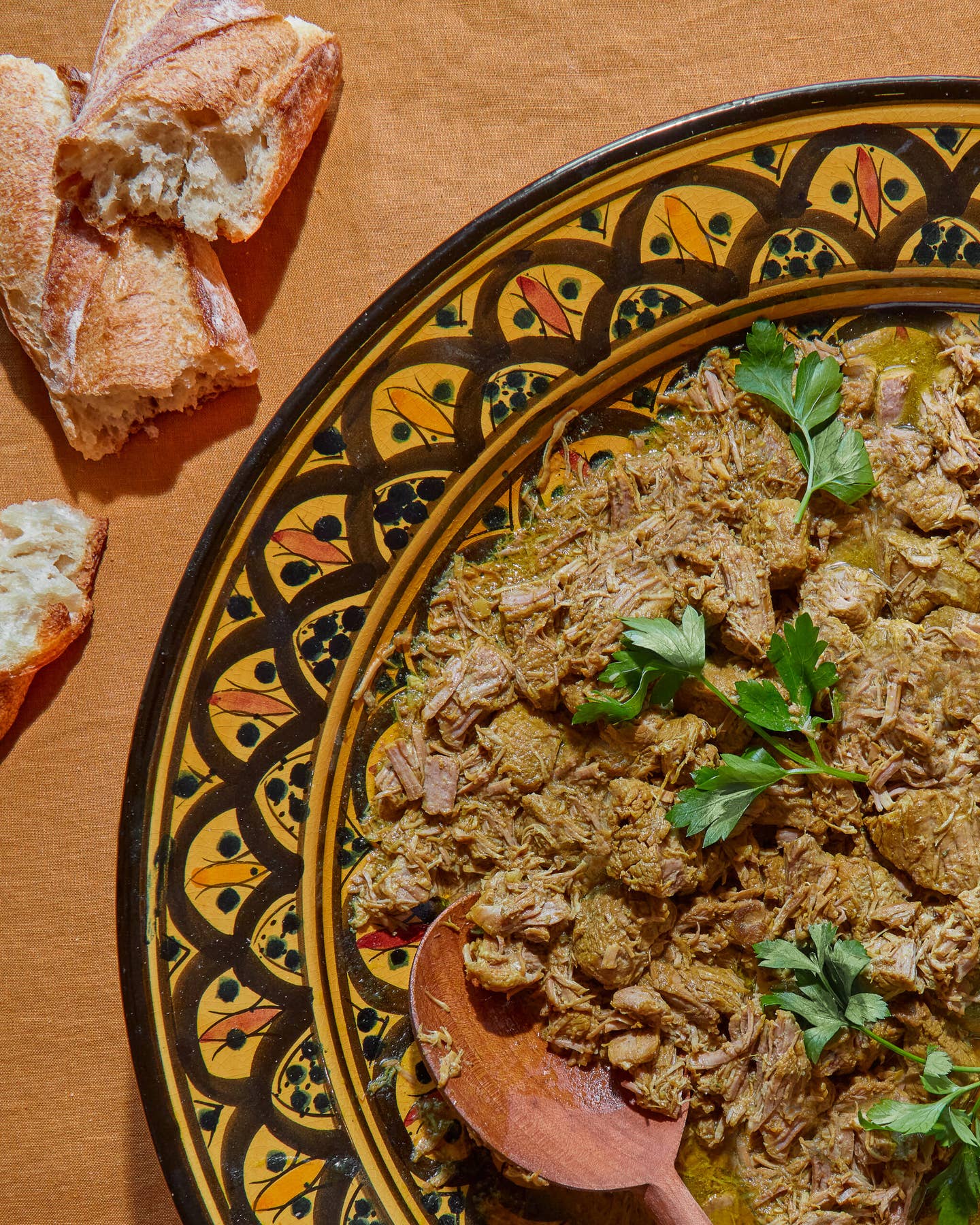 Traditionally cooked overnight in the burning embers beneath Marrakech's hammams, tangia is an aromatic, saucy Moroccan lamb stew flavored with saffron and preserved lemons. The meat should be so soft that it disintegrates when poked with a fork, a texture achieved more quickly in a pressure cooker or Instant Pot than in a standard Dutch oven. The older the preserved lemons, the more multilayered the broth will taste (vendors in Marrakech sell "back-vintage" jars aged up to four years, a true delicacy).
Ingredients
2 Tbsp. olive oil
5 garlic cloves, finely chopped
1 tsp. ground cumin
¾ tsp. ground white pepper
½ tsp. ground turmeric
Pinch saffron threads, ground in a mortar and pestle
2 lb. boneless lamb shoulder, trimmed and cut into 1½-in. chunks
1¾ tsp. kosher salt
2 tsp. finely chopped preserved lemon rind, or two (2-inch-long) lemon zest strips
Parsley sprigs, for garnish
Instructions
Step 1
To a large pot (or pressure cooker; see footnote) set over medium heat, add the oil and garlic and cook until fragrant, about 2 minutes. Stir in the cumin, white pepper, turmeric, and saffron and cook for 1 minute more. Add the lamb and salt and stir to coat with the spices. Add the preserved lemon and enough water to just cover the meat, then bring to a boil. Cover, turn the heat down to maintain a strong simmer, and cook until the meat is soft and flakes apart easily, about 2 hours.
Step 2
Using a slotted spoon, transfer the lamb to a bowl. Turn the heat to medium-high and cook the broth, stirring occasionally, until thickened slightly and reduced by one third, about 10 minutes. Return the lamb to the pot and bring to a simmer, then remove from the heat.
Step 3
Transfer the tangia to a serving bowl (alternatively, serve straight from the pot) and garnish with parsley sprigs.
Note: If using a pressure cooker or Instant Pot, add less water—only enough to come halfway up the meat—then cook over medium-high heat at high pressure for about 1 hour. Allow the pressure to naturally release before opening. Skip step 2 (the broth will already be concentrated enough).