Recipes
Fuyu Persimmons with Spinach, Burrata, and Cranberries
Take a cue from your favorite summer salad for this bright and crunchy autumn recipe.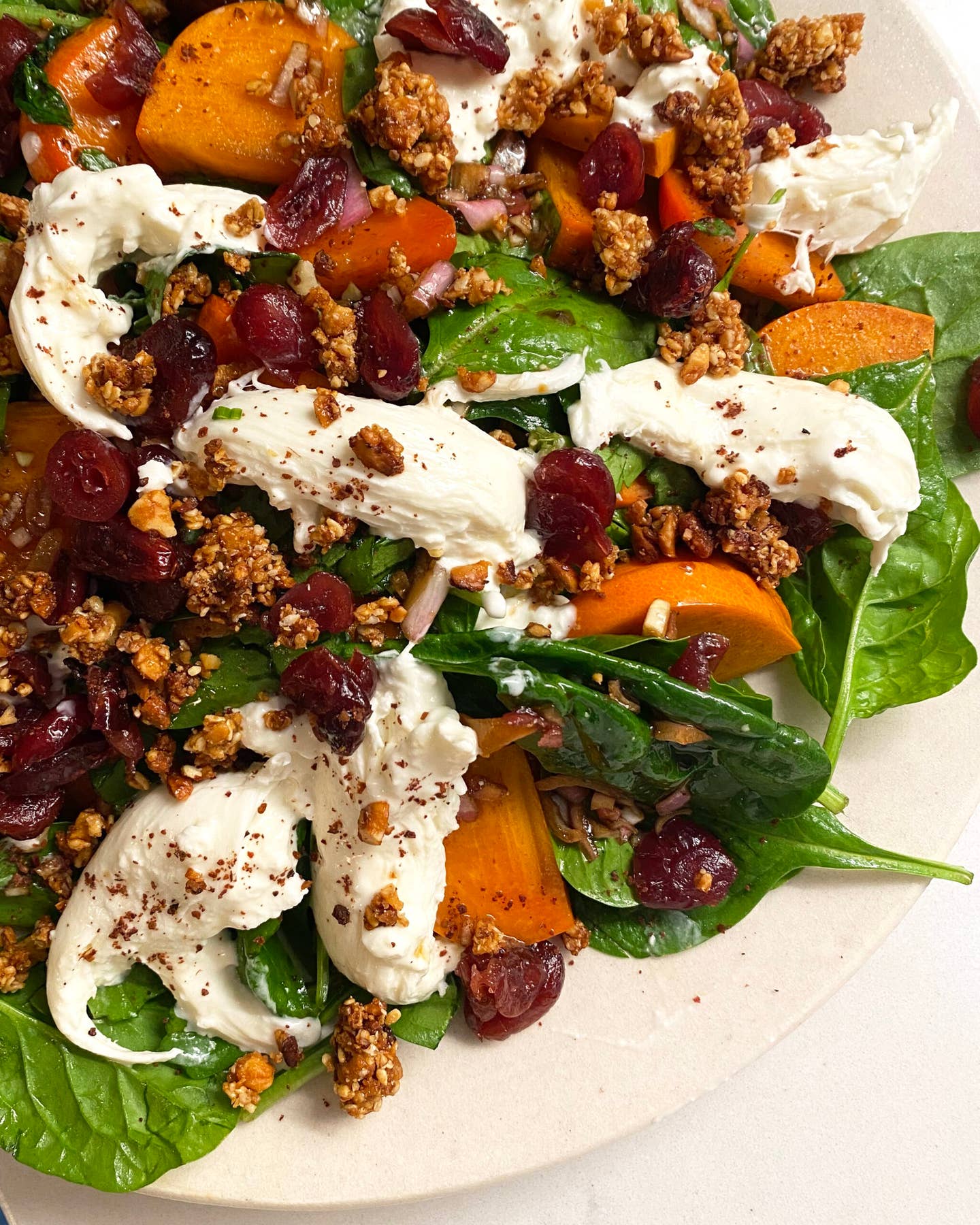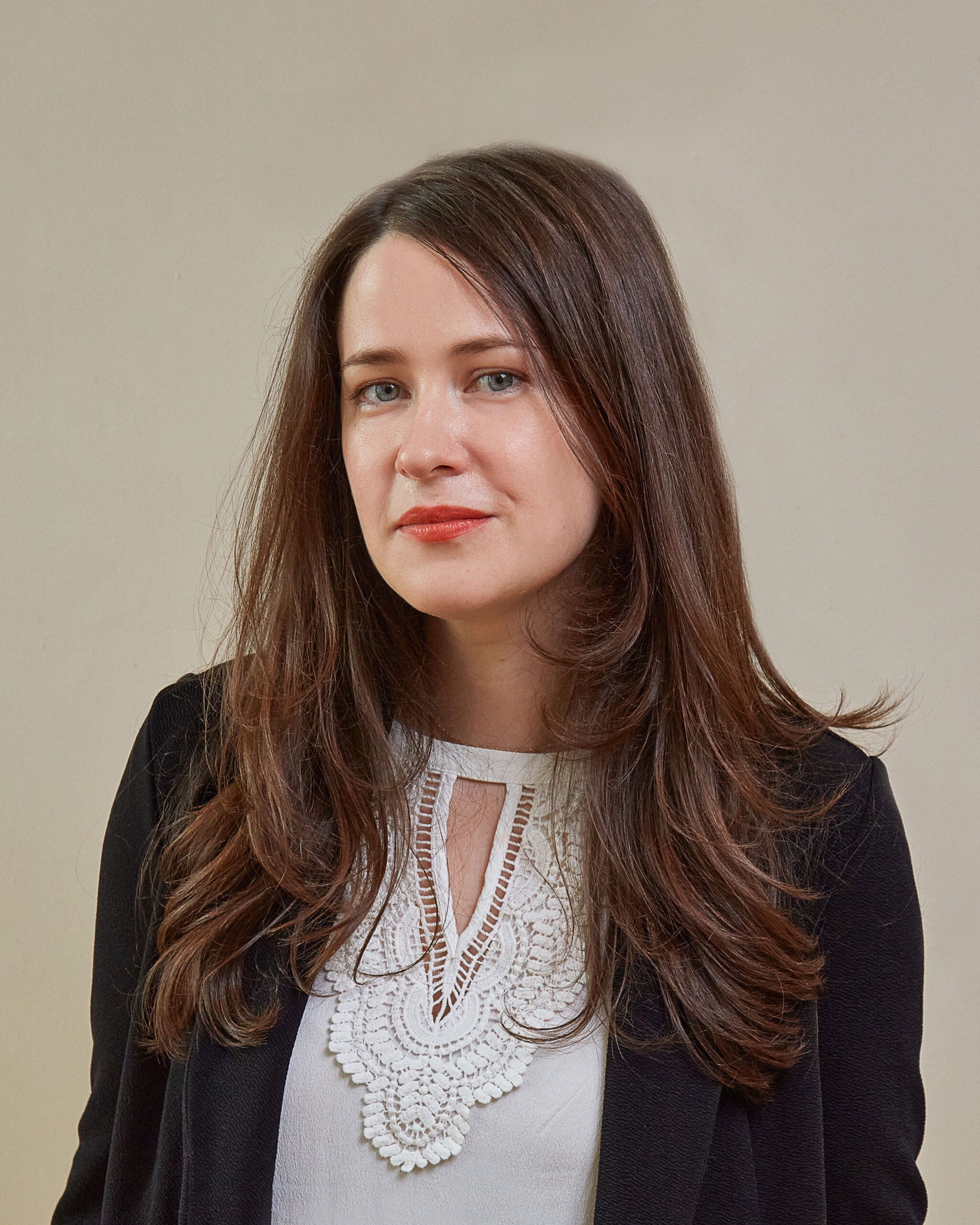 ---
I developed the sesame-cashew crunch in this persimmon salad recipe while working on a cookbook project exploring the connection between food and sleep. Turns out sesame seeds and cashews are loaded with the sleep-regulating amino acid, tryptophan! I like to sprinkle a bit of the crunchy mixture over sweet-and-savory dishes like roasted root vegetables, grain bowls, and this colorful autumn salad. Be sure to seek out the squat, tomato-shaped Fuyu persimmons which are honey-sweet and crisp when firm to the touch. (Oblong Hachiya persimmons are extremely astringent when firm and must be ripened to a soft, almost custardy consistency before eating. Save those for another use.)
Ingredients
Sesame-Cashew Crunch
1⅓ cup finely chopped cashews
⅔ cup sesame seeds
¼ cup oat bran
½ cup honey
1 Tbsp. extra-virgin olive oil
1 tsp. sesame oil
½ tsp. flaky sea salt
For the salad:
⅓ cup dried cranberries
1 small shallot, finely chopped
3 Tbsp. sherry vinegar
Kosher salt and freshly ground black pepper
4 cup baby spinach
3 medium Fuyu persimmons (1 lb.), stemmed and cut into thin wedges
¼ cup extra-virgin olive oil
One 4-oz. burrata or fresh mozzarella ball
⅓ cup sesame-cashew crunch (from above)
½ tsp. ground sumac (optional)
Instructions
Step 1
Make the sesame-cashew crunch: Preheat the oven to 350°F. Line a large, rimmed baking sheet with parchment paper or foil.
Step 2
To a large bowl, add the cashews, sesame seeds, and oat bran and toss to combine. To a large pot over medium heat, add the honey and oils and cook, swirling occasionally, until the liquid is hot. Remove from the heat, then pour over the cashew mixture and stir to combine. Turn the cashew mixture out onto the prepared baking sheet and spread into an even layer, sprinkle with salt, then transfer to the oven and bake, using a fork to occasionally stir and fluff, until the nuts and seeds turn a deep golden brown 15–20 minutes. (The mixture will still seem sticky and wet, but it will crisp up as it cools.) Set aside to cool to room temperature, then use immediately or transfer to an airtight jar and store at room temperature for up to 1 month.
Step 3
Assemble the salad: In a small bowl, cover the cranberries with enough hot water to cover. Set aside to soften for a few minutes while you assemble the rest of the salad.
Step 4
To a second small bowl, add the shallot, vinegar, and a pinch each of salt and black pepper.
Step 5
 Arrange the spinach and persimmon slices on a large platter. Drizzle with the shallot-vinegar mixture and olive oil, then tear the burrata into bite-sized pieces over the salad. Drain the cranberries (discarding the soaking liquid), and sprinkle them over the salad. Top with the sesame-cashew crunch and ground sumac (if using), and serve immediately.