Recipes
Pumpkin Spice Snickerdoodles
Everything you love about the classic cookies, but with more warming spices and cozy fall vibes.
Serves

20

Prep

10 minutes

Cook

2 hours 10 minutes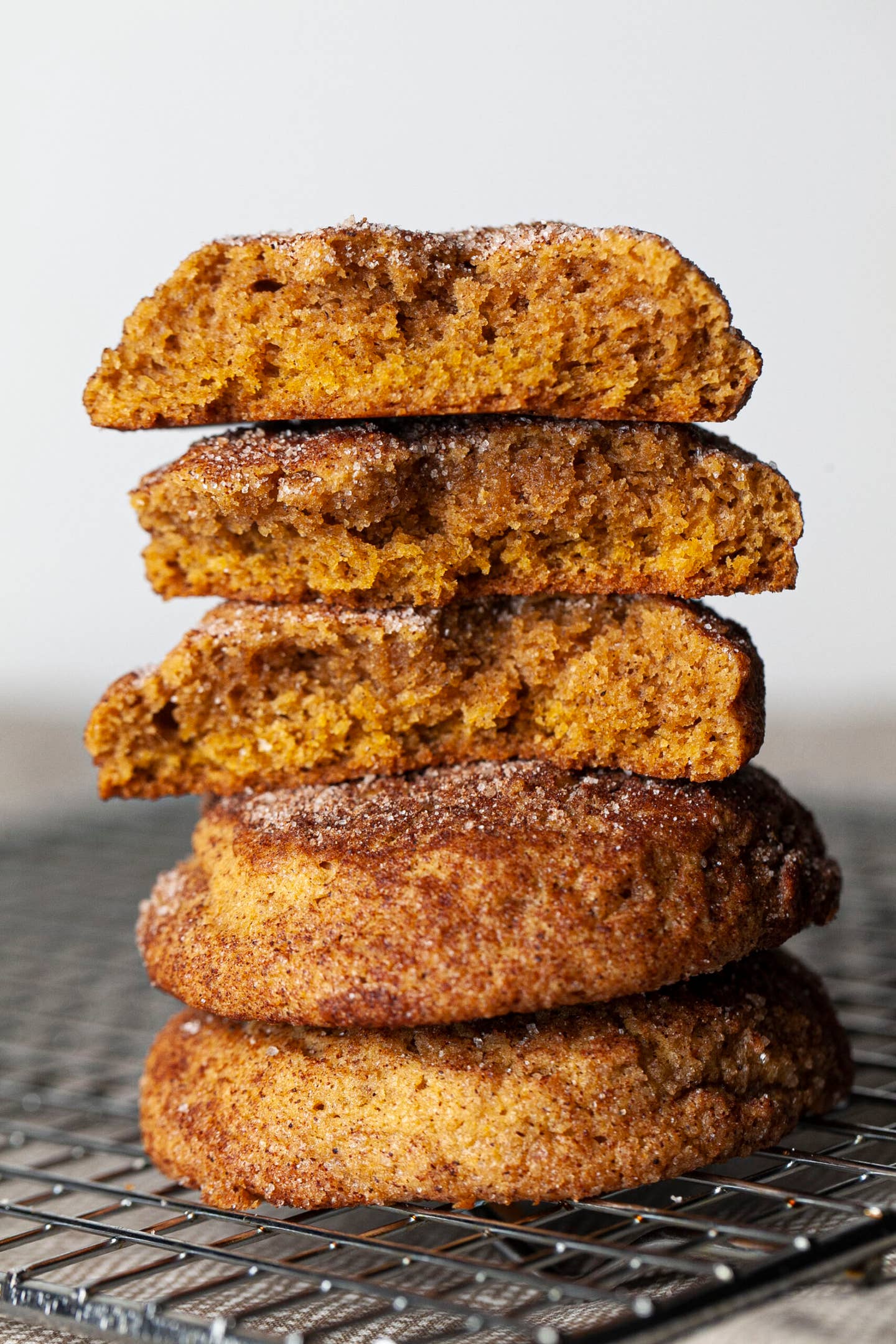 A warming blend of DIY pumpkin spice ups the coziness factor in these soft and simple pumpkin cookies from recipe developer Farideh Sadeghin.
Ingredients
For the pumpkin spice:
1 Tbsp. ground cinnamon
¾ tsp. ground ginger
½ tsp. ground nutmeg
¼ tsp. ground allspice
¼ tsp. ground cloves
For the cookies:
1¾ cups all-purpose flour
1 tsp. baking soda
1 tsp. cream of tartar
1 tsp. kosher salt
12 Tbsp. unsalted butter, softened
1 cup light brown sugar
2 large egg yolks
⅓ cup canned pumpkin purée
2 tsp. vanilla extract
¼ cup sugar
Instructions
Step 1
Make the pumpkin spice: In a small bowl, stir together the cinnamon, ginger, nutmeg, allspice, and cloves.
Step 2
Make the cookies: In a medium bowl, whisk together the flour, 1 tablespoon of the pumpkin pie spice, the baking soda, cream of tartar, and salt. In a large bowl using a hand mixer, or in the bowl of a stand mixer fitted with a paddle attachment, beat together the butter and brown sugar on medium speed until light and fluffy, about 3 minutes. Add the egg yolks and continue beating, scraping down the bowl and mixer occasionally, until completely incorporated, then beat in the pumpkin purée and the vanilla. Add the flour mixture ingredients and continue mixing just until combined. 
Step 3
Line 2 large baking sheets with parchment paper. Scoop the dough into twenty 2-tablespoon portions (about 1¼ ounces each). Position the portions on the lined baking sheets, then transfer to the fridge until the dough is firm, about 2 hours
Step 4
Meanwhile, in a medium bowl, stir together the remaining pumpkin spice and the sugar. Position one rack in the top third of the oven and another in the bottom third, then preheat to 350°F.
Step 5
Roll the chilled cookies in the spiced sugar, then return them to the baking sheets, about 1½ inches apart. Bake the cookies, rotating and switching the top and bottom sheets halfway through, until puffed and lightly golden but still soft, 12–14 minutes. Cool slightly, then transfer to a wire rack to cool completely.