Recipes
Roasted Broccoli with Olive and Almond Pesto
Punch up this flavorful, all-season side with a bright, rich pesto.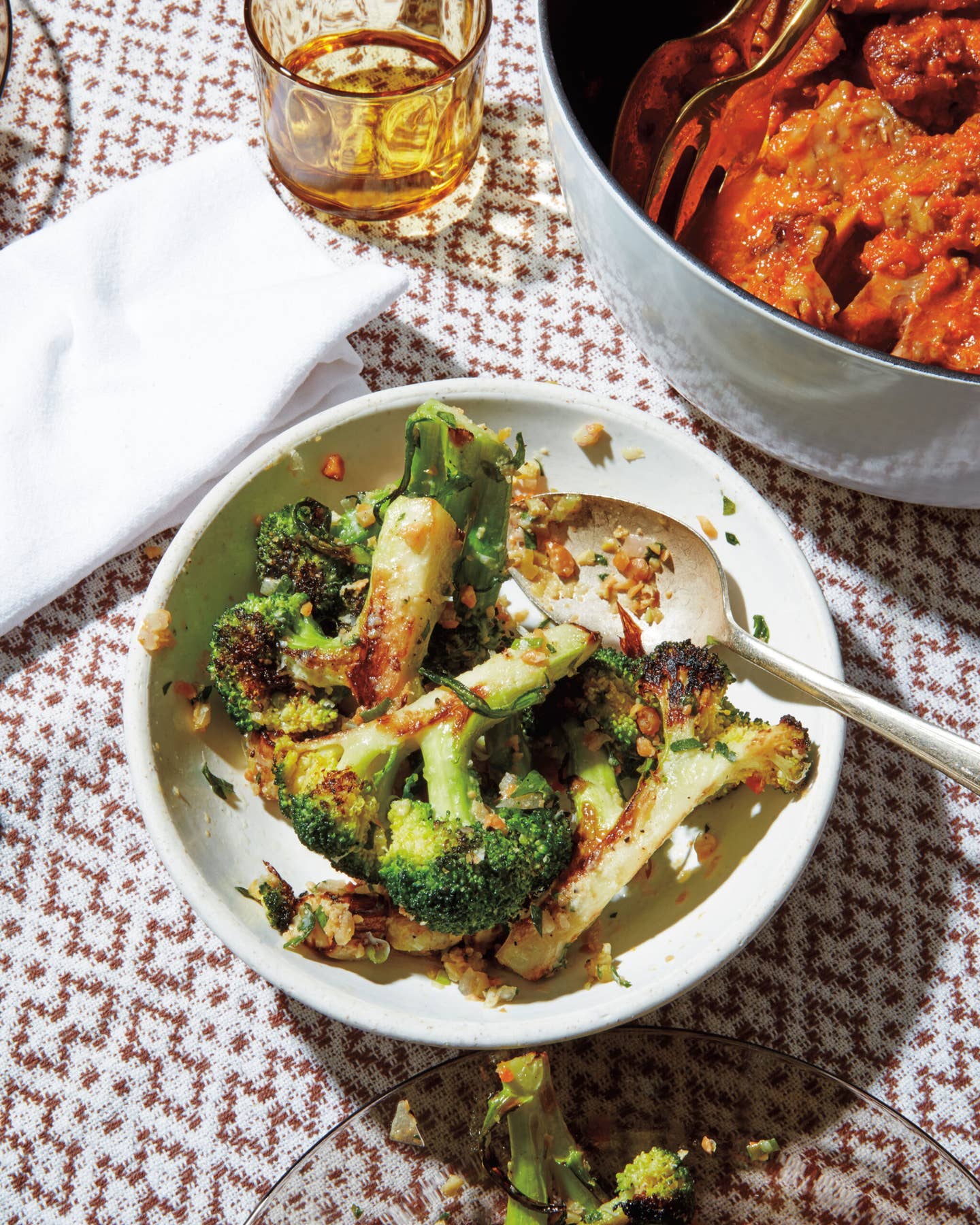 This recipe is brought to you by SAVEUR Cookbook Club, our passionate community of food-loving readers from around the globe celebrating our favorite authors and recipes. Join us as we cook through cookbooks new and old, and share your food pics and vids on social media with the hashtags #SAVEURCookbookClub and #EatTheWorld.
Roasted broccoli is dressed up with a nutty, bright pesto of green olives and toasted almonds in this easy, all-season side dish, adapted from Montreal restaurant Elena's cookbook, Salad Pizza Wine: And Many More Good Things From Elena. If you like, make a double batch of the versatile pesto, which freezes well and can be used to dress pasta, pizza, or any roasted vegetable, from cauliflower to carrots.
Ingredients
For the broccoli:
8 cups broccoli florets
¼ cup extra-virgin olive oil
For the pesto:
¾ cup toasted almonds
1 cup green olives, pitted
2 garlic cloves
3 scallions, finely chopped
1 medium shallot, finely chopped
½ cup coarsely chopped fresh parsley leaves
¾ cup extra-virgin olive oil, plus more for drizzling
1 Tbsp. fresh lemon juice, plus lemon wedges, for serving
Flaky salt and freshly ground black pepper
¼ cup shaved Parmesan
Instructions
Step 1
Prepare the broccoli: Preheat the oven to 425°F. In a large bowl, toss the broccoli florets with the olive oil. Transfer to a large rimmed baking sheet and roast until slightly charred but still somewhat crunchy, 15–20 minutes.
Step 2
Meanwhile, make the pesto: In a food processor, pulse the almonds, olives, and garlic until coarsely chopped, about 10 seconds. Transfer to a medium bowl and stir in the scallions, shallot, parsley, and olive oil. (If not using the pesto immediately, transfer to an airtight container and store in the fridge for up to one week or the freezer for up to one month.)
Step 3
Transfer the roasted broccoli back to the large bowl. Add the pesto and lemon juice, season to taste with salt and black pepper, and toss well to coat. Transfer the broccoli to a large serving platter, garnish with shaved Parmesan and a drizzle of olive oil, and serve hot or warm with a few lemon wedges on the side.
Adapted from Salad Pizza Wine: And Many More Good Things From Elena by Janice Tiefenbach, Stephanie Mercier Voyer, Ryan Gray and Marley Sniatowsky. Copyright © 2023 Janice Tiefenbach, Stephanie Mercier Voyer, Ryan Gray, and Marley Sniatowsky. Photographs by Dominique Lafond. Published by Appetite by Random House®, a division of Penguin Random House Canada Limited. Reproduced by arrangement with the Publisher. All rights reserved.