Recipes
Rose Petal Rice Pudding
A sweet finish to a festive Persian meal.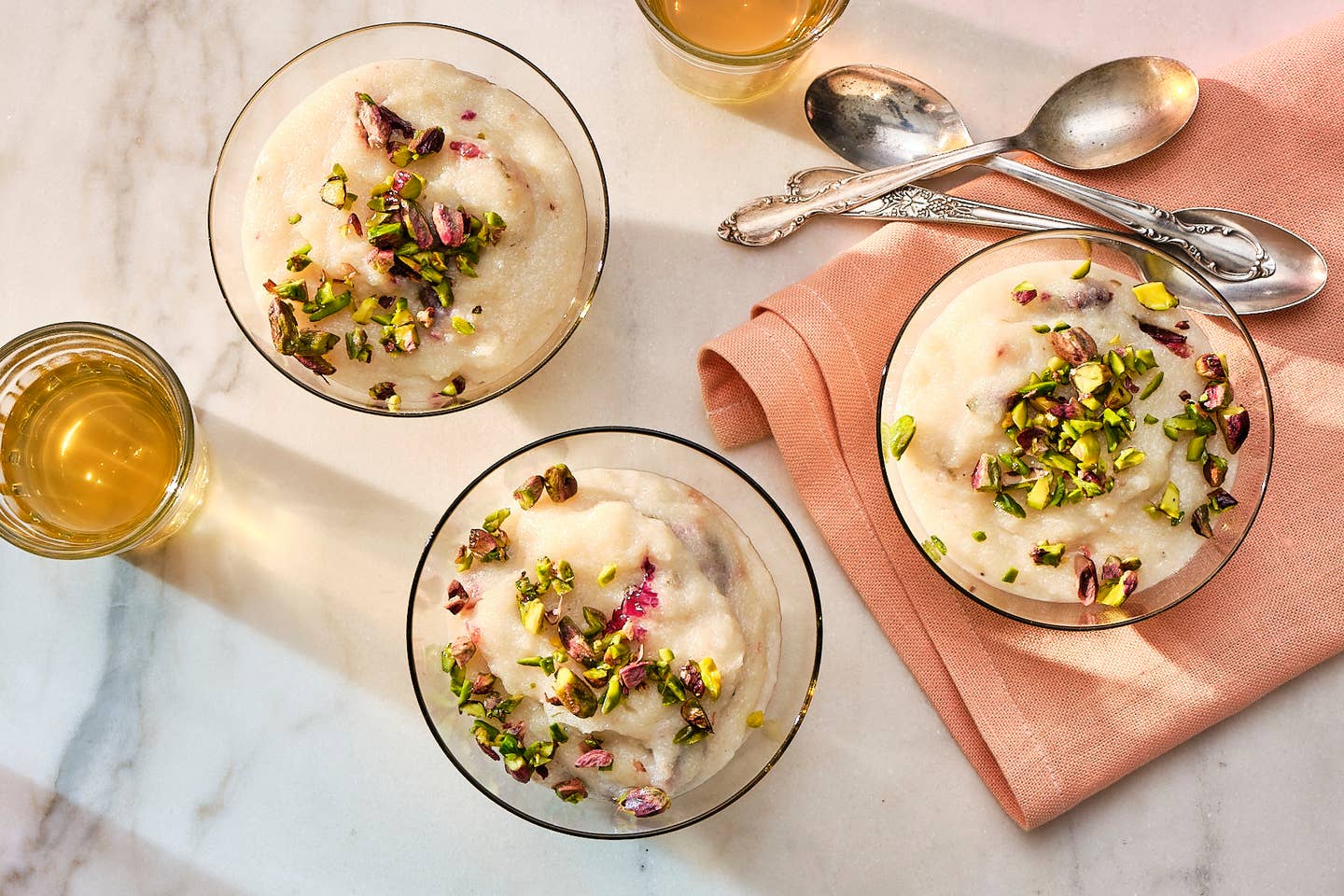 This delicately sweet and distinctly Persian dessert from Darioush Wines co-founder Shahpar Khaledi is a part of the winemakers' typical Persian New Year spread. The floral and milky pudding makes a fitting end to the classic Nowruz feast (or any other occasion, really). Khaledi likes to pair the delicate rice pudding with Darioush's Late Harvest Shahpar, an aromatic white dessert wine with honeysuckle, citrus, and apricot notes.
Ingredients
1 cup basmati rice
1⁄3 cup dried rose petals, finely crumbled
1 tbsp. unsalted butter
1 tbsp. canola oil
1⁄2 tsp. kosher salt
1 cup sugar
3 cups whole milk
1⁄4 cup raw pistachios, shelled and crushed
Instructions
Step 1
To a medium bowl, add the rice and cover with 2 inches of cold water. Set aside to soak at room temperature overnight. at least 8 and up to 12 hours.
Step 2
Set a fine mesh strainer in the sink; drain the rice and rinse well until the water runs clear.
Step 3
In a small skillet set over medium heat, combine the butter and oil. Once the butter starts to sputter, add the rose petals and cook until fragrant and slightly darkened, about 1 minute. Remove from the heat.
Step 4
To a blender, add the rice, 3 cups of cool water, and the salt; blend until the rice has broken down completely and is a sandy texture. Transfer to a medium pot, set over low heat, and cook, whisking continuously, until the mixture is smooth and has thickened slightly, about 10 minutes. Whisk in the sugar and milk and continue cooking, whisking occasionally, until thickened, about 15 minutes. Stir in the rose petals, and continue cooking 5 minutes more. Remove from the heat and promptly divide the pudding among 8 small dessert bowls; alternatively, transfer the pudding to a large serving bowl. Cover the surface of the pudding with plastic wrap and refrigerate until chilled and set, at least 2 hours.
Step 5
Garnish with crushed pistachios and serve cold.